It could be said that Hillary Clinton felt the "bern" on Tuesday in more ways than one.
Prior to officially losing the Michigan primary to fellow Democratic presidential candidate Sen. Bernie Sanders (I-VT), Clinton was snubbed by the barista at a female-owned bakery and coffee shop in Detroit who outright noted her support for Sanders over Clinton.Tuesday also happened to be International Women's Day.
Clinton posted a picture to of her visit to the coffe shop on her personal Instagram account.
In her original Instagram post she wrote "inspired by the women who started @AvalonBaker. Highly recommend the coffee too." That post was later corrected to reflect the actual name of the coffee shop, Astro, to "Highly recommend the coffee at Astro."
However, the  female barista, identified as Jill M. Wilson, who was featured in the photo with Clinton replied to the Instagram post with "That's me and I'm voting for Bernie. I'd like it if you took the pic down."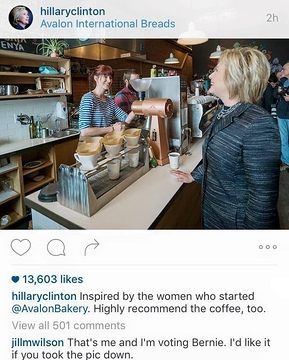 Wilson's post generated a flurry of responses in support of her apparent jab and even resulted in the creation of the #imwithjill hashtag, pointing to a great divide within the Democratic Party's Establishment and populist camps.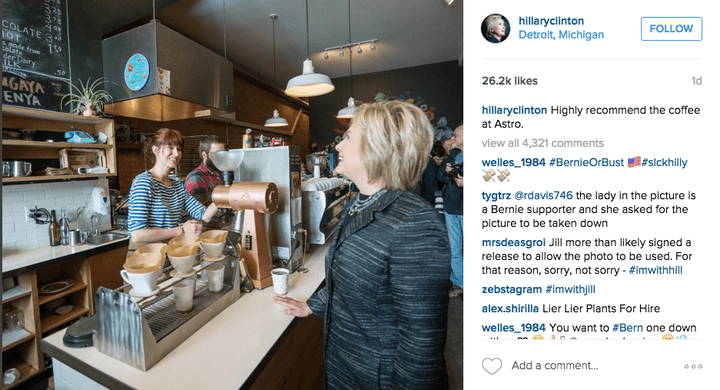 Meanwhile, Astro Coffee also took their own swipe at Clinton on their own Instagram page. They made fun of Clinton's "to go" order and captioned the picture with "Espresso to go?!? She must be feeling the BERN ✨"
Despite Clinton's support among women, Sanders appeared to trounce her in that department during the New Hampshire primary last month, when he won in a landslide victory that was partly built on a female electorate. He beat Clinton by 11 points among women and won single women over by a staggering 26 point margin there.
Follow Adelle Nazarian on Twitter @AdelleNaz.