Washington, DC ranked highest in a new report on places where people are putting off marriage the longest in the United States. San Francisco, CA came in second.
According to Quartz, out of the 100 most populous U.S. counties, the ten where 28 to 32-year-olds are least likely to be married are as follows:
| | | |
| --- | --- | --- |
| Rank |   | Married 28 to 32-year olds |
| 1 | Washington, DC | 25.5% |
| 2 | San Francisco, California | 26.0% |
| 3 | Baltimore, Maryland | 27.9% |
| 4 | New York, New York (Manhattan) | 28.0% |
| 5 | Philadelphia, Pennsylvania | 29.0% |
| 6 | Essex, New Jersey (Newark city and suburbs) | 30.2% |
| 7 | Suffolk, Massachusetts (Boston city and suburbs) | 30.5% |
| 8 | Bronx, New York | 31.0% |
| 9 | Prince Georges, Maryland (suburb of Washington DC) | 33.2% |
| 10 | Wayne, Michigan (Detroit city and suburbs) | 34.5% |
While based on a sample, the estimates are likely to be accurate within 1.5 percentage points, according to the report. For context, Quartz offers that the overall rate of marriage for this same age group in the U.S. is about 45 percent.
As the author points out, two types of places make up this list: coastal, liberal cities where young individuals often have relatively high levels of education and incomes – think San Francisco and Washington, DC. And second, cities with large African American populations – Baltimore and Prince Georges County, for example.
It has long been shown that individuals who tend to make more money and prolong their time spent in school often delay marriage until later in life.
As for African Americans, marriage rates in this population are about 25 percent lower than the rest of the U.S.
The U.S. marriage rate – or the number of new marriages per 1,000 people – has been falling for decades, with Americans not getting hitched like they used to, and those that are waiting longer and longer to do so.
In 2015, the nationwide median age of a first-time bride was almost 28 years old, according to a recent report in Bloomberg, which looked at the latest data from the U.S. Census Bureau. The median age for a groom, almost 30. Ten years earlier, these ages were 25.5 and 27, respectively.
The report continues:
In Europe, and increasingly in the U.S., many couples are postponing marriage indefinitely, as it becomes more socially acceptable for couples to live together and have children together outside the bonds of marriage.

The end result isn't automatically fewer total weddings; even as the marriage rate falls, the population rises. But the number of U.S. weddings did fall last year, by 0.5 percent, to 2.162 million, according to estimates by the Wedding Report, a market-research firm specializing in the wedding industry.
Bloomberg also cites research firm IbisWorld, which has predicted that the marriage rate will keep falling over the next five years.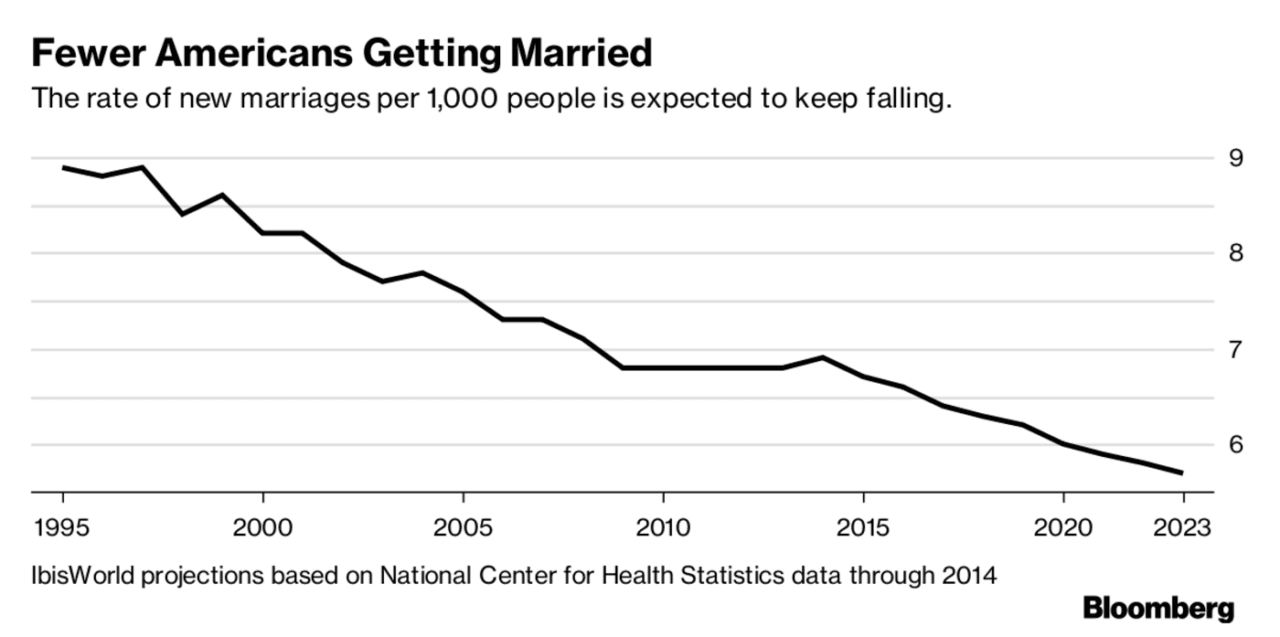 The steady downturn in marriage took a sharp turn for the worst during the 2008 and 2009 recession and, despite an improving economy, does not appear to be reversing any time soon.
As the Bloomberg report concludes:
American millennials lag previous generations on many metrics of adulthood, from living on their own to buying homes to having kids. Maybe most of them will eventually get around to weddings of their own—but then, it's possible that many never will, and that they'll bring the U.S. marriage rate closer to Europe's.
The most recent data show the U.S. marriage rate at 6.9. The average rate for European Union countries is 4.6.
Amanda House is Breitbart News' Deputy Political Editor. You can follow her on Twitter at @AmandaLeeHouse.