Actress Mischa Barton has apologized after posting a photograph to social media in which she wears a bikini and sips wine on a boat that was intended to pay tribute to Alton Sterling, who was killed in a police-involved shooting earlier this week.
"I'm human, I'm not perfect, and I'm sorry if my Instagram post went out of context," the 30-year-old former O.C. star wrote on Twitter early Friday morning. "I didn't mean to offend anyone."
The actress joined countless other celebrities Thursday in posting a heartfelt tribute to Sterling, who was shot and killed in Baton Rouge, Louisiana earlier this month in a police-involved shooting that was caught on video and widely circulated on social media.
However, unlike those other stars, Barton shared her tribute to Sterling in a caption of a photo featuring her wearing a bikini on a boat and with a glass of wine in her hand, a photo many of the actress' followers found to be in poor taste.
"I'm truly heart broken to watch videos like the #AltonSterling execution," Barton captioned the photo. "This may have been going on forever in the United States but thank god the pigs get caught on camera now."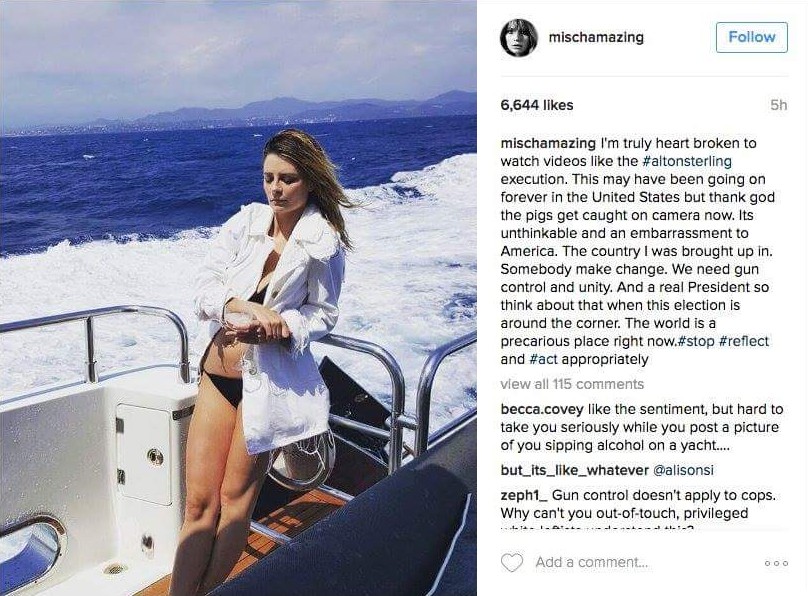 "We need gun control and unity," the actress added. "And a real President so think about that when this election is around the corner. The world is a precarious place right now."
The criticism came as swiftly as it did relentlessly.
"Sweet Jesus, this is some tone-deaf rich person sh*t right here," one commenter wrote on the photo.
Meanwhile, New York Daily News writer Gersh Kuntzman called the photograph "the most insensitive thing in the history of the Internet," calling it the visual equivalent of "Adolf Hitler typing 'LOL' on the bottom of a picture of Auschwitz's ovens spewing ashes into the air."
The actress eventually deleted the post.
— Mischa Barton (@MischaBarton) July 8, 2016
If you are not angry … You are not paying attention 💔 pic.twitter.com/WW3IVJ8Bmu

— Mischa Barton (@MischaBarton) July 8, 2016
I'm human I'm not perfect and I'm sorry if my Instagram post went out of context I didn't mean to offend anyone

— Mischa Barton (@MischaBarton) July 8, 2016
My heart goes out to the families of the innocent police officers who were shot in the line of duty. 💔 #PrayForDallas

— Mischa Barton (@MischaBarton) July 8, 2016
Humanity is slipping through our fingers. Pray for the victims. Pray for our country. Pray for the world. #PrayForDallas

— Mischa Barton (@MischaBarton) July 8, 2016
Follow Daniel Nussbaum on Twitter: @dznussbaum