Based on a true story, "Mister 880" (1950) stars Burt Lancaster, Dorothy McGuire, and Edmund Gwenn; and is every bit as good as what you would expect from a cast of that caliber.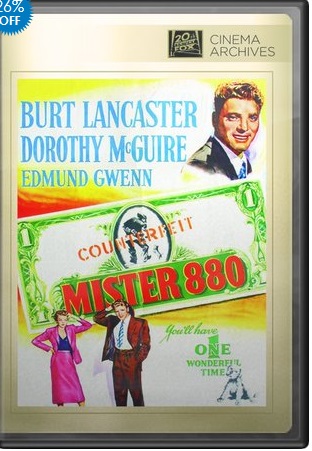 Gwenn plays "Skipper" Miller, a sweet old man known by the Treasury Department as Mister 880. For a decade now the government has been trying to run down this amateurish counterfeiter who only prints up a handful of dollar bills a year. What he lacks in counterfeiting ability, though, he does make up for in his uncanny luck at not being caught.
Though the dollar amount is low, the principal is still important, so the government brings in one of their best agents, the hard-nosed, by- the-book Buchanan (Lancaster), to crack the case. Eventually Buchanan tracks a couple of bills to Ann Winslow (Mcguire). She's innocent, but gorgeous, and romance blooms. She's also close to the kindly old man who lives alone upstairs — Mister 880.
Gwenn, who won an Oscar a few years earlier for his iconic work as Santa Claus in "Miracle on 34th Street" (1947), was also nominated for his charming work here, and it is amazing how similar the stories are — right down to a courtroom finale that you believe could go either way.  
Though not on par with that classic, "Mister 880" is still a must for "34 Street" fans and one of those wonderful films that might have been lost forever were it not for these  indispensible archive services.