It was about an hour into director Vincente Minnelli's "Courtship of Eddie's Father" when I realized I had seen this movie before. But it was not called "The Courtship of Eddie's Father."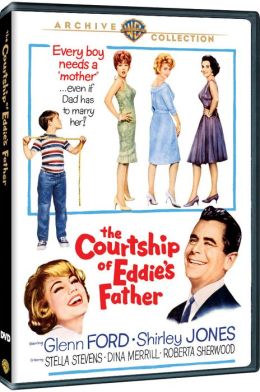 Glenn Ford is Tom Corbett, a recent widower left alone to raise his young son, Eddie (Ron Howard), in Manhattan. The loss is still fresh for both when the story begins, but before long Eddie decides that he needs to play matchmaker for despondent dad. Eddie really likes Elizabeth (Shirley Jones), the nurse just across the hall who was his mother's best friend. He also likes Rita (Stella Stevens), a stunning-looking innocent just off the bus from Montana.
Dad, though, falls for Rita (Dina Merrill), a brittle socialite. Eddie is not a fan and it was at this point I realized "Sleepless In Seattle" might have engaged in a little of the ole' plagiarism.  
Minnelli does a wonderful job of juggling the story's comedy with the emotional devastation both of our protagonists deal with. Nine year-old Howard anchors and steals the picture, but the always underrated Ford creates a believably complicated and emotionally-damaged character trying to hold everything together for his son. The emotions are surprisingly real in-between all the lighthearted fluff.
The film also looks fantastic. Milton Krasner's vibrant, colorful cinematography has not been wasted, thanks to a top-notch DVD widescreen transfer.
It is also worth noting that three womanly women co-stars look achingly gorgeous. Yowza.
Though this is a made-on-demand title, you still get to enjoy feature-length commentary from those three gorgeous women, which is a wonderful thing to have preserved for a film that deserves to be better known than the lifeless sitcom it inspired.
"The Courtship of Eddie's Father" is available for sale at the Warner Archive.
P.S. Warner Archive is currently running a terrific sale: Five titles for $50 (plus free shipping). It ends today at midnight.  
Follow John Nolte on Twitter @NolteNC