I don't remember much about 2009's "GI Joe: The Rise of Cobra," other than finding it numbing and resenting that the studio chose to strip one of the most iconic American action heroes in history of his Americanism. To be fair, though, although I saw it just a few days ago, I don't remember much about "GI Joe: Retaliation," either. But I did enjoy myself and I most especially appreciated Paramount fixing the American thing.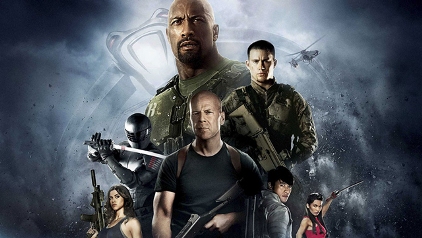 Were it not for Channing Tatum returning as Duke, "Retaliation" could be called a reboot. This is an American movie with American heroes fighting a villain in America. The whole world is at stake, naturally, but Cobra is back and targeting the American president (Jonathan Pryce) to pursue their dastardly goals.  
Welcome additions to the cast are Dwayne Johnson as Roadkill and most especially Bruce Willis as General Joe Colton, the highly decorated and patriotic Army general the "Joes" are named after.
I'm not going to bore you with plot points, suffice to say the story zips along (though it does get insultingly stupid at times), the action scenes are aplenty and well-choreographed, and Willis has the single funniest line (about his cholesterol) I've heard in years.
The men are manly, the women are gorgeous, the subplot involving Snake Eyes is utterly confusing, and the explosions are aplenty.
A mindless good time is guaranteed.
"GI Joe: Retaliation" is available at Amazon.com.