More than half of the people who called Covered California's phone support in December received a busy signal.  For those who heard a ring, wait times often exceeded 45 minutes leading more than half of all callers to simply give up. Yet a recent Covered California press release minimized the problem as "snarls" in customer service.
Yolanda Richardson is the Chief Deputy Executive Officer for Operations at Covered California. On January 23, she reported to the board overseeing the program saying, "in many instances we did not meet our standard, going back to our guiding principle of providing a first class customer service experience." Ms. Richardson went on to detail what that meant.
"One of the things we strive to do is answer 80 percent of our calls in 30 seconds. When we first opened the doors to our service centers the volume and the interest was already there. So many consumers experienced, early on, one to two minute wait times before they could reach a customer service representative. We slowly saw that move up to 15 minutes and, unfortunately, by the time we got to the holidays that had reached in some cases even exceeding 45 minutes to an hour."
Precise figures are presented in a Covered California program report also dated January 23, 2014. It shows that the state's goal was to have no one (0 percent) receive a busy signal. In reality, 53 percent of callers got one in December (38 percent between Oct. and Dec.). Similarly, the state wanted 80 percent of calls to be answered within 30 seconds. In reality, 99.5 percent of calls to service centers made in December were not answered in that time frame. The report also shows that more than half of all calls to the phone center were abandoned, i.e. the caller got tired of waiting and hung up.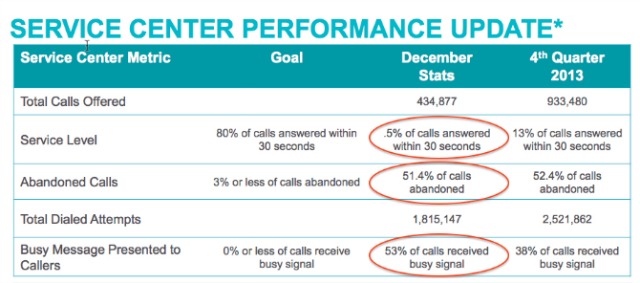 A staffing chart contained in the same document suggests staffing levels for the call centers are significantly lower than needed. The state's goal was to have 1,122 total staffers by February 1st. As of the date of the document (Jan. 23) actual staffing was 689. The same document states "A mass hiring effort to bring on 400 additional Service Center Representatives is underway."
On Monday February 10th, Covered California made a more public announcement that it was seeking to correct the problem by adding 350 new staffers (not 400?). The subheading of the press release/news story reads "Health Exchange Acknowledges Slowdowns, Snarls; Promises Improvements in Key Customer Support Areas." However, the story itself doesn't mention any of the dismal metrics presented at the board meeting. Instead, program Director Peter Lee offers this anodyne assessment "We understand that some have been struggling with our current system, and we are committed to making sure that everyone who wants health care coverage can get the enrollment support they need…"
According to the press release (published Monday) "more than 250 new representatives began training at the Fresno Service Center today." The full 350 new representatives will not be available until the end of march which, barring any last minute changes by the Obama administration, is the end of the first enrollment period. It's not clear why it took until January for the effort to hire more staff to be underway, especially given that metrics were bad from the moment call centers opened in October.