MCALLEN, Texas–Breitbart Texas broke the news on June 4th that the U.S. Customs and Border Protection agency (CBP) was involved in an effort to begin relocating hundreds of illegal aliens per week from the Texas border's Rio Grande Valley sector to southern California–and releasing them there. Within moments, the official Twitter account of the San Diego CBP tweeted at this reporter insisting the report was "erroneous" and asking for it to be removed from the internet.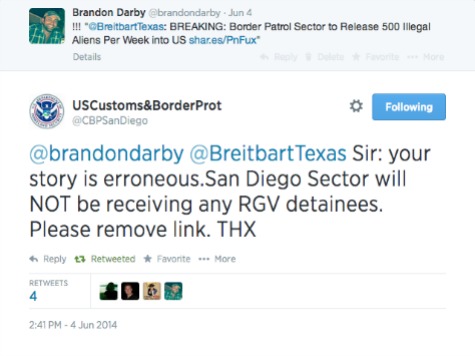 Immediately, the National Border Patrol Council (NBPC) and the group's vice president, Shawn Moran, came to this reporter's defense regarding the authenticity of the information.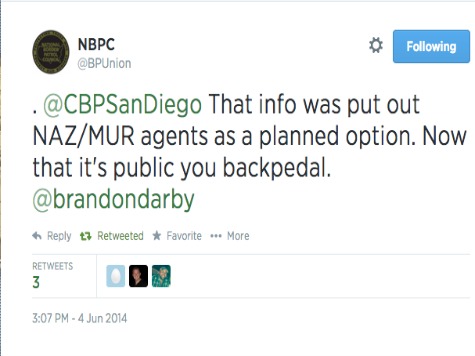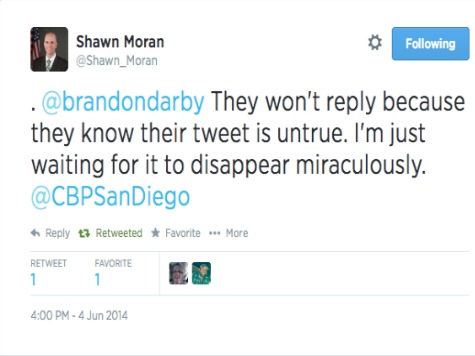 Days later, the San Diego CBP deleted the tweet from their official account with no mention. They then tweeted that they were not "currently" bringing illegal aliens to house and then release in the area.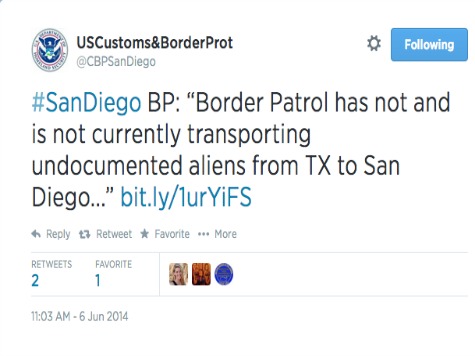 Reuters now reports that the U.S. is canceling the plans to fly illegal immigrants to southern California–thus proving the plans existed.
According to Reuters:
The U.S. government on Monday canceled plans to begin flying illegal immigrants to California from Texas, where processing centers have been overwhelmed by a surge of Central American arrivals including children traveling alone, officials said.

The Customs and Border Protection agency on Monday gave no reason for the cancellation. An official with the agency's union said the move reflected public opposition.

Border Patrol officials in Southern California had been expecting a flight carrying 140 immigrants picked up in Texas to arrive on Monday, and San Diego Sector Chief Paul Beeson said similar flights were then expected to land every three days.

He said his officers were expecting to process the new arrivals and hold them in custody until immigration authorities determined what to do with them. But late on Sunday he told Reuters those plans had been canceled. 
The June 4th debacle with the CBP came one day prior to Breitbart Texas publishing more than 40 leaked internal CBP photographs depicting the conditions of foreign minors being warehoused in and the sheer numbers of them who had illegally entered the U.S. due to the federal government's failure to enforce U.S. laws.
Follow Brandon Darby on Twitter: @brandondarby 
Brandon Darby is managing director of Breitbart Texas.