HOUSTON, Texas — Despite the recent Ebola case in Dallas, involving a man who had recently flown to the US from Liberia, federal authorities have no plans to ban flights from countries with significant Ebola outbreaks. In fact, a simple search on Trip Advisor shows that anyone can buy a plane ticket from Liberia to Washington, DC for a relatively low price. 
On any given day, more than a dozen flights from Liberia are available. Travelers may purchase a ticket for as little as $1,386 that gets them from Monrovia, Liberia, to Washington, DC. In many cases, the flights include layovers in heavily populated US cities, such as in New York's John F. Kennedy Airport.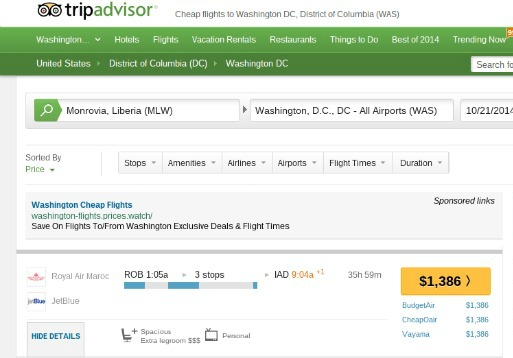 It is easy for one to wonder why airline tickets from Liberia to the US are relatively inexpensive and available to anyone. The Obama Administration has shown no indication that flights from Ebola-ridden countries will be banned. 
Thomas Eric Duncan, the man diagnosed with Ebola in Dallas earlier this week, had flown from Monrovia on September 19. 
The CDC continues to insist that those who flew on the same planes as Duncan have nothing to fear. The agency said in a statement, "The ill person did not exhibit symptoms of Ebola during the flights from West Africa and CDC does not recommend that people on the same commercial airline flights undergo monitoring, as Ebola is only contagious if the person is experiencing active symptoms."
In the face of this statement, CDC Spokesman Dave Daigle recently admitted that Ebola screening for airplane passengers flying from West Africa to the US is inadequate. He said, "I think he [Duncan] got on the plane asymptomatic, without any symptoms whatsoever… the symptoms occurred after he landed or after he arrived in the US so it's very difficult to prevent that. I mean the viruses don't respect borders."
Passengers taking flights to the US from West African countries have their temperatures taken, in order to check for fevers, prior to boarding planes.
But that may not help keep the disease out of the country, since an individual may have Ebola for many days before showing symptoms. 
Despite this fact, Daigle asserted that there is no need to ban flights from Liberia and other countries with large Ebola outbreaks. 
 Follow Kristin Tate on Twitter @KristinBTate.