Members of the Texas National Guard deployed to Liberia have opened an Ebola Treatment Unit (ETU) near the town of Buchanan. The soldiers are deployed under Operation United Assistance as part of the 36th Engineer Brigade from Fort Hood, Texas.
The ETU was constructed in twenty-two days by soldiers from the 902 Engineer Company in support of the 36th Engineer Brigade according to a January 8th article appearing in the Fort Hood Sentinel by Sgt. Ange Desinor with the 13th Public Affairs Detachment. Adjustments were made by the International Organization for Migration (IOM) to customize the facility before turning it over to the public. "Based on the other ETUs and the experiences we have, we decided that it would be best to make adjustments to the facility," said Dario Gonzalez, a medical director with IOM.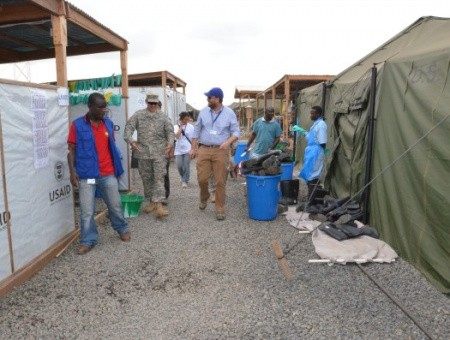 The most significant change made was to reduce the bed count from 100 to 50 beds. "Initially, Ebola was an epidemic and the number of cases was high in Grand Basa County," said Maj. Anthony Costello, design engineer for the 36th Eng. Bde. "Now that the number of cases have gone down, IOM made modifications."
The opening of the facility was welcome news to the residents in the area which has been hard hit by the Ebola virus. The residents greeted the Army Engineers with singing, clapping and dancing as they approached a tent used for the grand opening ceremony.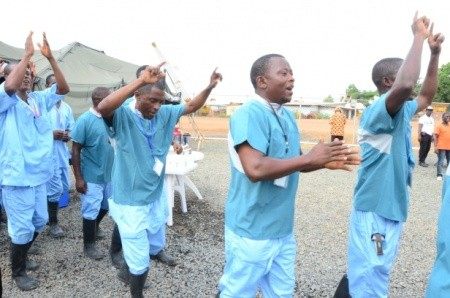 "The construction of the ETU's is the foundation of the mission," said Maj. Uzoma Aniniba, 36th Eng. Bde. operations officer, during the construction of the ETU in November. "The Soldiers were motivated and excited to provide support."
The facility will be occupied by 170 workers who will be able to treat up to 50 patients.
Governor Etweda Cooper of Basa, Liberia, expressed gratitude on behalf of the community. "I'm thankful that numbers of new cases of Ebola is going down, and I'm glad that we have a facility, but I hope we never have to use it," Cooper said.
The deployment of the soldiers is in support of a Department of Defense operation and provided assistance to the U.S. Agency for International Development. The effort is designed to help contain the outbreak of Ebola in western Africa.
Bob Price is a senior political news contributor for Breitbart Texas and a member of the original Breitbart Texas team. Follow him on Twitter @BobPriceBBTX.