Several hundred people took to the streets to protest the shooting by Pasco, Washington, police of Antonio Zambrano-Montes. Zambrano was an illegal alien who had previously served jail time for assaulting police. On February 10, Pasco police responded to a call about a man throwing large rocks at cars. After he allegedly threw two large rocks at police, they fired at Zambrano and he fled across the street. As police pursued he abruptly stopped and turned towards police with his hands extended towards them. He then reached towards his waistband and re-extended his arms towards the officers. Officers then fired several shots killing the suspect.
The Tri-City Herald reported that Zambrano's family claimed he was suffering from depression after being separated from his daughters. Perhaps his action of reaching to his waistband and then extending his hands towards the police suggests this could have been a "suicide by cop" scenario.
The shooting was captured on a cell phone video camera. The twenty-seven second video captures both incidents of shots being fired and, in slow motion, you can see Zambrano turn towards police and make gestures that could be perceived as threatening.
A Hispanic advocacy group has urged the U.S. Department of Justice (DOJ) to conduct a separate investigation into the shooting, according to a Reuters report published in the Huffington Post. The group, Consejo Latino, sent a letter to the DOJ from its chairman, Feliz Vargas. "It appears inescapable that the lethal force applied by these police officers was excessive in the extreme and, as such, it constituted a violation of Mr. Zambrano's constitutional rights," Vargas wrote.
Vargas did not mention that Zambrano was arrested and convicted in 2014 for a violent assault on police officers after a similar incident where he had been trying to hit cars with a broom. When police arrived he threw a rocking chair at them and tried to take the officer's gun, according to the Tri-City Herald article. In the event where he was killed, Zambrano was attacking cars again, this time by throwing large rocks. He again attacked police by throwing what one witness described as a softball sized-rock at police.
Zambrano was not deported by the Immigrations and Customs Enforcement agency who says they have no record of this person, according to a KEPRTV report by Davis Wahlman. He reported the Mexican Consulate in Seattle as saying the family told them Zambrano was "indeed an undocumented immigrant."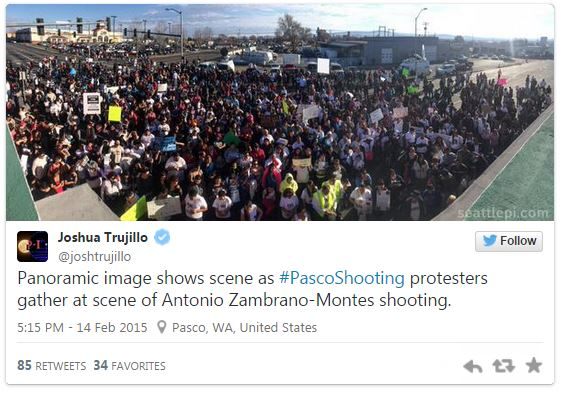 Protesters tried to draw a comparison to other police shootings like the killing by police of two black men, one in New York City and the other in Ferguson, Missouri. They carried signs saying "We want justice" and "Shoot me on the leg but don't kill me," according to an MSNBC report. Police estimated the crowd to be about 500 people.
The Pasco Police Department is not handling the investigation. A department spokesperson told Reuters they welcome the independent inquiry. The Franklin County coroner, Dan Blasdel, ordered a jury of seven people to decide whether the shooting was justified. The case would then be referred to prosecutors if it was found to be an unjustified shooting.
The Herald reported this is the fifth shooting in the small community in the past six months. Officers were cleared of wrong-doing in the previous four shootings. Three of those shootings involved Pasco police officers and the fourth involved a Sheriff's Office deputy during a SWAT standoff.
The three officers involved in the shooting included one Hispanic officer. They were identified by the department as Ryan Flanagan, Adam Wright and Adrian Alaniz.
In addition to the 2104 assault on Pasco police officer Adam Brewster, Zambrano had a protective order filed against him in 2006. The protective order was filed by Teresa Meraz Ruiz because of his "volatile behavior," court records show. Ruiz said Zambrano threatened to kill her several times, physically abuse her and pulled a knife and gun on her during their relationship that lasted nine years.
He was also arrested the week before he was shot for failing to pay the fines and court costs related to his 2014 conviction. He appeared in Superior Court the day before he was shot by police. During the 2014 assault on police, Zambrano threw a rocking chair and a mailbox with its post at police. Officer Brewster had to duck to avoid being struck in the head. Zambrano then grabbed Brewster's service weapon. Hospital tests revealed he was under the influence of methamphetamines at that time.
Bob Price is a senior political news contributor for Breitbart Texas and a member of the original Breitbart Texas team. Follow him on Twitter @BobPriceBBTX.