Texas County Music Star Josh Abbott, lead singer of the Josh Abbott Band, took to Twitter on Monday night and called on Baltimore Police to shoot violent rioters.
Abbott responded to a tweet from the official Baltimore Police Department Twitter account, @BaltimorePolice, that said "… Despite our efforts, criminals continue to assault officers."
Abbott replied saying, "Then shoot them," according to a Houston Chronicle article by Joshua Fetcher. That response has since been removed from Twitter.
The Chronicle screen-captured a series of tweets from Josh Abbott, @joshabbottband. His first tweet said, "Then shoot them. Maybe they'll learn there are other ways to promote change than violence, rioting, & looting."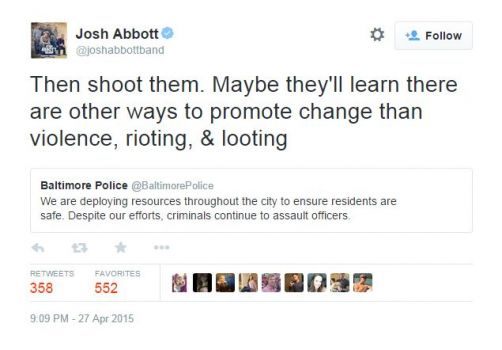 He received a response asking if he would have white rioters shot after they lost a hockey game. "Shoot them too,??? No. Can't shoot white people huh?" Abbott replied, "If they are attacking an officer, then they deserve to be shot back. White, black, brown , or purple. Ain't about race."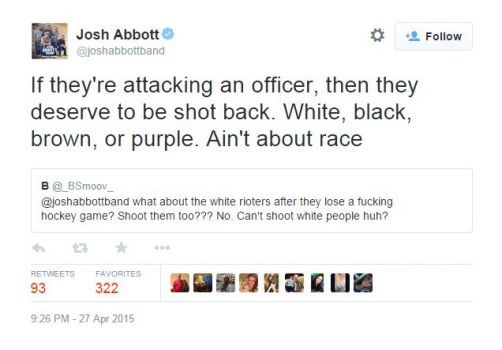 James Washington (@YoungxJames) challenged Abbott to find a peaceful resolution. "No disrespect," Washington tweeted, "but you sound very ignorant. Violence plus violence will only equal more violence…." Abbott responded, "You're probably right. I'm just not going to support these rioters attacking police and burning buildings."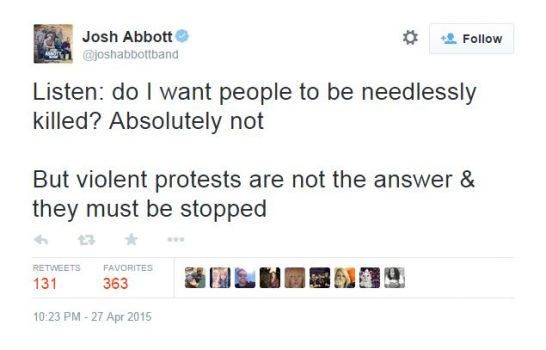 These tweets occurred on Monday. Today, Abbott's tweets take a more conciliatory tone. "Some of my comments last night were insensitive," he tweeted. "I can be man enough to admit that. Violence isn't the answer; neither from riots or police."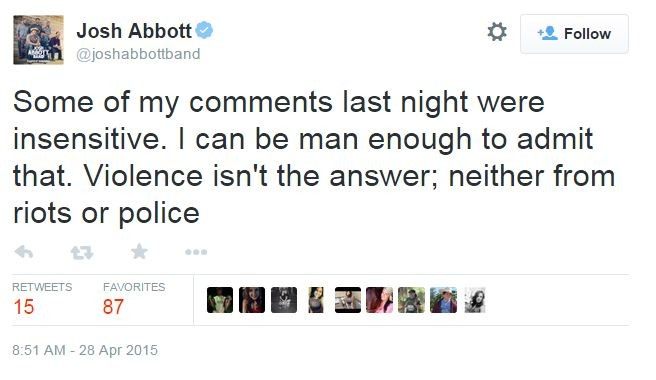 He then turns his attention to the race issue of this current riot. "Some of those police officers are just doing their job & being attacked," Abbott tweeted. "Some of those police officers are black yet this is a race issue?"  He then says, "All I know is I'm looking forward to a day when race is a non-issue and racism no longer has a place in society."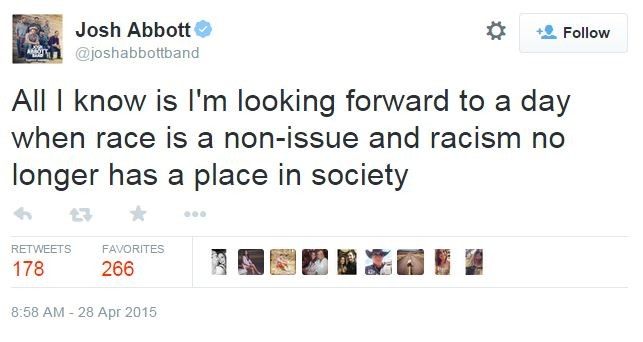 Meanwhile, Baltimore police are implementing a curfew that runs from 10 p.m. to 5 a.m. The curfew begins Tuesday night and will run until May 4th unless extended or ended "by order of the Mayor."
Bob Price is a senior political news contributor for Breitbart Texas and a member of the original Breitbart Texas team. Follow him on Twitter @BobPriceBBTX and on Facebook.