A two-time border invader given sanctuary in a Portland church for months has become a cause celeb for Pacific North-leftists in spite of multiple criminal convictions.
Francisco Aguirre-Velasquez, 36, isn't some well intentioned immigrant pursuing the American Dream; he's a professional job-thief enabler hellbent on turning the United States into a socialist nightmare.
The attorney for Aguirre-Velasquez demanded in court this week that an Oregon judge toss charges leveled against her client after he sneaked back into the country after being kicked back to El Salvador in a 1999 deportation hearing. Aguirre's lawyer says the proceeding violated his due process rights when a judge didn't explain the range of options available to him under U.S. law.
However, the deportation happened after Aguirre was convicted for two counts of delivering drugs and so the U.S. attorney prosecuting Aguirre-Velasquez says that "as an aggravated felon, the defendant was not entitled to the relief requested and had no other plausible method of relief available to him. Therefore, his removal would still have occurred even if the immigration judge had provided correct information."
Even though Aguirre doesn't currently have murder or hit-and-run charges against him like other boomerang deportees who've made news recently, Aguirre does pose a unique threat: he's used his time in the United States to not just help other illegal aliens get work in violation of the law, but to push a radical socialist agenda designed to fundamentally transform the country.
It's a frightening example of how the modern progressive "peace and justice" movement has hooked up with elements of the Occupy and Black Lives Matter groups to use illegal immigrants not merely as their shock troops to push the country even farther to the left, but also put illegals in key leadership roles.
Aguirre has two criminal convictions: the 1998 one for drug delivery and a 2014 conviction for drunk driving. He has sired two children while here who are now U.S. citizens because of birthright citizenship.
Following his 2014 DUI arrest, immigration officials went to Aguirre-Velasquez's home. He refused to cooperate, threw them off his property, and then decided to seek sanctuary at Augustana Lutheran Church. In this video, a cadre of activists proudly support him.
One of Aguirre's defenses is that he's been a part of "the community" for nearly two decades. Fox News Latino reported, "Aguirre has worked as the coordinator of a Portland nonprofit that runs a day labor center. His supporters say Aguirre has contributed to his community during the past decade and should be allowed to remain in the U.S. with his family."
Aguirre has not been one of the illegal aliens "hiding in the shadows" but has actively pushing a lawless agenda. An article on the site #Not1More brags, "Francisco is also one of the pioneers of advocating for the rights of day laborers across the country working closely with the National Day Laborer Organizing Network."
That day-labor center is VOZ, part of VOZ Workers' Rights Education Project which describes itself as "a worker-led organization that empowers immigrants and day laborers to gain control over their working conditions through leadership development, organizing, and community education."
That's PR-speak for saying that VOZ helps illegal immigrants get work, including skilled labor.
Such illegal labor actually breaks immigration laws twice: once for just entering the country illegally and then again for working, which requires a separate work visa.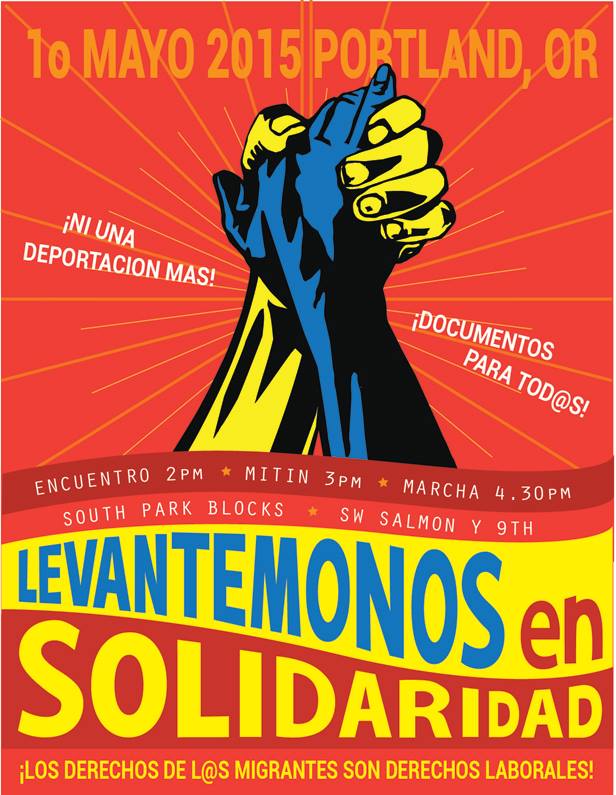 Outrageously, the VOZ center is actually supported financially by the city of Portland. As The Oregonian reported in 2009:
In March 2008, the Portland City Council set aside $200,000 over two years for the new work center, one of more than 60 across the country. The Portland Development Commission leases the parking lot to VOZ for $1 a year. City officials hoped to increase worker safety and clear the sidewalks where workers had formerly congregated.

While the site's association with the city initially angered local business owners, Sosa says the center has "done good work" to change minds. But some local unions say the work center's $10 minimum wage is unwelcome competition.

"It just goes back to workers that are out working for $10 an hour and no benefits," said John Mohlis, executive secretary-treasurer of the Columbia Pacific Building Trades Council. "That's pretty tough to compete with when you have out-of-work members who would be getting paid and getting benefits."
Thankfully, scofflaw Francisco Aguirre was arrested when he left the church to go to court but that only raised more activist ire. Upon his release last year, the VOZ website wrote:
After smiling with his fist raised to the gathered crowd, and hugging his wife, Aguirre began to speak:

"When I was inside," he said, with a dramatic pause, "I met so many brothers that this injustice system has put them in jail. They have similar cases. They get picked up on the street, in their homes, ICE showed up with no warrant, they get detained. Now they are in the process of being deported, of being separated from their kids. 'Don't forget us,' they say, "because we are here.' So we have to keep fighting for our brothers and sisters, because they can't do anything. but we can."
Aguirre's VOZ group also pushes a far-left agenda at events like Portland's usually rowdy May Day protests. VOZ calls for the following items on the May Day/International Worker's Rights poster:
6 hour day w/no cut in pay
Free contraception & childcare
Halt all foreclosures & evictions
Full citizenship rights for all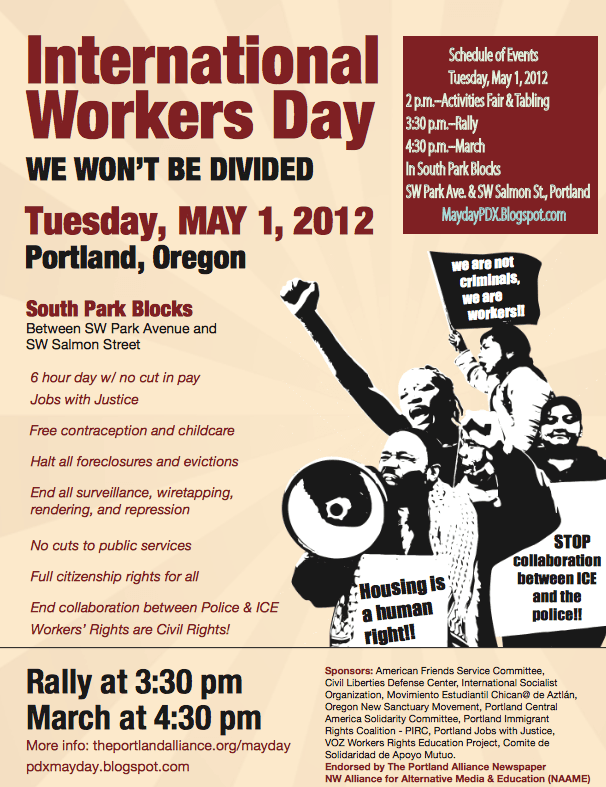 In a comment in an article on him, Aguirre himself makes it clear—his statement appears below verbatim, mistakes and all—that he not only feels he can simply decide that the United States is "his country" but that he wants to influence American politics, saying:
This is where I belong, this is my country too, and will do whatever it take to protected, looking for justice for our community member. In order to protect our country, we have to start in the house protecting our communities from this injustice system that it's keep separating families, and the system that it's killing our teenagers, nets to stop. We most get organize and work for a change to local and federal laws. Let's protect our community in general against police brutality and protect our immigrant community against unconstitutional ICE actions.
Activists such as Aguirre who have personally ignored the nation's immigration and labor laws obviously harbor a self-interest in overturning those laws. It's bad enough that Aguirre ignores America's laws and actively aids others in doing so, but for him to openly declare war on the American way of life adds an extra level of insult.