Donald Trump spoke to a sold-out arena and was greeted by 20,000 in the American Airlines Center in Dallas Texas, home of the Mavericks and the Stars.
UPDATE 7:50 CDT: "Our military will be so strong," he said, "so that we will never have to use it."
"The world is going to respect us again. And, we are going to take care of our vets," he said. He explained that now, our vets are treated like third class citizens.
"We are going to fight hard, negotiate well. We will get rid of the regulations that are destroying us."
"If I am elected president, you are going to be so proud of your country, again!" he stated. "You're going to remember this evening and say that you were part of a movement to take back this country."
"We are going to make America great again!" Trump closed. 
The crowd jumped to their feet as the music began playing "We're not Gonna Take it Anymore!"
UPDATE 7:45 CDT: "This is a Trump Wall," he said. The border wall with Mexico will not be a wall that you can get over with a ladder from Home Depot. "It will be a beautiful wall."
"Mexico is going to pay," he said. "When you have Trump negotiating for you, they will pay, 100 percent."
"Obamacare — We are going to repeal it, replace it and get something great," he said. The crowd again cheered loudly. "The insurance companies are making a fortune from Obamacare."
"We will have a plan that will be so good. We will get rid of the phony state borders," so that true negotiations can take place. "We will do something really good for the people and it will be cheaper for the country."
UPDATE 7:35 CDT: "John Kerry may top Clinton as the worst Secretary of State," he said as he began talking about the Iran nuclear deal. "They never read, 'The Art of the Deal.'" 
He mocked Kerry's bicycle race where he broke his leg during the negotiations with Iran. "If I am elected president, I will never go into a bicycle race." 
He said the biggest threat is not global warming, but is "nuclear global warming," because of the Iran deal. "If I am elected, we will get our prisoners back," referring to the Iran prisoners being held. 
UPDATE 7:30 CDT: He moved on to talking about trade imbalances with China, Japan and Mexico and the one-way tariffs. "Who would you rather have negotiating, Jeb or Trump?" he asked. The crowd, of course, responded "TRUMP." He then called Hillary Clinton "the worst Secretary of State in history."
He then threatened to hit American companies with import tariffs if they export jobs to Mexico.
UPDATE 7:15 CDT: Trump moved on to illegal immigration. He talked about meeting backstage with people who had lost loved ones, illegal immigrants. "We have got to do something about illegal immigration," he said, "We have to build a wall. Walls work." He received his loudest standing ovation of the speech so far.
Talking about cartel-related gang members, "They are tough dudes, but they will be out-of-here so fast."
"We have to end this sanctuary cities crap fast!" Trump said and the crowd roared in support. 
On the subject of anchor babies, Trump said, "Its wrong and it must be stopped." He described the practice where a woman will be moved into the U.S. just to deliver a baby as a U.S. citizen.
"We are going to have a great border," he explained. "We want people who will come here legally. We want great people."
UPDATE 7:10 CDT: Moving on to taxes, Trump said we must lower taxes on most people. "The middle class is being decimated and we're going to change it. We are going to do something that is very innovative." He said he will get hundreds of billions of cash back into the United States. "Everybody says we are going to bring that money back," he said, "but they can't make a deal. The right leader can get it done."
"The American Dream is dead, but we are going to make it even bigger and better and stronger than ever before," he stated. He then explained how the media distorted his statement by cutting it off after "The American Dream is dead."
"We are going to start here in Texas," he said. "We can do things with energy that is good for Texas, but it is great for the country."
UPDATE 7:05 CDT: "This is going to happen," Trump said speaking of this race. "I'm not going anywhere. I haven't won. Unless I win, it's been a total waste of time for me."
"We should have run last time," he continued. "Mitt Romney let us down." He then went on to talking about all the polls where he is surging to the top. "I am surging with women!" he exclaimed.
"Nobody is going to be able to do the job I will do," he stated, and then the crowd started chanting, "Trump, Trump, Trump, …"
UPDATE 7:00 CDT: Trump talked about self-funding his campaign and what he, as a businessman, is giving up to run this campaign. He talked about how regular politicians don't really give up anything to run and then explained the millions in lost opportunities he is losing to make America great again. He then announced that former California Governor Arnold Schwarzenegger has been announced as his replacement on "The Apprentice."
UPDATE 6:55 CDT: "We have a failed president, not a rock-star," Trump told the crowd. He went on to talk about the media pundits. He praised Bill O'Reilly as being tough but fair. He then threw Karl Rove in with a "group of losers." He said most media will not say that he continues to surge in the polls.
Pointing to the crowd behind him, Trump said, "They have the best view. Can you see, it really is my hair."
UPDATE 6:45 CDT:  Trump said it is time to rename "The Silent Majority" as the new "Noisy Majority" that wants to win. "We have a country that is dying for wins. He then went on to discuss the debate coming up. "I hear they are coming after me," he said. "Whatever!"
UPDATE 6:40 CDT: Donald Trump enters the arena to a loudly cheering crowd.  "Did you notice what's missing tonight?" Trump asked, "Teleprompters!" 
Trump went on to praise Mavericks owner Mark Cuban and thanked him for helping set up the use of this stadium. He then talked about his Mobile, Alabama, rally that grew to over 30,000. "I think it was the largest early primary crowd ever."
UPDATE 6:30 CDT: Dallas Tea Party activist Katrina Pearson opens the rally with a blasting attack against the establishment wing of the Republican Party. She described Trump as a leader who cannot be bought and described many failings of current Republican leadership.
Pierson described herself as "a mom, daughter, and granddaughter, and I want my country to be great again!"  She told the capacity-crowd that she thought they were there because they also wanted the country to be great again.  She told the crowd that the elites and pundits and ruling class could not "wrap their hands around the Trump experience."
Trump has made immigration a major campaign issue. Many credit him with dominating and setting the tone for presidential deliberation on the topic. His statements about building a wall on the U.S.-Mexico border, and his comments about Mexican immigrants have stirred some controversy. Dallas' population is 39 percent Hispanic.
"Dump the Trump" protests were held outside of the American Airlines Center – League of United Latin American Citizens (LULAC). One of the protesters held a sign, "Trump = Hate" "We Are Not Rapists!" A march was reported to be about one and a half blocks long.
"Can't dump the Trump" t-shirts were being sold outside of the arena.
A woman from Plano, Texas, caused a media stir when she arrived dressed head to toe in Trump. She said she started making her dress and outfit on Monday.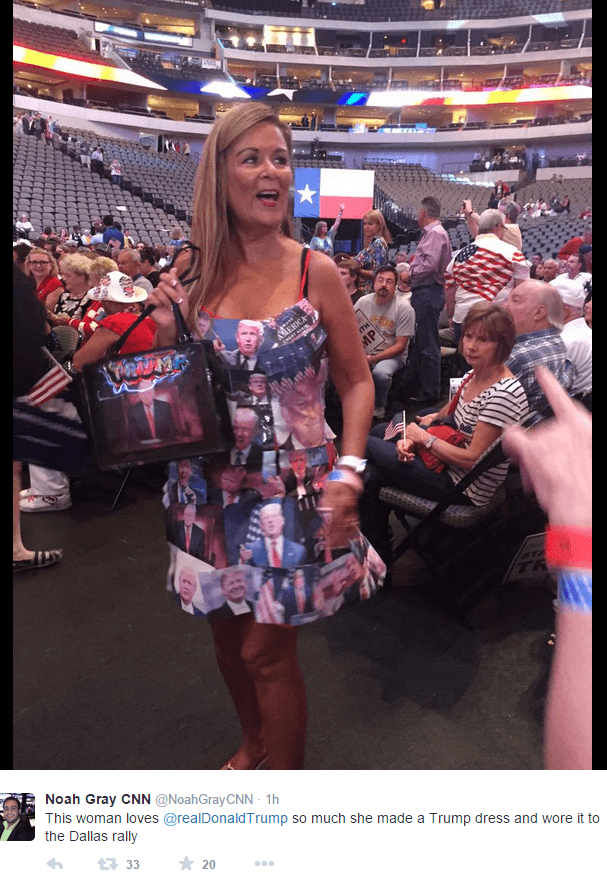 The Houston Chronicle poll from August 20th shows that Trump has the support of twenty-four percent of Republicans in Texas, a noteworthy lead given that Texas is home of the Bush family and Senator Ted Cruz. Cruz held second place in the poll with sixteen percent, Jeb Bush was in fourth place with nine percent. In third place, Ben Carson was at twelve percent.
Bob Price serves as senior political news contributor for Breitbart Texas and a member of the original Breitbart Texas team. Follow him on Twitter @BobPriceBBTX.