As the world continues to actively search for news and follow any information about famed drug lord El Chapo, a photograph that was posted on social media that claimed to show the capo in Costa Rica has been proven to be a fake.
The photograph was initially posted August 31 on Twitter by the account @AlfreditoGuzma. The Twitter user claims to be the son of famed Capo Joaquin "El Chapo" Guzman Loera. The photograph shows a young man surrounded by a group of individuals in some kind of restaurant with their faces covered but shows one of the men has a mustache similar to the one sported by the Capo.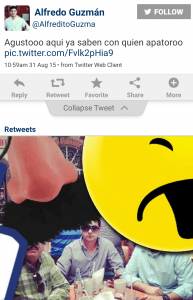 What made the photograph stand out is the fact that the geotagging feature was turned on thus showing the location of the pic.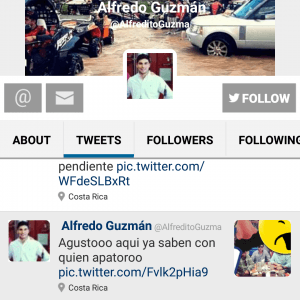 The photograph created a media storm with multiple news outlets reporting on the photograph and how it could lead authorities to recapture the capo. Guzman has become one of the most wanted fugitives in the world following his high profile escape from a maximum security prison in Mexico earlier this year. As reported by Breitbart Texas, the escape is the second time the capo has managed to escape from a maximum security prison in Mexico.
The much debated photograph was officially debunked earlier this month by Cesar Chalin EME, a music promoter and producer in Mexico who has been active in the regional music scene for more than five years.
On a Facebook post in his professional page, Chalin posted a meme with the message "here's your Chapo Guzman" that showed the original photograph which appears to be a family vacationing in Costa Rica but the famed El Chapo is nowhere in sight. The mustachioed man in the photograph is clearly seen as another individual and not Guzman.
"The photograph is like any family photograph that one posts on social media but then someone took it, messed with it, mentioned a capo and unleashed the controversy," Chalin said in Spanish to Breitbart Texas during an interview. "It's funny how the government (and the public) falls for these games."
The twitter account @AlfreditoGuzma is in fact a parody account just like the many other accounts from top capos that claim to be on social media.
"Normal people create those (parody accounts) to draw attention and sadly enough the government (and the public) takes them as fact."
After posting the meme of the Costa Rica photograph, Chalin fell victim so some criticism since some local news outlets claimed that he was a friend of Alfredo Guzman or the man in the photograph, a claim that the musician vehemently denied.
"That is completely false," he said.
Ildefonso Ortiz is an award winning journalist with Breitbart Texas you can follow him on Twitter and on Facebook.