BROWNSVILLE, Texas — Authorities have arrested the tax collector and three employees from this border county on multiple bribery, engaging in organized criminal activity, and official oppression charges. As with the multiple recent corruption cases along the border, the public officials have ties to the Democratic Party.
Shortly after noon on Tuesday, local, state and federal agencies raided the Cameron County Tax Collector's Office, two homes and four businesses as part of Operation Dirty Deeds, said Cameron County District Attorney Luis Saenz during a brief conference at the time of the raid.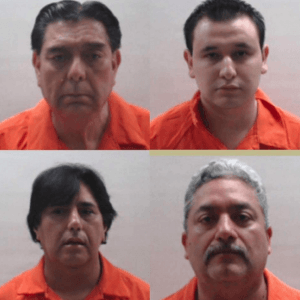 Dirty Deeds began two years ago in an attempt to follow up information about illicit activity in the Cameron County Tax Office. As the investigation developed state and federal agencies joined the case, Saenz said.
During Tuesday's raid, authorities arrested  Cameron County Tax Collector, Tony Yzaguirre Jr. and his employees Pedro Garza, Omar Sanchez and Jose Mireles. The men are facing multiple state charges including bribery, engaging in organized criminal activity and official oppression.
After the public raid, authorities took the four men to the Cameron County Jail where they went before a magistrate judge who despite the charges set a personal recognizance bond for all of the suspects. In Texas a personal recognizance bond means that a signature is all that is needed to be released pending trial.
Cameron County, the same county that Breitbart Texas reported on, was previously rocked by a massive corruption scandal. In that case, federal authorities ended up arresting the previous District Attorney Armando Villalobos and the 404th State District Judge Able Limas along with various other individuals on bribery charges.
The Texas border region has a long history of public corruption. Just last month, Breitbart Texas reported on a similar case in Starr County where authorities arrested Starr County Tax Collector Maria Del Carmen Pena along with several staff members and relatives in another corruption scandal. In that case, the 229th District Attorney's Office has also spent two years investigating the corruption scheme.
Breitbart Texas has also reported last month on the conviction of Maverick County Commissioner Jose Luis Rosales as part of a massive corruption scheme where contractors had to pay bribes to multiple public officials in exchange for contracts.
Ildefonso Ortiz is an award winning journalist with Breitbart Texas you can follow him on Twitter and on Facebook.