HOUSTON, Texas — More heavy rains are expected through Thursday following the massive flooding in the Bayou city that has now claimed at least five lives. Across the area, roadway looked more like rivers and deep underpasses became hidden death traps.
Authorities in Harris and Waller Counties reported that at least five people have drowned because of the flooding caused by as much as 17 inches of rain.  Four of the victims died in Harris County while the fifth died in neighboring Waller County, according to KHOU-11 in Houston.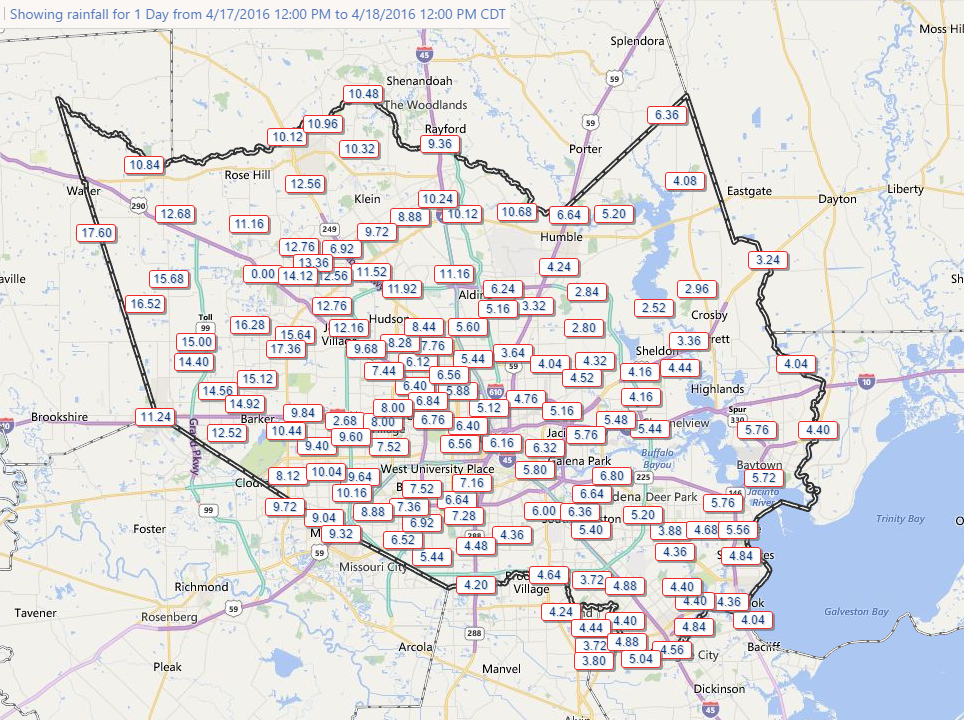 The terrain of Harris County's more than 1, 777 square miles is very flat. Water is slow to drain via the 22 creeks and bayous and underpasses are quick to fill with floodwaters. Harris County is 565 square miles larger than the state of Rhode Island and has more than four times the population.
Sunita Singh died after her vehicle became stranded an underpass near the intersection of Interstate 610 and U.S. 59. The woman apparently called her husband from the call saying she was in trouble. Another vehicle was also stranded in that same intersection and the man driving that car also died. That driver was a married father in his mid 30s. He called a friend and reported he was unable to open the car door because of the water pressure. He also reportedly had a broken arm.
The driver of an 18-wheeler drove his truck into a heavily flooded area, Breitbart Texas reported on Monday. Crews monitoring the high water observed the truck being driven into the water. Harris County Precinct 5 Constable Sergeant Herbert Martinez told reporters it was possible the driver had some type of medical condition just prior to the incident.
Another woman died in a car that became submerged near the Houston Intercontinental Airport. A Houston airport system employee was found dead in the submerged vehicle. Officials said they were not certain death was caused by drowning.
In Waller County, a Royal ISD teacher, Charles Odum, died in rising flood waters, KHOU reported. The district tweeted out a message to students and parents about the death of the teacher but said no other information was available at this time. They district asked for prayers for Odum's family.
High water rescues were carried out across the county. More than 1,200 of these types of rescues had been accomplished before noon on Monday, Breitbart Texas reported. In one case, an ABC13 reporter became the story as he coached a man trapped in his sinking car out of the vehicle and waded into the water to help rescue the man.
The Houston area forecast from The Weather Channel calls for a 100 percent chance of thunderstorms on Tuesday, 50 percent chance of thunderstorms on Wednesday, and an 80 percent chance of more thunderstorms on Thursday. The rain is predicted to end with mostly sunny skies on Friday.
Bob Price serves as associate editor and senior political news contributor for Breitbart Texas and is a member of the original Breitbart Texas team. Follow him on Twitter @BobPriceBBTX.