The officer who bravely fought off two Islamic terrorists who were firing AK-47 rifles at a Muhammad Cartoon Contest in Texas, received the Public Safety Officer Medal of Valor on Monday.
Elton Simpson and Nadir Soofi traveled to Garland, Texas, from Phoenix and opened fire outside the event in May of 2015, as reported by Breitbart News' AWR Hawkins. The pair were killed by a traffic officer who was working after-hours security for the event. The officer who killed them, Garland Police Officer Gregory Stevens, was armed only with a handgun, a .45 caliber Glock.
Simpson and Soofi were armed with assault rifles and grenades and were wearing body armor.
Garland Police Department spokesman Officer Joe Harn said the officer "probably saved lives." As reported, Harn added, "His reaction, and his shooting with a pistol, he did a good job." The officer's name was not released at the time of the shooting.
Four SWAT team members fired high-powered rifles at the suspects but it was Officer Stevens who killed the two terrorists.
The Medal of Valor is the nation's highest award for valor by a public safety officer. The medal is awarded each year by the President to a person who he believes has shown exceptional courage, even when their own life was at risk, in order to save others.
The U.S. Congress passed The Public Safety Officer Medal of Valor Act of 2001 to create the Public Safety Officer Medal of Valor.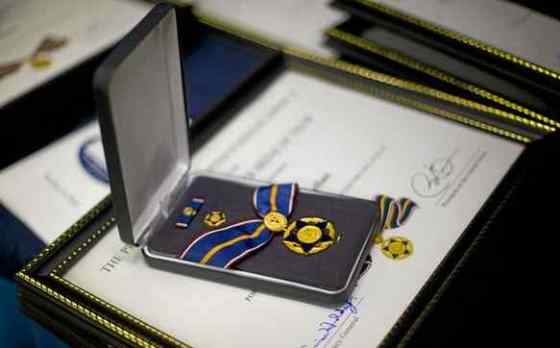 The Department of Justice website explains that the award can be given to a person who is either living or deceased, who is serving or has served, with or without compensation, as a firefighter or law enforcement officer. This includes corrections, court, or civil defense officers, or an emergency services officer.
The act of valor is defined as going above and beyond the call of duty; and exhibiting exceptional courage, extraordinary decisiveness and presence of mind, and unusual swiftness of action, regardless of his or her personal safety, in an attempt to save or protect human life.
Texas Governor Greg Abbott congratulated Garland Police Officer Gregory Stevens for successfully thwarting the attack at the Curtis Culwell Center on May 3, 2015. The center was part of the Garland Independent School District and was a gun-free zone.
The Governor said, "On behalf of the State of Texas, I would like to congratulate Officer Stevens on receiving the Medal of Valor and for displaying extraordinary courage in the line of duty." He added, "Officer Stevens' decisive action prevented two terrorists from carrying out horrific attacks on Texas soil, and our state and our nation will forever be indebted to him for his service and bravery."
Senator Ted Cruz released a statement that said, "Last year in Garland, Texas, Officer Gregory Stevens came face-to-face with two radical Islamic terrorists attempting to wage jihad on innocent Americans. Officer Stevens heroically thwarted the attack, preventing what could have been a terrible loss of life." Senator Cruz continued, "Today, in honor and recognition of his extraordinary courage and decisiveness, Officer Stevens deservedly received the Medal of Valor. I salute Officer Stevens for his dutiful service, and I remain forever grateful for his commitment to keep Texas safe."
This is National Police Week and May 15th was Peace Officers Memorial Day. During this time, the nation remembers those who have fallen during the line of duty. Over 250 were added to the list of those who died while serving others. As reported by Breitbart News, thousands attended the candlelight memorial vigil in Washington, D.C. on Friday night.
Lana Shadwick is a writer and legal analyst for Breitbart Texas. She has served as a prosecutor and associate judge in Texas. Follow her on Twitter @LanaShadwick2