HOUSTON, Texas – A local woman is adamant about her feelings expressed in a front-yard sign that reads "F*ck The PoLice". The unapologetic woman placed a large sign with the militant slogan  in front of her Sunny Side area home in a predominantly black area of south Houston.
The woman, identified on a Fox 26 report by Isiah Carey as Vanetta, makes no bones about her anti-police feelings despite having a brother who is a police officer. The front side of her yard sign boldly states "F*ck The Police," while the reverse side reads "Black MEN ARE KiNGS NOT [N-Word]."
Carey asked the woman, "What makes you so bold to put out a sign like this?" Vanetta responded, "Because I am unapologetic and black. And, I'm not going anywhere, we're not going anywhere."
"Until y'all want to decide that y'all want to stop killing us, we're not gonna be quiet."
The posting of her sign in front of her home, and along a major Houston thoroughfare, follows the recent events where two black men were killed by police in Louisiana and Minnesota. In the days following those shootings, five Dallas-area police officers were slaughtered by a black man espousing anti-white and anti-police hate-filled comments; as Breitbart Texas reported live.
Over the weekend, another black man was killed by Houston police officers not far from Vanetta's home after video captured him standing around in the middle of the road waiving a gun in the air and pointing it at police officers, Breitbart Texas also reported.
Carey asked Vanetta if she thought her sign would improve relationships between blacks and police officers. "I'm bold enough to say it and mean it," she responded. "I'm willing to deal with whatever consequences that comes my way."
Vanetta has agreed to appear live Friday night on Carey's Isiah Factor Uncensored TV show that will be broadcast live at 9:00 from Boudreaux' Cajum Kitchen near the Houston Galleria. It will also be live streamed on MyFoxHouston.com for those outside of the Houston area. Also appearing on the show will be Harris County Precinct 7 Constable Captain Smokie Philips, a black police officer who works in the area and is reported to be "disgusted" by Vanetta's sign.
Carey's attention to the Vanetta's sign was drawn by a black police officer who was offended by the them. He said the officer works hard in the area to improve community relations and help troubled youth. She responded that her brother is also a police officer and, "oh well."
When pushed about the officer who "works hard in the community," she responded, "My fault?" She said she apologizes if someone is offended, "But this is how I feel."
Carey asked her about the potential consequences of her sign. "What am I to be afraid of?" she responded. "I wouldn't be surprised if I woke up and I had a cross burning in my yard. I wouldn't be surprised, I'm prepared."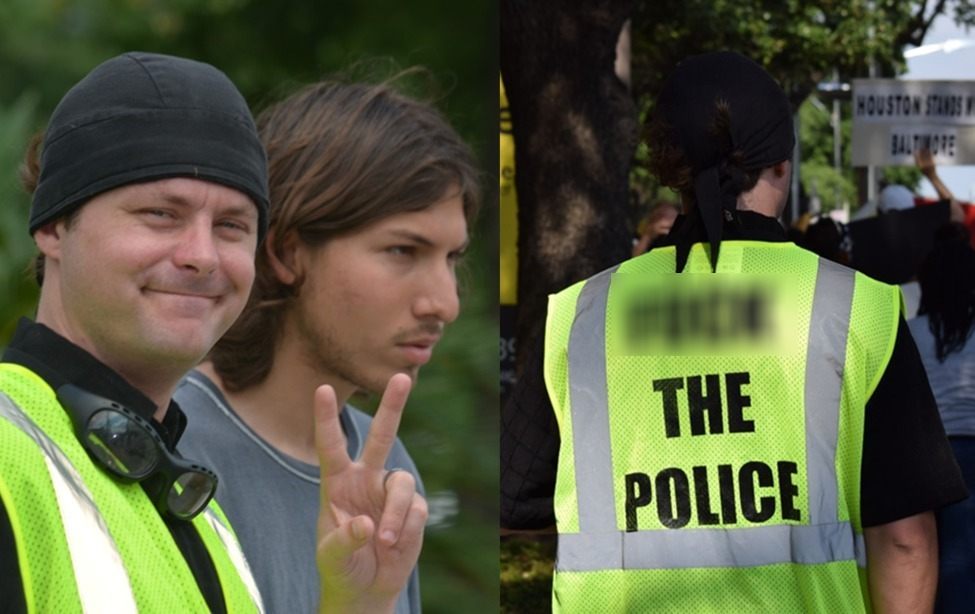 This sentiment towards police has been reported by Breitbart Texas during Black Lives Matter protests in Houston.
Bob Price serves as associate editor and senior political news contributor for Breitbart Texas. He is a founding member of the Breitbart Texas team. Follow him on Twitter @BobPriceBBTX.