Give Texas farmers and ranchers 48 hours and they'll answer a call from anywhere.
Even from way up in the Panhandle.
Last Thursday, after half-a-million acres were ravaged by wildfires that claimed four lives, state officials announced 4,200 large round bales of hay were needed to feed displaced livestock.
By Saturday afternoon, around 5,500 bales had rolled into staging areas located in Canadian, Pampa and Lipscomb, according to Andy Holloway, a Texas A&M AgriLife extension agent in Hemphill County.
So many bales that Holloway, who's been managing the Canadian staging area since hell was unleashed on the countryside on Monday, March 6, had to lean on friends across the state to take to social media and ask the hay-hauling farm and ranch fraternity tap their brakes.
On Saturday, one friend, Jim Kelley of Weatherford, posted to Facebook, "if you are loaded and en route bring it on and they will take it directly to some of the ranches… Andy said they will definitely need more hay but (staging areas) need a week or two to catch up and we can then send the second wave of hay!!"
Kelley's post has been shared 500 times.
"The response has just been overwhelming," Holloway told Breitbart Texas, noting that trucks with hay, water and fencing material began arriving before a call was put out.
Hemphill County suffered extensive wildfire damage, Holloway estimates around 200,000 acres, roughly one-third of the county's 913 sections. While some media reports cited the Panhandle's preliminary cattle losses at 1,500 head, he puts the number at 2,000 in Hemphill alone.
"We've unloaded trucks from 700 or 800 miles away," he said, citing several spots around the state from which flat-beds pulled by truck and semis have arrived.
"One came in from Victoria," Holloway said, in a voice of equal parts disbelief and pride.
For perspective, Victoria, located in southeastern Texas, is as far from Canadian as Tallahassee, Florida is from Raleigh, North Carolina.
But it's not just Texans arriving. Holloway and his 40 local volunteers have also greeted Nebraskans, Oklahomans and New Mexicans.
He says the highest priority now is fencing, which costs roughly $10,000 per mile.
He and others across the northeastern Panhandle can plainly see a need for new fencing in their 780 square miles of burned acreage.
If the overwhelming hay deliveries are any indication, they're likely to see more Texas spirit-fueled flat beds soon– this time loaded with fencing material.
Readers can donate to fencing and feed for livestock by sending checks to:
Texas Farm Bureau Agriculture Research and Education Foundation
Panhandle Wildfire Committee
P.O. Box 2689
Waco, TX 76702
Attn: Cyndi Gerik
To donate to local fire departments, send checks to:
"WAAIC- Wildfire Fire Departments" Relief Fund
PO Box 489, Wheeler, TX 79096.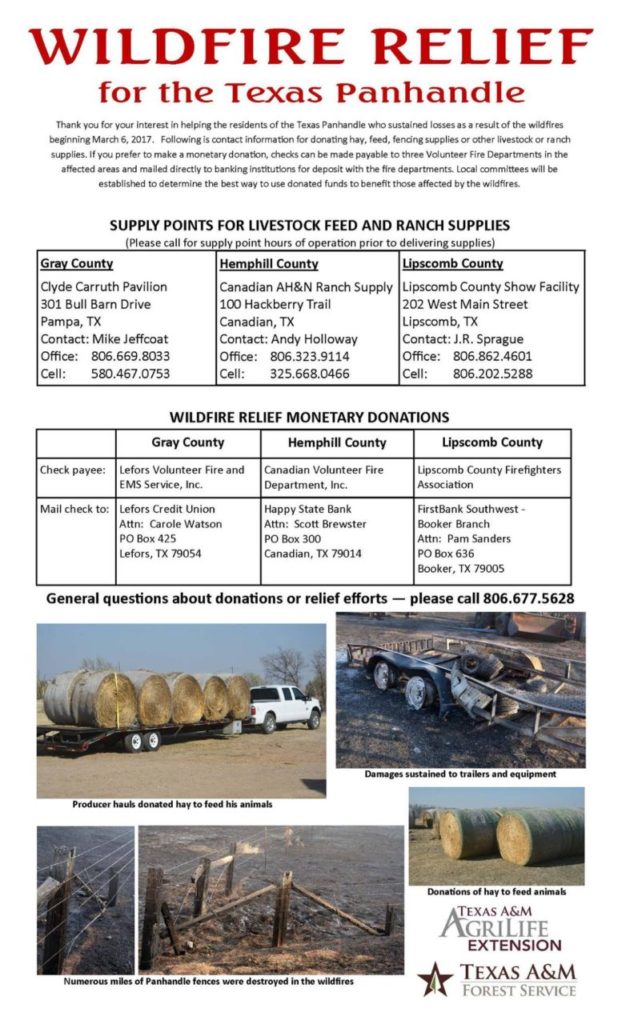 Jay Leeson can be heard on West Texas Drive on KRFE AM 580 Lubbock, weekdays from 4:30-6:30pm. He is also founder and editor of MakeWestTexasGreatAgain.com. Follow him on Twitter at @jayleeson.