HOUSTON, Texas — Heavy rains and flooding are predicted for the coastal regions of Texas as the once and future Tropical Storm Harvey approaches. Currently, Harvey is expected to re-organize Wednesday.
Forecasters call for a potential of more than a foot of rain for the Texas coastal region stretching from Port Lavaca to Houston. The heavy rains are expected to cause localized flash flooding and extended rainfall if the storm stalls, according to forecasts from the National Hurricane Center. Depending on intensity, Harvey could also create coastal flooding with a tidal surge pushed forward by heavy winds.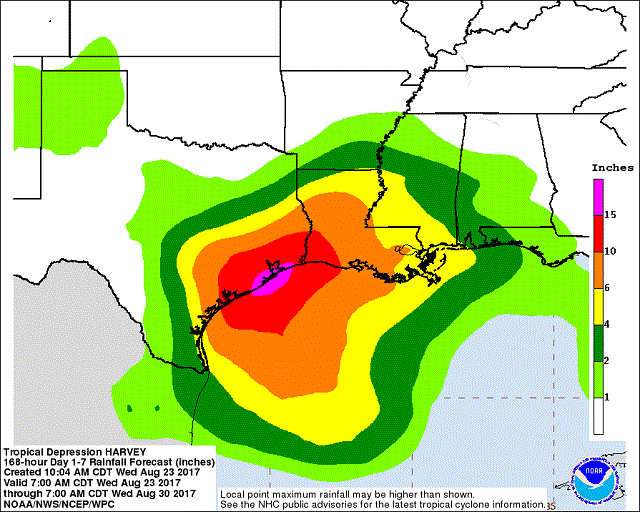 Officials with the Harris County Office of Homeland Security and Emergency Management urge residents to begin preparations for the variety of potential hazards that range from extended power outages to floods. County officials developed an interactive Zip-Zone Evacuation Map to help residents in low-lying areas prepare for quick escapes.
Harris County Judge Ed Emmett, who leads emergency management for the County, told Breitbart Texas he is concerned about the potential for flooding. National Weather Service forecasters are predicting Harvey could stall over the Houston metro as it becomes trapped between two high-pressure systems. This could create a situation where as much as 15 to 20 inches of rain could fall in a 48-hour period.
"We just activated the Harris County Emergency Operations Center," Emmett told Breitbart Texas. "We moved from Level 4 to Level 3 and will be putting our people in place for 24/7 operations until the storm subsides."
"If you live in an area that has experienced flooding in the past, you need to be paying attention to this storm," Emmett explained. He encouraged people to monitor ReadyHarris.org for up to the minute messages from emergency management officials.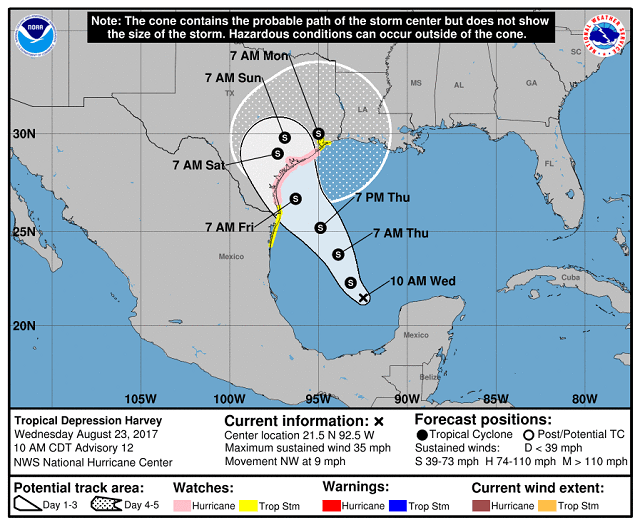 Galveston County Judge Mark Henry told Breitbart Texas that residents of Bolivar Peninsula and Galveston's West End need to pay particular attention for possible evacuation advisories. "Boliver can get cut off very quickly," Judge Henry advised. He said the Boliver ferry system shuts down if tides go above four feet and the only roadway can flood with tides of two to three feet.
"Hurricanes are not just wind events," Henry explained. "This storm could produce high tides and significant rainfall that has nowhere to go." The judge advised Galveston area residents to monitor "credible news sources" for last minute information. Galveston County's Office of Emergency Management has information posted on its website. "This is what we preach during hurricane season. Make a plan and be prepared," he said.
Texas Governor Greg Abbott ordered State emergency management officials to an increased state of readiness as well.
"The state's emergency personnel are well prepared for the potential impact from Tropical Depression Harvey, and stand ready to assist in the event of any severe weather emergencies," Governor Abbot said in a written statement. "As the State Operations Center increases its readiness levels, I also encourage Texans in the storm's path to make their own emergency preparations, heed warnings from local officials, and avoid high water areas. I ask that all Texans keep those in the Gulf Coast region in their thoughts and prayers as they prepare for this severe weather event."
The National Hurricane Center predicts rainfall totals in excess of 10 inches in an area stretching from Port Lavaca to western Lake Charles, Louisiana. Rainfall in excess of 15 inches is predicted for an area stretching about 50 miles in either direction from Galveston Island.
More information on Harvey's development will be available later on Wednesday after U.S. Air Force Reserve Hurricane Hunter flights return.
Editor's Note: This article has been updated with additional information from Galveston County.
Bob Price serves as associate editor and senior political news contributor for Breitbart Texas. He is a founding member of the Breitbart Texas team. Follow him on Twitter @BobPriceBBTX and Facebook.