President Donald Trump spoke with Texas Governor Greg Abbott Wednesday afternoon to offer his administration's support in advance of the potentially deadly Hurricane Harvey. The president assured Abbott that "all available resources" will be available to help with preparation, and rescue and recovery efforts.
Governor Abbott thanked the president for his pledge of support. He told the president that Texas emergency response agencies are already working "hand-in-hand" with local and federal partners, according to a statement from the Office of the Texas Governor provided to Breitbart Texas.
Hurricane Harvey is expected to make landfall somewhere along the central Texas coast between Houston and Corpus Christi late Friday evening or early Saturday morning, officials with the National Hurricane Center reported Thursday night. While currently a Category 1 hurricane, Harvey is predicted to begin strengthening overnight and become a Category 3 storm by the time it makes landfall. The storm is expected to stall shortly after coming onshore and linger for a couple of days before moving on. The storm is predicted to broadly drop 15 to 25 inches of rain and as much as 30 inches in some areas.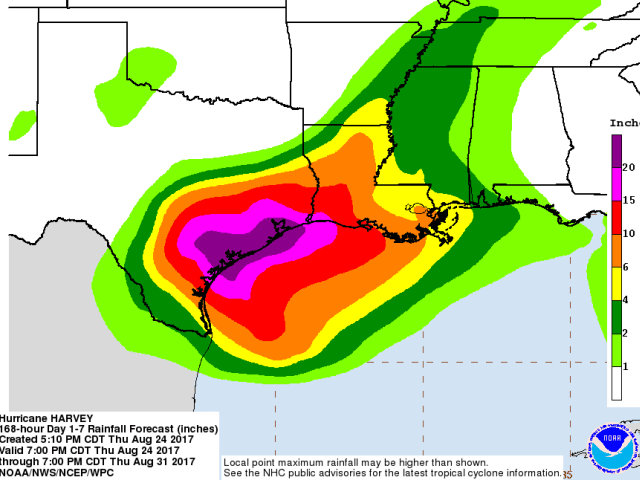 Late Thursday evening, Harvey took a turn more to the northwest and is now expected to make landfall in the Port Lavaca area. The storm is slowing its forward motion which makes its path less predictable and gives it additional time to strengthen.
Earlier on Thursday, Governor Abbott also spoke with acting Department of Homeland Security Secretary Elaine Duke and Federal Emergency Management Agency Director Brock Long. The three leaders discussed preparations being made for the evacuation of endangered areas and post-hurricane responses.
The Texas Department of Transportation released its map of hurricane evacuation routes, attached below. Officials encouraged the public to monitor all hurricane reports and plan accordingly. The agency will post information on its Twitter page, @TxDOT. Other hurricane preparedness information is available on the agency's website.
Authorities in several coastal areas issued preliminary evacuation advisories and orders in advance of Hurricane Harvey's approach to the Texas coast.
County officials in Calhoun, Victoria, Jackson, San Patricio, and Refugio counties issued evacuation orders Thursday afternoon and evening. The Texas cities of Portland, Rockport, Port Aransas, Aransas Pass, Ingleside, and Robstown also issued orders, the Weather Channel reported.
Bob Price serves as associate editor and senior political news contributor for Breitbart Texas. He is a founding member of the Breitbart Texas team. Follow him on Twitter @BobPriceBBTX and Facebook.
TxDot Hurricane Evacuation Routes by Bob Price on Scribd