Hurricane Irma moved away from Puerto Rico Thursday morning leaving at least nine people dead in various Caribbean islands. The Category 5 hurricane will skirt along just north of Cuba before it is predicted to slam into Florida early Sunday morning.
Hurricane Irma brought 185 mph winds to the tiny island nations of the Caribbean Sea on Wednesday. The storm killed at least nine people in St. Martin, St. Barthelemy, and Barbuda, CNN reported. Six of those died on the French side of St. Martin, two in St. Barthelemy, and an infant in Barbuda lost their lives to Irma's wrath.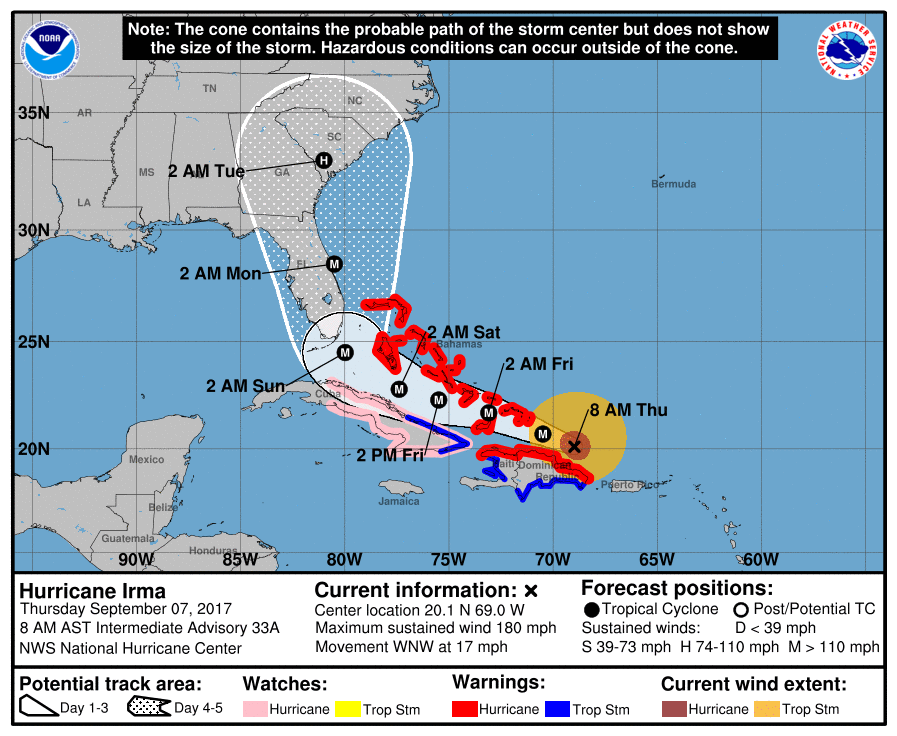 Barbuda Prime Minister Gaston Browne told reporters his island nation took Irma head on leaving 95 percent of the buildings damaged. He said the storm was "absolutely devastating." Barbuda has a population of 1,800 people who are now largely without communications.
The National Hurricane Center reports Irma's sustained winds have dropped to 180 mph from its peak of 185. The storm increased its forward speed to 17 mph on a heading of 290 degrees, a slight turn northward. At 8 a.m. AST, the NHC reports Irma is located 165 miles southeast of Grand Turk Island. The barometric pressure increased slightly to 27.20 inches (921 mb).
Current projections call for the storm to begin slowing in its forward motion as it prepares to turn to the north or northeast. Forecasters do not yet know exactly when or where Irma will make its predicted sharp turn. Some models show the storm will make it to the far southeastern edge of the Gulf of Mexcio before turning into Florida early Sunday morning.  Other models show the storm turning earlier and skirting up the east coast of the Florida peninsula.
NHC officials caution Floridians not to focus on the extended projections at this point as they have a wide margin of error. Projections four to five days out can be off by as much as 225 miles, officials stated. Instead, Florida emergency management officials are asking, and in some cases demanding, that residents take this opportunity to evacuate now.
When Irma approaches the Florida coast, it is expected to be at least a Category 4 hurricane and possible Category 5.
As Irma continues to move westward, forecasters are warning of 15 to 20-foot tidal surges for many of the islands in the storm's path. Surge predictions for Florida are not yet available and will depend on when the storm makes its northward turn. On Thursday, Irma will make its way to the Dominican Republic and Haiti before moving on to Cuba on Friday.
Follow complete coverage of Hurricane Irma on Breitbart News.
Bob Price serves as associate editor and senior political news contributor for Breitbart Texas. He is a founding member of the Breitbart Texas team. Follow him on Twitter @BobPriceBBTX and Facebook.