The oft-offended left on Twitter erupted this week after a Dallas Morning News reporter posted a picture of bathrooms at a Texas Cajun bar and grill depicting photos of Bruce and Caitlyn Jenner on their doors. The owners of the restaurant placed the images nearly three months ago.
Dodie's Place Cajun Bar & Grill in Allen, Texas, decorated the doors of their bathrooms with life-size photos of Bruce Jenner's iconic 1976 Olympic run on the men's room door and the Vanity Fair cover photo of Caitlyn Jenner on the women's door. Following the bathroom remodeling, Dodie's posted on their Facebook page, "Come meet our newest members of the Dodie's crew, Caitlyn & Bruce!"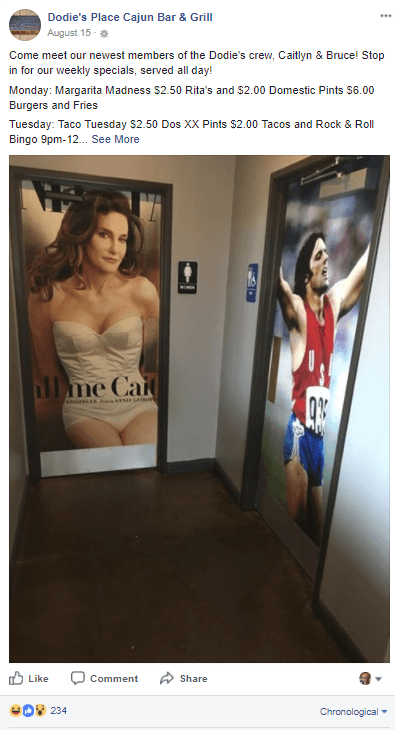 The Facebook post received mixed reactions until the Dallas Morning News digital editor/social producer tweeted "What's going on here Dallas?" on October 30.
What's going on here Dallas? pic.twitter.com/CgllDKliE2

— Dom (@DomDiFurio) October 30, 2017
Members of the LGBTQ community appear outraged that a restaurant owner would provide a sign showing the transgender community is welcome.
The Dallas Morning News reported that Facebook user Colby Geyer posted a review on Dodie's page saying "Offensive and distasteful restrooms. Belittling transgender people is never okay." He was not clear about how simple before and after photos of Bruce/Caitlyn Jenner is belittling. It appears Dodie's removed the review.
The Daily Dot posted an article on the bathrooms on October 30 stating that "for transgender patrols, that joke stings particularly hard.
The Daily Dot continues:
The Dallas Morning News' Dom DiFurio first pointed out the bathroom images at Dodie's Place in Allen on Twitter, criticizing the restaurant online. Followers quickly agreed with DiFurio and pointed out how the bathroom stigmatizes transgender women.

DiFurio told the Daily Dot that Allen isn't necessarily seated in a progressive area, which may explain why the restaurant went out of its way to make fun of Jenner. The bathroom's prospective audience doesn't excuse the joke, though. After all, plenty of LGBTQ people live in red states.

"Collin County, where Allen, Texas is, as a whole is considered a conservative bastion in North Texas," DiFurio said. "I wouldn't consider it a particularly great place to be LGBTQ."
Somehow the Daily Dot decides the images of Caitlyn Jenner that are routinely celebrated by the LGBTQ community as a symbol of being transgendered are implying "that transgender women have to look or transition a certain way to be seen as women":
Transgender women who are still grappling with their gender identity or early into their transition, like Jenner in that pre-transition photo, are billed as too masculine to use the women's room. It's a fundamental misunderstanding of gender dysphoria, one that can lead to transgender women being discriminated against if they don't pass.
The website goes on to try and connect the bathroom doors to the "Texas bathroom bill" that failed to pass in the Texas Legislature earlier this year.
One of Dodie's owners, Jim, told Fox News, "We've gotten a few responses, both positive and negative."
Twitter user @JohnAngell posted, "Somehow this is being dubbed as 'transphobic' by the Daily Dot. Actually it's consistent with the trans community dogma."
Somehow this is being dubbed as "transphobic" by the Daily Dot. Actually it's consistent with the trans community dogma.

— John Angell (@JohnAngell) October 31, 2017
@MattTravisBlog responded, "Yep, they're recognizing him as a her. I thought that's what the trans community wanted."
A decision on the fate of the transgender bathroom doors is expected later this week.
Bob Price serves as associate editor and senior political news contributor for Breitbart Texas. He is a founding member of the Breitbart Texas team. Follow him on Twitter @BobPriceBBTX, GAB, and Facebook.