Two officers of the Federal Police of Mexico were arrested by their colleagues after allegedly getting caught using a cloned patrol vehicle to move a shipment of stolen gasoline. The illicit sales continue to be one of the most common revenue streams for cartels.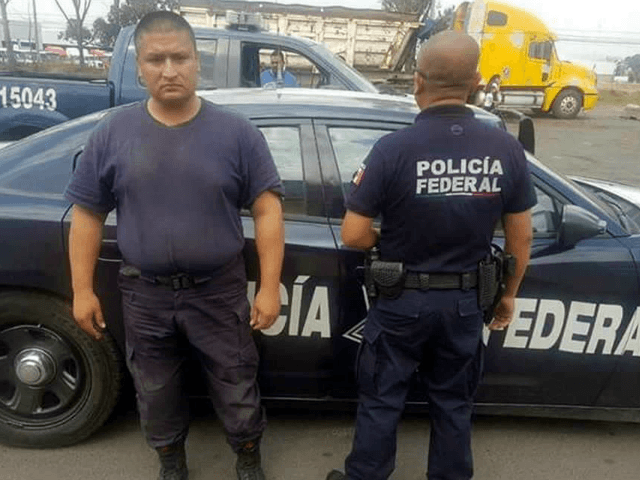 Mexican authorities recently detained police officers José Antonio Rodríguez Flores, 37, and Refugio Aguilar Herrera, 35, when they were caught on a highway in the State of Mexico allegedly transporting containers with 93 gallons of stolen fuel. A group of federal police pulled over Rodriguez and Aguilar when they saw a police truck with logos similar to those used by federal police, leading them to believe it was a cloned car. The police officers in the genuine vehicles pulled over the officers and arrested them on the stolen fuel suspicions. The two cops were reportedly unable to provide documents to prove that the fuel shipment was legal.
The black market for stolen fuel in Mexico continues to increase, a fact well known by criminal organizations such as Los Zetas, Cartel Jalisco Nueva Generación, and the Gulf Cartel. The cartels focus a large part of their operation to tapping, transporting, and selling stolen fuel. The trend continues to worry Petroleos Mexicanos (PEMEX), the state-owned entity that deals with the extraction and refining of oil in Mexico. In their 2017 report, the entity addresses the growing concern with the theft of fuel.
According to PEMEX, the theft of fuel at the national level had an estimated value of $1.5 billion (USD) while the government was able to locate 10,363 tapping operations.
Carlos Medina Treviño, PEMEX's General Director, said the entity fired 100 employees suspected of having ties to organized crime and there have been 1,600 arrests following investigations by state and federal authorities. The reports by PEMEX nor those by the Mexican government revealed how many of those arrested for fuel theft were actually sent to prison.
The large profits from the sale of stolen fuel give drug cartels the ability to bribe or coerce unions, workers, and police officers into aiding their efforts. In February, Breitbart Texas reported on the arrest of a commander and four intelligence agents from Mexico's Federal Police for allegedly protecting and leaking information to a cell of Mexico's Gulf Cartel that was tied to the theft of fuel in Nuevo León and Tamaulipas.
Editor's Note: Breitbart Texas traveled to the Mexican States of Tamaulipas, Coahuila, and Nuevo León to recruit citizen journalists willing to risk their lives and expose the cartels silencing their communities.  The writers would face certain death at the hands of the various cartels that operate in those areas including the Gulf Cartel and Los Zetas if a pseudonym were not used. Breitbart Texas' Cartel Chronicles are published in both English and in their original Spanish. This article was written by Tony Aranda from Nuevo León.