MONTERREY, Nuevo León — Once again, an example of former cop turned cartel lieutenant were came to light following the execution of a man described as a top-ranking leader of one of the most violent organizations in Mexico.
Recently Apodaca, Nuevo Leon, a group of assassins left the body of Raul "La Borrega" Gámez Moreno, identified by police sources as the second-in-command of the Cartel Del Noreste (CDN) and one of the main links between the cartel and dirty cops.
Local police found the body of the capo at a plaza in the San Miguel neighborhood. The officers reported the body was covered in a tarp and appeared to have signs of torture.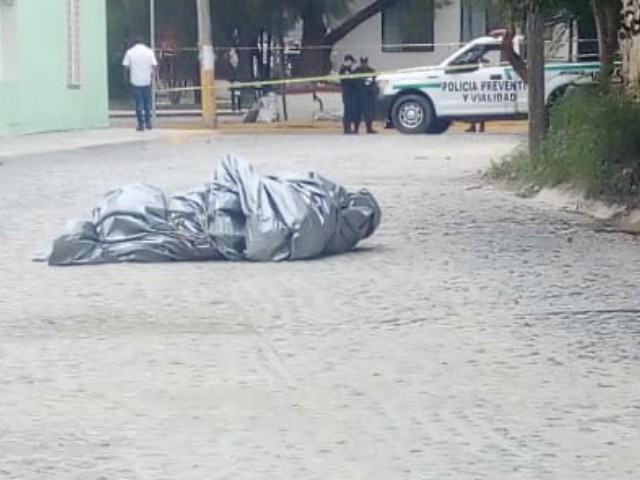 Investigators with the Nuevo Leon Prosecutor's Office examined the body and found that the victim was severely beaten and shot at least six times. Apparently, the last shot the victim received was in the head.
A state police source revealed to Breitbart Texas that the fingerprints taken from the body matched a police personnel file, revealing the capo known as La Borrega was a former agent of the Tamaulipas Ministerial Police in Reynosa. He worked in the sex crimes unit and the special investigations unit.
In 2009, the Mexican Army caught La Borrega with cocaine packages and $8,000 inside his police vehicle with government plates WE-50063. The discovery was made during an inspection in Matamoros. At the time, La Borrega was linked with the Gulf Cartel and their former allies, Los Zetas.
After spending time at a prison in Ciudad Victoria, Tamaulipas, on state charges, La Borrega was released and became a full member of Los Zetas. In his role as a leading narco, authorities claimed La Borrega was responsible for propagating narco-violence in southern Tamaulipas. After Los Zetas split into two factions, Los Zetas Vieja Escuela and the Cartel Del Noreste (CDN), La Borrega sided with the CDN and continued to climb the ranks. La Borrega is believed to have been in command of hit squads from Nuevo Laredo who would enter Tamaulipas from Nuevo León.
The identity of "La Borrega" and his activities as a drug capo were made public this month when alleged hitmen from a Los Zetas faction called "Grupo Operativo Bravo" hung several banners against La Borrega and a former commander of the Nuevo Leon Ministerial Police. The cartel gunmen identified La Borrega and Ernesto "El Neto or El Mocho" Escajeda Muñoz as commanders with the CDN accused of drug trafficking, kidnappings, and extortion. In the banner, the cartel warned about an upcoming hunt for capos and their allies in Nuevo León.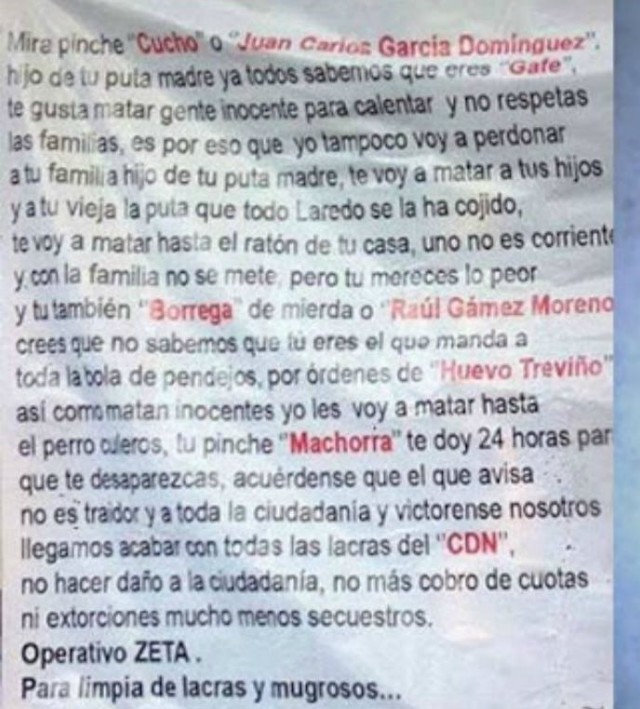 Police sources consulted by Breitbart Texas pointed to "El Neto" as a CDN leader in Nuevo Leon who received the name of "El Mocho" after losing a leg when he shot himself, accidentally.
Escajeda Muñoz was dismissed in 2000 from law enforcement after being accused of driving the car of a hit man named Ramón Pérez Nogueda, who was later imprisoned for executing a businessman named Armando Márquez Hernandez. The murder of Márquez Hernandezwas due to a debt of 50 kilos of cocaine owed to two drug lords of Coahuila.
Although "El Neto" took various legal means to avoid being fired, he lost his job after an internal affairs investigation revealed he was also an informant for organized crime groups.
After his dismissal, El Neto was convicted and served a seven year sentence at the Topo Chico Prison for drug possession and trafficking in Nuevo León. He also spent five years in the federal prison of Islas Marías on similar charges.
Editor's Note: Breitbart Texas traveled to the Mexican States of Tamaulipas, Coahuila, and Nuevo León to recruit citizen journalists willing to risk their lives and expose the cartels silencing their communities.  The writers would face certain death at the hands of the various cartels that operate in those areas including the Gulf Cartel and Los Zetas if a pseudonym were not used. Breitbart Texas' Cartel Chronicles are published in both English and in their original Spanish. This article was written by Tony Aranda from Nuevo León.