REYNOSA, Tamaulipas — Cartel gunmen in Reynosa are increasing their car theft operations as they prepare for further clashes with rivals. In recent days, the city saw a sharp increase in vehicles stolen at gunpoint or under threat of force.

 
The ongoing crime wave is due to an ongoing internal war where two rival factions of the Gulf Cartel are fighting for local control. The cartel faction based in Reynosa called "Los Metros" is at odds with the factions from Matamoros who have continuously gained ground through large-scale gun battles and gruesome executions. The fighting led to more than 500 murders since May 2017. 
Citizen journalists in Reynosa recorded the moment when a group of cartel members carrying assault rifles can be seen taking a pickup truck and then leave the area as part of a convoy of vehicles. 
One of the vehicles seen in the video is a gray Nissan Frontier that had been reported stolen hours before. Historically speaking, cartel gunmen favor four-door SUVs since they can fit four to five gunmen and are able to move their troops through dirt roads. In the past, cartel gunmen stockpiled stolen SUVs when increasing violence is expected.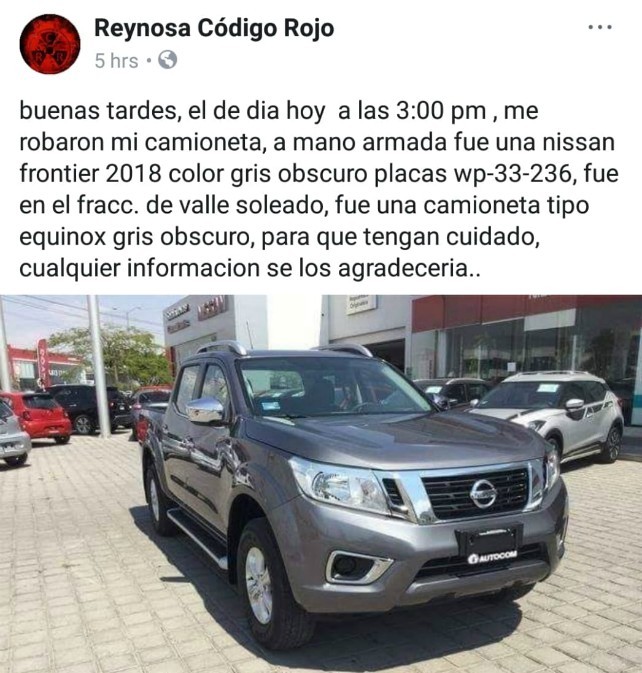 Editor's Note: Breitbart Texas traveled to the Mexican States of Tamaulipas, Coahuila, and Nuevo León to recruit citizen journalists willing to risk their lives and expose the cartels silencing their communities.  The writers would face certain death at the hands of the various cartels that operate in those areas including the Gulf Cartel and Los Zetas if a pseudonym were not used. Breitbart Texas' Cartel Chronicles are published in both English and in their original Spanish. This article was written by "A.C. Del Angel" from Tamaulipas.