A Texas teacher was accused of having a four-year sexual relationship with a teen girl he met at a Houston high school.
David Ziesmer, 26, was charged with an improper relationship between an educator and a student and sexual assault of a child, both second degree felonies. The alleged victim was a 15-year -old high school freshman when the two purportedly became romantically involved.
In October, the now 18-year-old unnamed female told police about the relationship she said began in 2014 when she was in the ninth grade at Bellaire High in the Houston Independent School District. Ziesmer was the student teacher in her world geography class. She told authorities that, during the course of their relationship, the couple had sex inside "several of his vehicles" and later began living together with Ziesmer's parents after her 18th birthday, according to the Houston Chronicle.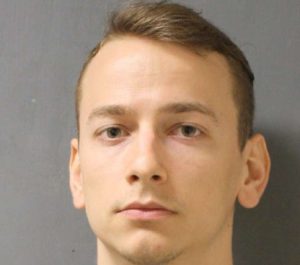 The girl also told detectives she and Ziesmer had sex two times in her home. In February 2015, the victim's mother returned from work early and found the teacher hiding under a blanket with the girl. Several months later, the mother caught them sleeping in bed together in the house, according to court documents.
Reportedly, Ziesmer admitted to having a sexual relationship with the former student but denied they had any sexual contact until she turned 17, the age of consent in Texas. However, a 2017 Texas law, Senate Bill 7, criminalized teacher-student sexual misconduct. In fact, it is a felony for any school district employee to have a sexual relationship with a student regardless of where the educator works, where the student attends school, and even if the student is the legal age of consent.
Only recently, Ziesmer began teaching in nearby Crosby ISD. On November 12, school district officials said they were contacted by Houston ISD police advising them of the alleged sexual misconduct investigation opened on Ziesmer from when he was a student teacher.
"Immediately following this notice, Mr. Ziesmer, who had only been with Crosby ISD since August 2018, was placed on administrative leave and Crosby ISD officials reported the allegations of impropriety with the Houston ISD minor to the Texas State Board for Educator Certification, as required by the Texas Education Agency," said Crosby officials in a written statement.
Online records show Ziesmer holds valid teaching credentials for grades seven through 12 in the subjects of history, English Language Arts, social studies, and English as a Second Language.
Crosby ISD said they, too, conducted an investigation, placing Ziesmer on administrative leave. During that time, he resigned, according to the school district. They indicated their probe "revealed no misconduct related to Crosby ISD students."
In a statement, Houston ISD police confirmed Ziesmer served as a student teacher in 2014 but he was never employed by the district. Police noted investigators conducted a national criminal background check prior to assigning the student teacher to a Houston ISD campus and "nothing was found."
It remains unclear if and where Ziesmer taught between his time at these two school districts.
Ziesmer was released from the Harris County Jail on $40,000 bond. He will next appear in court in February.
Follow Merrill Hope, a member of the original Breitbart Texas team, on Facebook and Twitter.