SAN DIEGO, California — Sen. Bernie Sanders has been working down-to-the-wire to woo California's Latino voters ahead of Tuesday's primary.
Speaking to approximately 2,000 fans in the parking lot of the Qualcomm Stadium in San Diego on Sunday, Sanders said "I just read somewhere that we have 70 percent of young Latinos," to which the crowd went wild with cheers.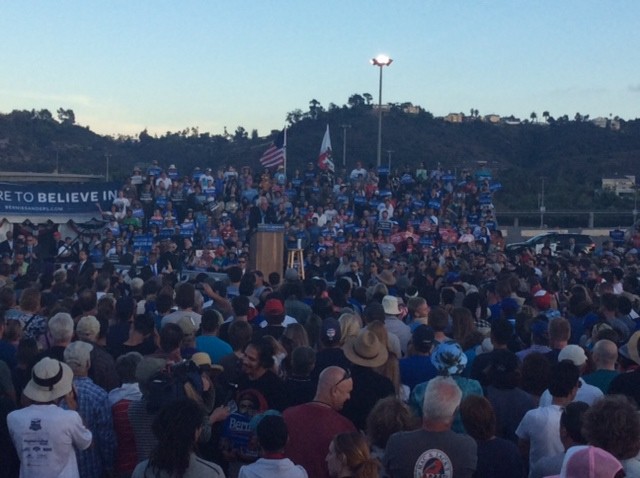 "This campaign is listening to our Latino brothers and sisters," Sanders said.
And they remind us that every day there are 11 million undocumented people in this country, many of whom are living in the shadows and are living in fear. Right here in California, you have may thousands of undocumented workers who are being ruthlessly exploited on the job. They are underpaid and overworked. But they cannot stand up for their rights because they have no legal protect. And that is why I believe we need to pass comprehensive immigration reform; a path towards citizenship. Our job is to unite families, not divide families.
He promised to use the executive power of the presidency to enact amnesty if Congress does not do so. Sanders had delivered a similar message on Saturday when he held a town hall meeting on immigration reform at the Casa del Mexicano in East Los Angeles.
Rep. Tulsi Gabbard (D-HI) and Princeton professor Cornel West introduced Sanders. Gabbard, a war veteran herself, criticized Hillary Clinton for being hawkish compared with Sanders, who has expressly stated his preference to use diplomacy over war.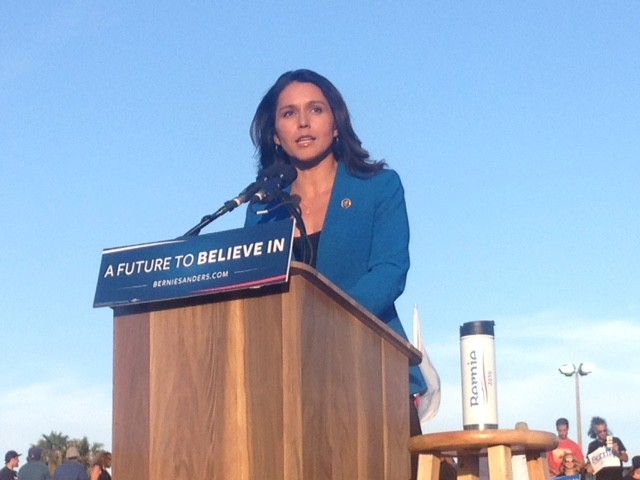 West recently compared Clinton to Milli Vanilli, a pop duo group in the 1990s that was disgraced after it was discovered that they used lip-synching in their Grammy award-winning album.
"If the election were held at this moment and only those who are under 45 could vote, my dear brother Bernie would win in a landslide," West said. "It's the future to believe in."
He said that in spite of "all the things said about the Bernie Sanders campaign, we are still a love train. And yes, this is what love looks like in public. This is not a Machiavellian game of bourgeois politics. This is a moral and spiritual cause that has to do with poor people, working people, children … that's what makes this particular moment unprecedented."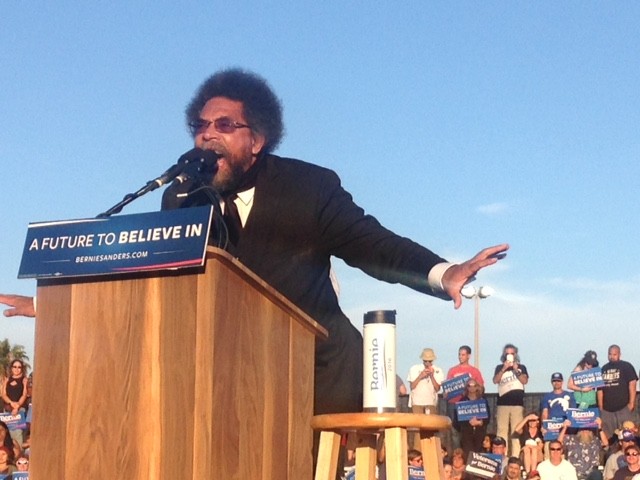 Sanders pointed out "a number of serious differences with Secretary Clinton," including her refusal to ban fracking and the fact that "we are the only presidential campaign not to have a super PAC."
He said it's "not a democracy" when billionaire Sheldon Adelson is pouring money into Donald Trump's presidential campaign. He suggested that was instead a sign of "oligarchy."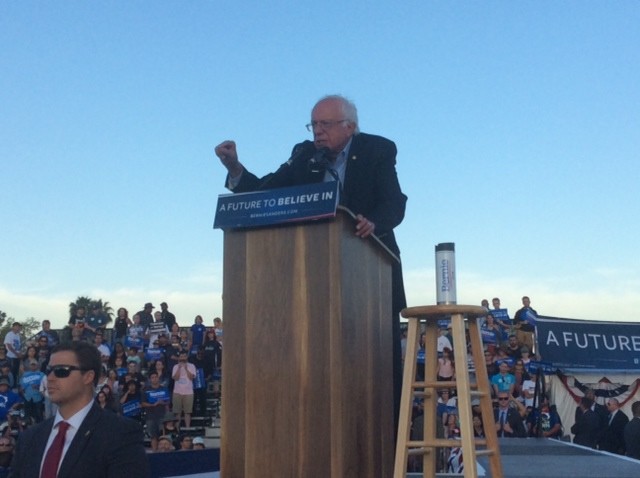 "Let me give you some comforting news: Donald Trump is not going to become president of the United States." Sanders said, calling Trump "bigoted" and adding that "if the Democratic leadership wants a campaign that will not only regain the White House, but regain the Senate," his campaign is the one to achieve this.
Oligarchy, Sanders explained, "is the concept of small number of people controlling the economy and political light of the nation. Guess what? That s exactly what's happening in America today and we are not going to accept that."
Follow Adelle Nazarian on Twitter @AdelleNaz