UNCASVILLE, Conn. — Fedor Emelianenko addressed questions about God and the UFC with Breitbart Sports but he tapped out on a discussion of Vladimir Putin.
The former Pride heavyweight champion and current Russian officeholder, still exuding a strange combination of humility and intimidation, appeared at Bellator 134 over the weekend. Before intently watching the competition cageside at Mohegan Sun Arena, a stone-faced Fedor signed autographs and posed for pictures for two hours alongside Royce Gracie and Kimbo Slice in the Uncasville, Connecticut, casino. The visual of the sport's founding father, arguably its greatest combatant, and a mere dabbler made famous by bareknuckle YouTube brawls all sitting together nevertheless left more than one passerby to exclaim, "Hey, look! It's Kimbo Slice!"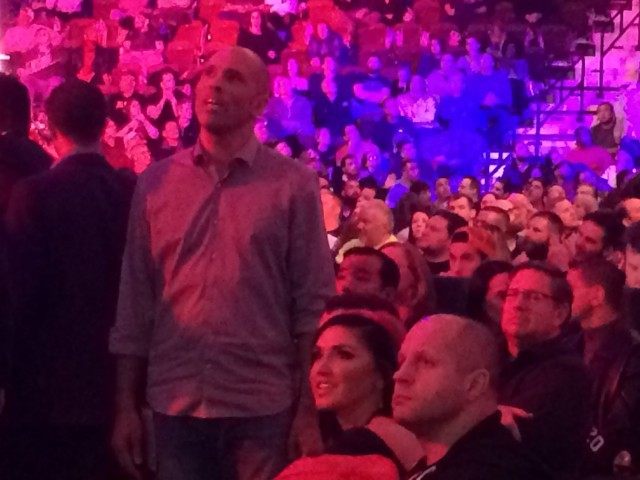 Emelianenko went unbeaten for nearly a decade, an unprecedented perfection streak at least in elite-level mixed-martial arts. During his incredible 28-fight unbeaten run he triumphed over such notables as Antonio Rodrigo Nogueira, Mark Hunt, Mirko "Cro Cop" Filipovic, Andrei Arlovski, Tim Sylvia, and Mark Coleman. But he never stepped inside the UFC's octagon despite the promotion offering big money, eventually building a stable of the best fighters, and promotion president Dana White dubbing the acquisition of Fedor an "obsession."
"The organization must first learn to respect the people with whom they wish to work," Emelianenko told Breitbart Sports in Russian. "I did not sign up because the UFC organization does not show respect for the people that work for it."
The UFC dubbed Fedor's handlers difficult and his demands unreasonable after several failed attempts to land the mixed-martial artist many deem the best ever.
The fighter holds a very different view of the organization paying him to serve as an ambassador for the brand in retirement.
"In contrast to [the UFC]," the 34-4 pugilist noted, "I have known [Bellator President Scott] Coker for a long time, and he is an old friend. He invited me to come to Bellator and I agreed with pleasure."
Emelianenko fought four times under Coker's Strikeforce promotion. Three of the Russian's four career losses occurred there—to Fabricio Werdum, Antonio "Big Foot" Silva, and Dan Henderson—before he rebounded with three consecutive victories to close out his career. Despite his association with Coker corresponding with the only real fallow stretch of his career, Fedor clearly looks upon the promoter, who now runs Viacom's Bellator MMA, with fondness.
The fledgling political leader looked upon Breitbart Sports's question about Vladimir Putin with decidedly less enthusiasm. Emelianenko won election to a provincial duma in 2010 as a member of the ruling United Russia Party and Putin subsequently named the national hero, whom he has watched ringside, to Russia's Council of Physical Fitness & Sports. Whether from a desire to avoid mixing sport and politics, commenting on domestic matters in a foreign country, prolonging an already long afternoon, or becoming this man should his words get lost in translation, Fedor gave the question about explaining Putin's popularity in Russia to an American audience a great, big nyet. Emelianenko did not speak but his silence said something.
Part of Emelianenko's popularity in his homeland stems from his soft-spoken devotion to Christ. Where other mixed-martial artists might sport a tattoo or two (or two hundred), the inkless Fedor wore a wooden cross into the cage and ring. Like other fighters, Fedor traveled with an entourage. But it included a bearded Russian Orthodox priest. Rather than join the Red Devil Sport Club, he prevailed upon them to alternatively call themselves the "Saint Alexander Nevsky Club," named in honor of the medieval Russian patriot, or the "Imperial Team." He talked God rather than trash.
His faith helped him as a fighter, he avowed, but it helps him more broadly as a man.
"In my opinion, faith helps in many contexts," Fedor told Breitbart Sports. "One needs to live every day according to God's commandments. And then any kind of difficulty or unpleasantness will be manageable."
Follow Daniel Flynn on Twitter @flynnfiles