A man was seen on the ESPN broadcast of the Boston Red Sox at the Houston Astros game Sunday holding up a "Cruz 2016" sign.
Politico reports the man is the campaign manager for GOP presidential candidate Sen. Ted Cruz (R-TX), Jeff Roe, who is an avid baseball fan.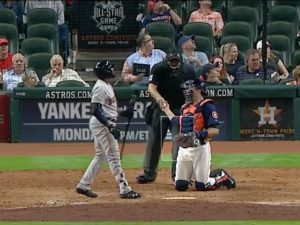 Roe was sitting three rows up just behind home plate, a perfect place to hold up a sign at a baseball game.
According to Politico, Roe was also joined by senior Cruz adviser David Polyansky, who also sported the Cruz sign throughout the game.
This comes just days after ESPN fired analyst Curt Schilling for sharing a picture on Facebook that was meant to decry allowing transgenders to attend the bathroom of their choice.
Cruz defended Schilling on the Glenn Beck radio program, saying ESPN fired him "for making the rather obvious point that we shouldn't allow grown adult men strangers alone in a bathroom with little girls."