Director Randall Wallace gathered the cast and crew of Heaven Is for Real early in the production to share a vital message.
They were about to shoot a nonfiction book adaptation about a boy who claimed he saw Jesus during a near-death experience. Wallace wanted to make his approach crystal clear.
"I circled everyone up, Braveheart style, and said, 'Look, there are not going to be two families making this movie. Each one of you should think whatever you want to think about this story," Wallace tells Breitbart News. "Your questions and doubts should be alive in this … I don't want everybody to have a rigid perspective, but we will all be open and do this all together."
"The story," Wallace added, "is not meant to answer the questions but open the doors to the questions."
Heaven Is for Real has done much more than that. It shocked Hollywood anew that a faith-friendly film could command such a large audience. The film is the third Christian film to soar at the box office, following on the heels of 2014 releases Son of God and God's Not Dead.
Heaven is notable not just for its inspirational story, but for the way Wallace and crew captured the faith of small-town America.
"I wanted people to see themselves in a way they recognized," he says.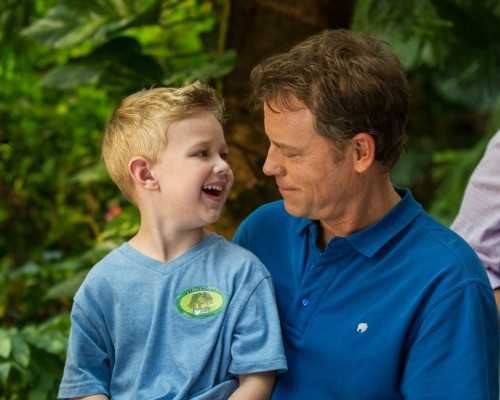 Wallace, who penned Braveheart and directed We Were Soldiers and Secretariat, learned early that he wanted to tell stories for the kind of people he once called neighbors. He remembers an exchange he had with an august colleague years ago that forged his creative path.
The man agreed on Wallace's take on the material in question but he had reservations all the same.
"I would like to do this the quality way you suggested, but they'd never understand it from 'unwashed Nebraska,'" Wallace recalls his mentor saying, right down to the "unwashed" part.
Wallace fired back that he came from "unwashed Tennessee." The moment never left the director's mind.
"I love people in small towns. I come from one. Early in my career I realized in many ways they were the people I was writing for," he says. "You can tell in anyone's work, a writer, a director, whether they have love for the subject or contempt … often times that's reflected in whether they like themselves or hate themselves." 
Through Heaven, Wallace came to be friends with Todd Burpo, the father of little Colton Burpo whose story is the heart of the film. The two men's off-screen bond helped fuel the project.
"If I had felt [the Burpos] were inauthentic, I wouldn't have known how to do the project," he says, adding he is "100 percent convinced" Todd Burpo didn't write the book about his son for monetary gain.
Wallace joined the Heaven Is for Real production in 2012, before the current wave of Christian-themed films struck Hollywood. He's grateful for movies like Son of God for showing the industry that audiences are eager to see these stories.