Katy Perry, who once castigated fellow pop stars for getting too naked too often, can now be seen striking S&M style poses with Madonna.
In fact, Perry told V Magazine that she wants the aging Material Girl to "mentor" her in the ways of provocation.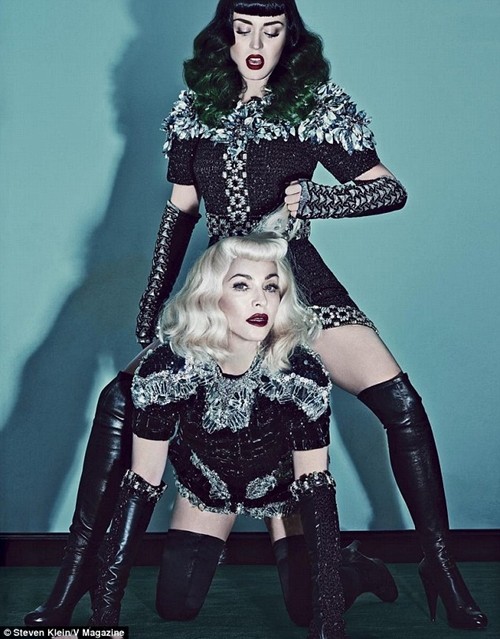 Playing up their rivalry, in one shot the two stars wear matching outfits of black rompers embellished with giant crystals, leather gloves and thigh-high stiletto boots. In the provocative image, Katy straddles the Like A Virgin star as if riding her and pulls her hair.

Both women sport pin-up Bettie Page inspired hairstyles and the bright red lipstick and defined eyebrows made popular by the sexy cult figure.

As if riding the woman who defined a generation of female music was not enough, in another image the 29-year-old star makes the mother of four her captive.

Bound and lying on a leather couch, Madonna wears a saucy pair of black corseted high waisted knickers with a matching black bra, stay-up stockings and leather gloves.
Madonna offered this assessment from the photo shoot.
It's good to be sore in your butt. My neck is sore from that wonderful moment when I was sucking on your heel.