Like Lou Costello, Groucho Marx, and Jack Benny, Melissa McCarthy can't not be funny, but in "Tammy," a road comedy she co-wrote with her husband Ben Falcone (who also directs), her comedic promise is slowly smothered by increasingly ugly characters and a misguided streak of political correctness.
The first act of "Tammy" is hilarious, which makes the eventual collapse of the movie even harder to accept. In just 5 minutes, our protagonist's life completely unravels. She loses her car, her job, her cheating husband and handles all of it with the endearing childlike aggression that is McCarthy's specialty.
Humiliated, angry, and with no idea what to do next, Tammy decides step one is to escape her Southern Illinois town. Unfortunately her car is totaled and she's broke. Thankfully Grandma (a very game Susan Sarandon) has wheels, a wad of cash, and a burning a desire to see Niagara Falls and get out from under her suffocating daughter (Tammy's mom — Allison Janney).
After some amusing drinking and driving, an expensive jet ski episode, and a wild night of sexual debauchery for Grandma in the parking lot of a Louisville shit-kicker bar (Thelma and Louise are truly no more), the plot takes a nasty turn.
A jailhouse heart-to-heart between Tammy and Grandma drains every bit of empathy you had for the characters. Grandma admits she's a rummy who once tried to sleep with her own daughter's husband. Tammy confesses she's been cheating on her unfaithful husband all along … with the ice cream man … for Klondike bars. Moreover, grandma's has just had a one-nighter with a drunken yokel (Gary Cole) married to a woman who were led to believe is dying.
Things promise to perk up when Grandmas asks Tammy if she's ever been to a lesbian 4th of July barbecue. But rather than use a potential comedy goldmine for good-natured laughs, we're battered with A Very Special Message about how normal, loving, successful, and not-dysfunctional our Very Special Lesbian Couple (Kathy Bates, Sandra Oh) is. This long, unfunny sequence is where the funny dies. 
Cowards.
But not at all surprising when you learn the left-wing Will Ferrell and Adam McKay are on board as producers. These two killjoys never fail to make you eat your vegetables.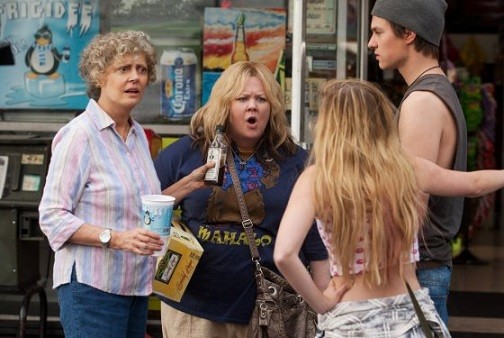 In its closing minutes "Tammy" tries to summon some poignancy and even romance, but an uneven script hasn't earned these moments. Overall, the last half-hour just feels … off. This, along with the fact that legitimate talents like Cole, Janney, and Toni Collette are reduced to thankless bit parts, makes you wonder how tortured things got in the editing room.   
McCarthy is obviously hoping to create a persona that can carry a film; an early Adam Sandler-like manchild full of anger and pathos but eventually capable of accepting responsibility and a love interest. "Tammy" doesn't disprove that possibility but does prove McCarthy needs to surround herself with better and braver talent.
Follow John Nolte on Twitter @NolteNC