"Joy," which is based in part on the life of Miracle Mop creator Joy Mangano, is the third film teaming director David O. Russell and his muse, Oscar-winner Jennifer Lawrence. It is also, far and away, their best. As much as I enjoyed "Silver Linings Playbook" ( 2012) and "American Hustle (2013), I have no desire to see either again.  The opposite is true for "Joy," which succeeds both as a love letter to the endless possibilities one can achieve through American capitalism and a female-empowerment story that manages to make its point without laying down a lecture.
Joy Mangano (a terrific Lawrence) is a divorced mother of two eking out a living in Long Island (circa 1990) as a booking clerk for Eastern Airlines. Other than her supportive grandmother (Diane Ladd), Joy somehow manages to survive among and live with an extended family that is equal parts eccentric and jaw-droppingly selfish.
Joy's ex-husband of two years is a going-nowhere lounge singer who lives in her basement. Her divorced mother (Virginia Madsen) is a bedridden near-recluse addicted to a cheesy television soap opera. Her father (Robert DeNiro), the only one who chips in economically, is a needy emotional mess constantly moving from one girlfriend to another, and living with Joy in-between romantic conquests.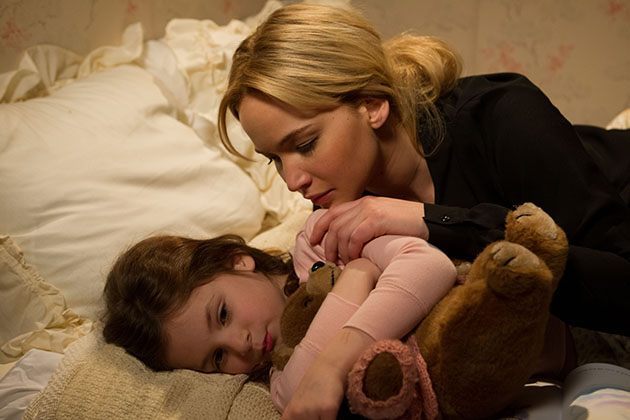 If this sounds like the latest overrated piece of quirky twee garbage from Wes Anderson, let me stop you right there. What grounds the story, and makes all of this illuminating and charming, is Joy's grounded normalcy. Like Marty McFly in "Back to the Future" and Dorothy in "The Wizard of Oz," Joy is the (sometimes) calm, sympathetic, and relatable center of the storm.
Joy is also a young woman with dreams stunted by her own bad choices and a family that confuses love with pecking her to death, a young woman constantly put upon in ways big and small; and one who intuitively understands she was meant for bigger things, that time is quickly running out, and when it does, a tragically misspent life will be her epitaph.
Her life changes when she dreams up the Miracle Mop, a lightweight, self-wringing floor mop; one of those brilliantly simple inventions you can't believe no one thought of before. As is often the case in the complicated, competitive, and oftentimes unscrupulous American business world, the hard-fought success of this invention delivers only heartbreak, disillusionment, and bankruptcy.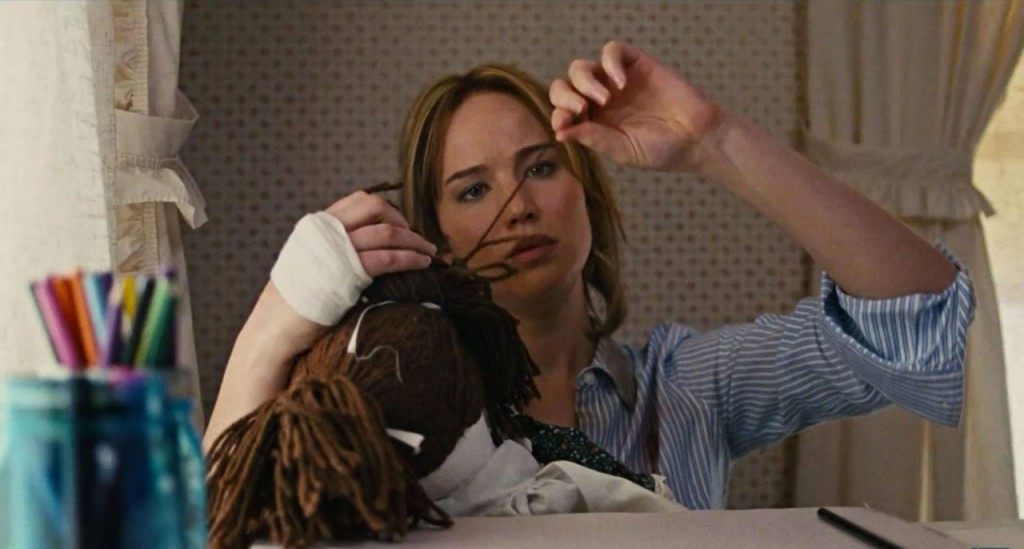 At first Neil Walker (Bradley Cooper) appears to be Joy's White Knight. The QVC executive gives Joy her first big break on his home shopping cable channel. Wisely, though, the story doesn't take this easy route. Walker is honest and decent, but he is no hand-holder. To his credit, knowing that in the end it will do nobody, especially Joy, any good to engage in Little Lady-affirmative action, he throws her in the deep end and walks away.
Russell is obviously telling a female empowerment story here, but it is the exact right kind. Men are not demonized (Joy's relationship with ex-husband is my favorite subplot), they also do not Make Her Dreams Come True. With the help of men and women who show some faith in her, Joy reaches previously unimagined heights, and does so in the best way: all on her own. No trigger warnings. No government help.
This is why "Joy" is also a love letter to American capitalism, and a realistic one that doesn't disguise the endless struggle required to achieve success, doesn't paper over the harsh reality that life indeed is not fair, in fact it is frequently unjust. At the same time, "Joy" says declaratively that although the playing field is brutal and unforgiving, America is still a uniquely extraordinary place where, if you have the drive and the brains and the guts and are willing to repeatedly pick yourself up off the floor of failure, nobodies can become anybody.
Joy doesn't sleep around or ask for handouts or assume she's entitled, and she's a devoted mother who digs firing a shotgun. What more can you ask for in a role model, especially for young women?
"Joy" is not only a wonderful movie, each scene is its own perfect little short film.
Follow John Nolte on Twitter @NolteNC