Several dozen demonstrators gathered outside the West Hollywood Sheriff's Station on Thursday evening to protest Mayor Lindsey Horvath's attempt to ban Republican presidential frontrunner Donald Trump from speaking in town.
Horvath argued on CNN earlier this week that Trump's political speech is "hate speech," not constitutionally protected free speech. She also defended her instructions to city staff to refuse issuing events permits to the Trump campaign, saying that it was well within her right to do so in the name of "diversity."
On Thursday, about fifty demonstrators — including many from the large local LGBT community rejected Horvath's stance as a violation of the First Amendment freedoms of speech and assembly.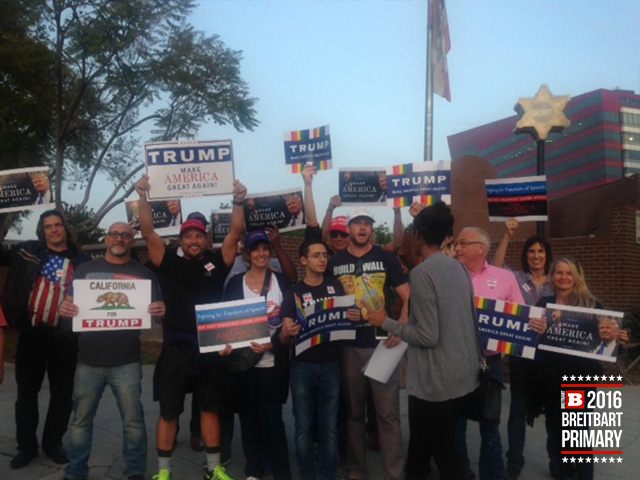 Jake Lee, 46, a West Hollywood native who organized the rally, told Breitbart News: "Mayor Lindsey Horavath took it upon herself to ban Donald Trump from West Hollywod and that aggravated me."
He said he has been an independent and Libertarian his entire life, but only recently changed his registration to Republican so he can vote for Trump in the California primary June 7. He confessed that he was "forced to vote for [Mitt] Romney in the last election."
Lee, who is married (to a woman) and has a young daughter, added, "I've seen a lot of my gay friends throughout the years struggle to come out and tell the world who they are."
Protesters held up brightly-colored Trump signs adorned with the emblematic gay ride rainbow. One young man walked by and exclaimed in a surprised tone: "Oh, I guess there are gay people who support Trump?"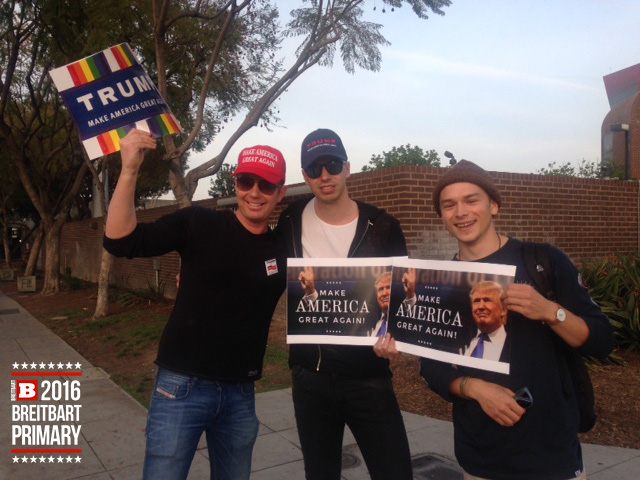 Lee added that "conservative gay friends of mine are terrified and they are living in fear in their own city. They are shot down, shut out and afraid of being blackballed and blacklisted by their peers. It's terrible."
He said that America is "ready for a businessman," and that watching The Apprentice changed his view of Trump for the better.
"I know staunch conservatives feel that Trump is not a true conservative, but looking at the way that he ran the show in the board room completely displayed so many conservative principles: You work hard, you move up the ladder. You don't work hard, you get fired."
Ryan Stires, a gay man who resides in West Hollywood told Breitbart News "I'm a fiscally conservative, socially liberal Orange County Republican. And Trump has very much the same values as I do in regards to being fiscally conservative."
Stires is an executive for Rally Life, a health and wellness company that provides on-demand IV hydration to clients. He described it as the Uber of medical care.
There were some divided households represented on Thursday evening as well. A man named Matteo, who moved to America from Italy several years ago, said that while he was voting for Trump, his wife is likely going to vote for Hillary Clinton.
Matteo suggested his wife wants to see the first female president. "She reads the newspaper," Matteo said of his wife. "And the newspaper loves Hillary Clinton."
Several mini-debates broke out between passers-by who were either undecided, or had unfavorable views of Trump. One discussion involved a debate over Islamic law, or sharia.
Larry Clardy, 70, an American veteran, told Breitbart News he is voting for Trump due to his support for veterans and his promise to curb the nation's illegal immigration problem.
"If Trump can do these two things, everything else will fall into place. Trump needs to build a wall and get rid of illegal aliens," Clardy said.
"He's spending his own money. All these other candidates aren't spending their own money," Clardy added.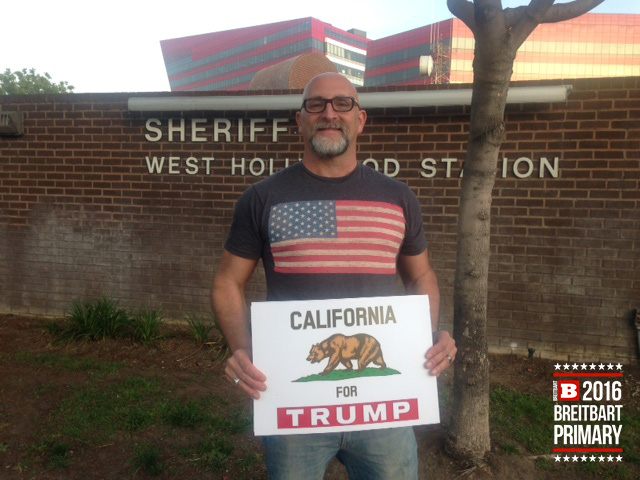 Stephen Brenes, 42, told Breitbart News: "I'm an American citizen that loves Donald Trump because he loves this county. He's the only one that represents the American citizen."
Brenes said he is Catholic, and was born in Nicaragua before his family legally came to America when he was five years old.
"I'm a registered Independent because I disowned the Republican Party because of the establishment. They don't represent the American citizen," he said.
Only registered Republicans can vote for Trump on June 7 in the "closed" California Republican presidential primary.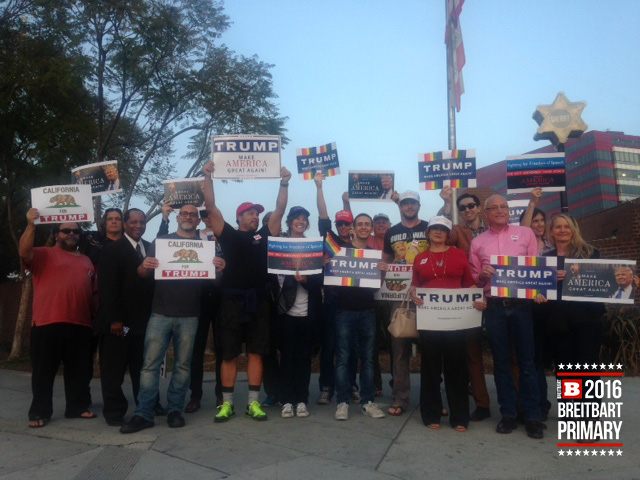 Follow Adelle Nazarian on Twitter @AdelleNaz.