Actor George Clooney told reporters Friday that America won't look back at this moment in history and be "proud" and claimed that Hollywood is well represented in President Donald Trump's administration.
"Hollywood is being quite well represented right now in the West Wing somehow," Clooney told journalists Friday at the Toronto International Film Festival. The actor referenced President Trump's annual pay to the Screen Actors Guild, his star on the Hollywood Walk of Fame, and Treasury Secretary Steve Mnuchin who has produced a plethora of blockbuster Hollywood films.
"You know, they say I'm out of touch. You want to call me a Hollywood liberal? Come at me," Clooney said, seeming to defend himself against accusations that he's an elitist. "I sold ladies shoes, I sold insurance door to door, I worked at an all-night liquor store, I cut tobacco for a living. I can change the fan belt on my car. I grew up in that world in Kentucky. I know every bit of that world, and I know my friends and what they believe."
"And I know this is not a moment in our history that we'll look back and be proud of," Clooney said. "So if I'm not standing on the side I believe to be right, I'd be ashamed."
Clooney, who was in Toronto promoting his new Matt Damon-starring race thriller Suburbicon, attacked Breitbart News Executive Chairman Stephen K. Bannon, calling him "a failed f**king screenwriter."
"I like picking fights. I like that Breitbart News wants to have my head. I'd be ashamed 10 years from now if those weaselly little putzes, whose voices are getting a lot higher every week as this presidency starts to look worse and worse weren't still [after me]," Clooney told reporters.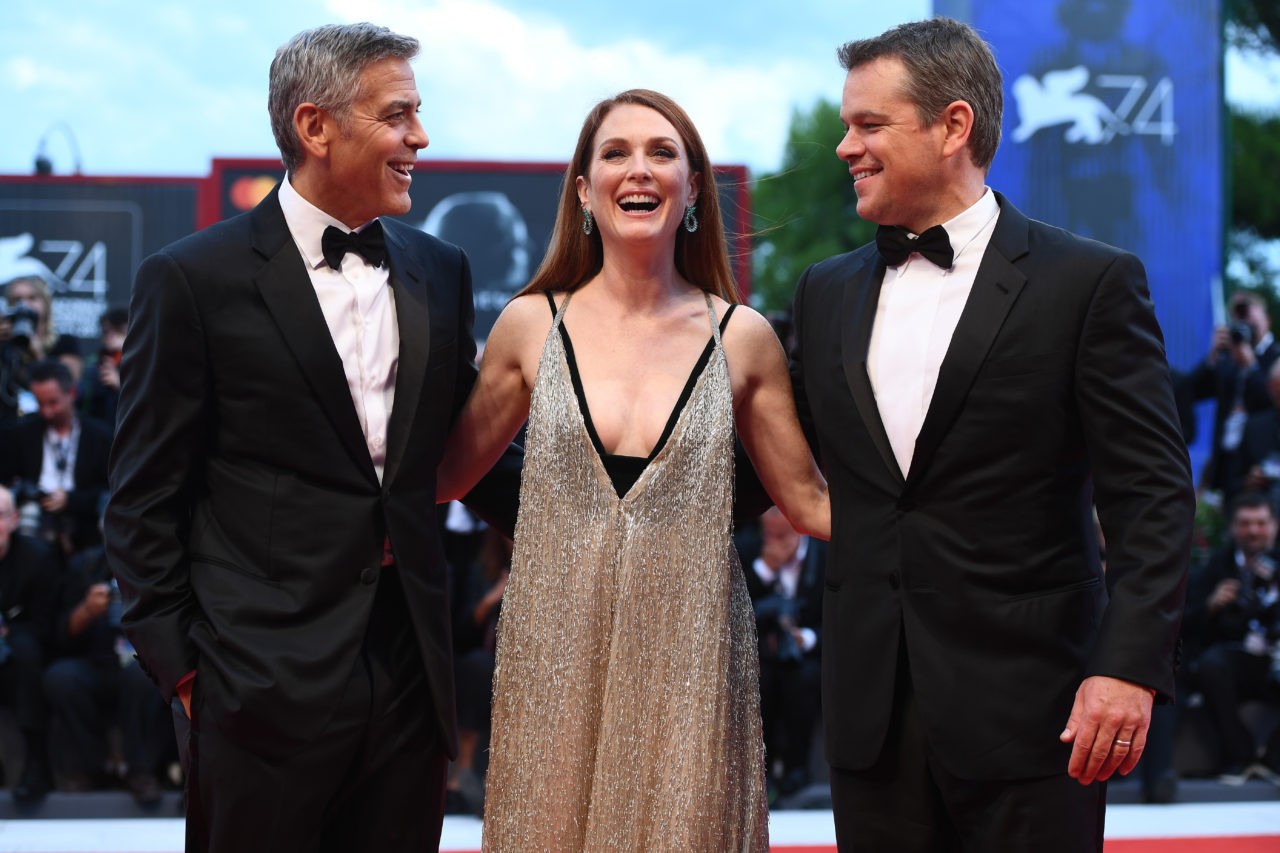 Matt Damon, Julianne Moore and George Clooney walk the red carpet ahead of the 'Suburbicon' screening during the 74th Venice Film Festival at Sala Grande on September 2, 2017 in Venice, Italy. (Gavan/Getty Images)Later, the Oscar-winner said he has no plans on running for elected office.
"The reality is there are many more people who are much better qualified than me," Clooney said. "I think the reason people talk about is that our bench [in the Democratic party] doesn't seem very good right now, it doesn't seem very exciting."
"By this time eight years ago we had already heard Obama give a speech at the convention and there was something going on," Clooney said. "But right now nobody really sees anybody out there, so that's when the Rock or whoever comes into play. For me, I will support whomever I can by doing fundraisers or whatever and helping in ways I'm probably better at than in making policies… I say just try to find a candidate that excites you, and it shouldn't be me."
Follow Jerome Hudson on Twitter @jeromeehudson