BIRMINGHAM, Alabama — Comic legend Jackie Mason slammed lawyer and activist Gloria Allred as "the only person in the world that can make Hillary Clinton sound like an honest human being."
"I don't know any hooker in any wh*rehouse who is a bigger fake or fraud than her," added Mason. "Every time she opens her mouth, you could bet your life there is another lie coming out. Even when she keeps her mouth closed, she finds a way to do something crooked."
Mason was responding to Allred's repeated refusal to release to the custody of an independent examiner the original copy of a yearbook that contains the only piece of physical evidence to be presented in the cases of numerous women who have gone public with stories alleging inappropriate conduct between Senatorial candidate Roy Moore and teenage girls.
Allred's client, Moore-accuser Beverly Young Nelson, admitted on Friday to writing some of the words herself on the alleged Moore inscription in her yearbook.
Mason was speaking in a recorded interview set to air Sunday on this reporter's talk radio program, Aaron Klein Investigative Radio, broadcast on New York's AM 970 The Answer and NewsTalk 990 AM in Philadelphia.
Mason quipped, "This yenta, Gloria Allred is not only a fake. She is the only person in the world that can make Hillary Clinton sound like an honest human being. She makes Hillary look like a delicate, wonderful person. She makes Hillary look like a nun or a rabbi.
"They say lawyers lie. But not like her. She makes every lawyer in the world sound like an honest, decent person.  What a degenerate."
Nelson on Friday told ABC News that she added "notes" under what she claims is Moore's signature on her high school yearbook. Those "notes" seem to be the date and location — "12-22-77 Olde Hickory House."
At her original press conference with Allred, Nelson claimed that Moore wrote the entire yearbook inscription. She stated, "He wrote in my yearbook as follows: 'To a sweeter more beautiful girl, I could not say Merry Christmas, Christmas, 1977, Love, Roy Moore, Olde Hickory House. Roy Moore, DA."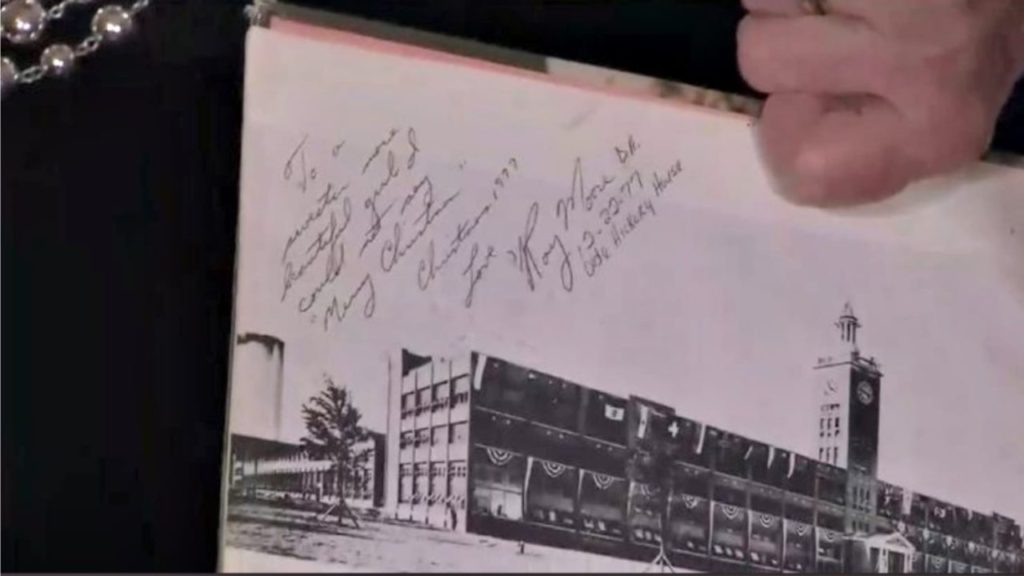 Allred held a press conference Friday to defend Nelson. "Beverly indicates that she added that to remind herself of who Roy Moore was and where and when Mr. Moore signed her yearbook," she stated.
Nelson also failed to disclose that Moore's stamped signature appeared on her 1999 divorce document.
That stamped signature raises more questions about the yearbook inscription, particularly the initials D.A. which appear in both the yearbook after Moore's alleged signature and in Nelson's previously undisclosed divorce document from two decades later.  The 1999 divorce document was stamped with Moore's signature, and initialed "DA" by Moore's assistant at the time, Delbra Adams.
Breitbart News interviewed Adams, who explained it is normal procedure for a clerk to initial a stamped signature on a legal document to verify that the stamp is authentic.
Phillip L. Jauregui, a Moore campaign attorney, raised numerous questions about the signature, including about the "DA," attempting to link it to a signature on Nelson's 1999 divorce document. "After Judge Moore's signature, it has the initials capital D.A. Remember I told you about that 99 divorce action? Judge Moore looked at that 'DA' after his signature."
"Judge Moore says he can't remember ever signing his name with DA after it. But he had seen it before. You know where he had seen it? When he was on the bench, his assistant whose initials are capital D. A. Delbra Adams would stamp his signature on a document and put capital D. A. That's exactly how this signature appears on the divorce decree that Judge Moore signed dismissing the divorce action of Beverly Nelson."
Nelson said that she originally met Moore when he was a 30-year-old deputy district attorney in Etowah County and would regularly eat at a restaurant in Gadsden called Olde Hickory House.
Nelson claims that Moore used to compliment her on her looks and that he signed her yearbook in 1977 sometime just before Christmas.
Nelson's stepson, Darrel Nelson, claimed in an interview with this reporter that his stepmother's accusations are "one hundred percent a lie."
A minister who says that he dated Nelson at around the same time that she claims to have been assaulted by Moore told Breitbart News that he does not believe his ex-girlfriend about the allegations.  The former boyfriend, Jeff DeVine, attended high school with Young and is currently in Thailand, where he runs DeVine Ministries with his wife and twin daughters. He says that as part of his ministry, which focuses on rescuing children, he has worked with victims of rape and other trauma.
Aaron Klein is Breitbart's Jerusalem bureau chief and senior investigative reporter. He is a New York Times bestselling author and hosts the popular weekend talk radio program," Aaron Klein Investigative Radio." Follow him on Twitter @AaronKleinShow. Follow him on Facebook.