A nude drawing of President Donald Trump's 12-year-old son Barron posted by the creator of Rick and Morty Justin Roiland has resurfaced, days after his co-creator Dan Harmon apologized for a fake baby rape video he filmed in 2009.
In the drawing posted by Justin Roiland in April 2017, Barron Trump is seen wearing a pair of virtual reality goggles and a t-shirt but is naked from the waist down. President Trump and cartoon characters Homer Simpson and Family Guy's Peter Griffin are also seen in the background of the image.
"Donald trump forcing baron to play VR, while homer and Peter eat smurfs nearby," Roiland wrote in the now-deleted tweet. An image of the tweet with the drawing was captured and published by the Gateway Pundit, which edited out Barron Trump's exposed genitals.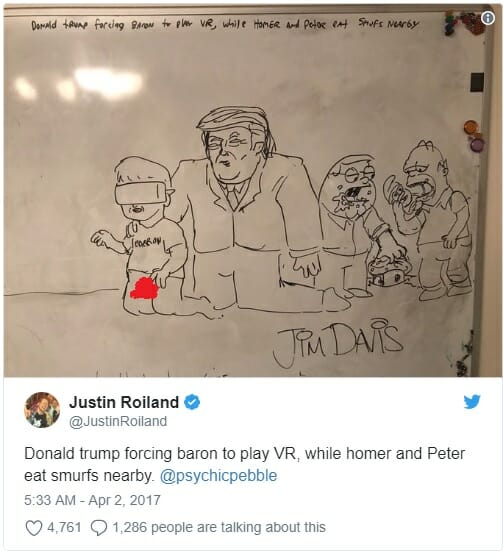 The drawing is signed by a man named Jim Davis on an erasable whiteboard, although it is not believed to be the Jim Davis who created Garfield. 
One of the post's most popular replies was by the Swedish video game programmer Markus Persson, who queried why Barron was not wearing any pants.
so.. uh… why isn't baron.. wearing.. uh.. pants?

— Notch (@notch) April 2, 2017
The tweet has since been deleted after The Gateway Pundit first reported on the posting.
The posts resurfacing comes days after Roiland's fellow Rick and Morty creator Dan Harmon apologized for a fake baby rape video he filmed back in 2009 that went viral on social media. In the video, Harmon pretends to be a pedophile named Daryl who prescribes sleeping pills to one of his patients so he can sexually assault his newborn child (played by a toy doll) while he is asleep.
"In 2009, I made a 'pilot' which strove to parody the series 'Dexter' and only succeeded in offending. I quickly realized the content was way too distasteful and took the video down immediately. Nobody should ever have to see what you saw and for that, I sincerely apologize," Harmon said in a statement on Monday.
Last week, Guardians of the Galaxy director James Gunn was fired by Disney after old tweets resurfaced where he made light of issues such as child rape, homosexuality, the Holocaust, 9/11, and AIDS. Meanwhile, old tweets by the actor-comedian Ian Black also appeared to show him fantasizing about child molestation.
Follow Ben Kew on Facebook, Twitter at @ben_kew, or email him at bkew@breitbart.com.