A new survey by the 80-year-old polling firm TNS-BRMB has given Nigel Farage's UK Independence Party a whopping nine point lead over the Labour Party, whereas ComRes data from today gives the party an 11 point lead, putting it in a firm first place for the European elections on May 22nd.
The voting intentions of TNS-BRMB's latest poll shows Labour on 27 percent (-3), UKIP on 36 percent (+7), Conservatives on 18 percent (-3) and Liberal Democrats on 10 percent (+1). A voting preference of 'Other' command nine percent of the vote (-2). 
The ComRes poll shows that UKIP has opened up a clear lead in the run up to next month's elections for the European Parliament. Thirty-eight percent of Britons certain to vote say that they would cast their ballot for the party, compared to 27 percent who would vote for Labour, 18 percent who would vote for the Conservatives and 8 percent who would vote Lib Dem. 
The TNS-BRMB data takes into account all voters, while ComRes is only amongst those certain to vote.
"Looking at this further, we can see that a significant proportion of the UKIP support is made up of people who did not vote or who voted for the Conservatives in the 2009 European elections. The former group is one that might concern Nigel Farage and the UKIP leadership as there is no guarantee that they will turn out to vote on May 22nd," TNS reported.
A senior UKIP source told Breitbart London: "This poll shows two things, firstly that the British public have seen through the lies and smears of the old-style political parties and their chums in the mainstream media. Secondly, the message of UKIP is getting through loud and clear – the British is public is tired of being lied to."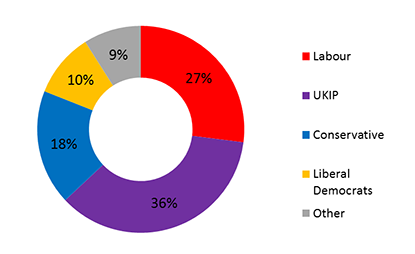 TNS interviewed a representative sample of 1,199 people between the 24th and 28th of April.
Interviews were conducted as online self-completion, and the data has been weighted to match population totals for age, sex, social grade, working status, presence of children, 2010 voting patterns and region.
The voting intention figures have been filtered to show the results for those that would "definitely vote" in the European elections and those that "preferred not to say" who they would vote for have been excluded from the results.