Between 2012-14 there were over 400 extremist events on British Campuses, a new report has found. The University of Westminster, where Islamic State beheader Jihadi John studied, came top of the list, while opposition to the government's anti-radicalization initiative, Prevent, was entrenched and officially sanctioned by many student unions.
The report by anti-extremism group Student Rights said there is "evidence that a culture conducive to the promotion of non-violent extremism has developed on a number of UK university campuses."
Student Rights report on counter-terrorism 'fuels Islamophobia' & 'limits free speech' on UK campuses, says @UK_CAGE http://t.co/OlTc9KUCr3

— Moazzam Begg (@Moazzam_Begg) July 28, 2015
It said speakers on campuses are commonly arguing that there is a Western war on Islam, supporting individuals convicted of terrorism and expressing intolerance of non-believers and other minorities. It revealed that well over a hundred extremists are speaking every year, and that "extremist material" is being shared on the social media pages of student societies.

A spokesperson from the National Secular Society said in a statement: "It seems like many Higher Education institutions are still turning a blind eye to Islamist extremists… The director of the London School of Economics recently suggested that atheists on campuses were becoming 'militant'. It is farcical that such a claim should be made, much less at a time when so many institutions are allowing non-violent extremism to manifest itself so freely on their campuses."
The report, called Preventing Prevent? Challenges to Counter-Radicalisation Policy on Campus, found that many of the "worst offending" institutions are in London, with The University of Westminster, Queen Mary University of London, the School of Oriental and African Studies, Aston University and King's College London among them.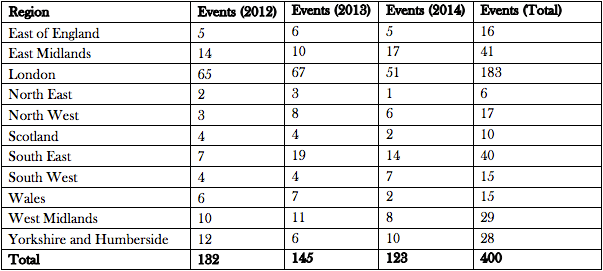 Rupert Sutton, director of Student Rights and author of the report told Ham and High: "There were a significant number of events at Westminster, particularly from the 2012-2013 period, when we believe there was a network of students on campus who were connected to Hizb ut-Tahrir and were inviting speakers on who were promoting themselves to students."
Opposition to government efforts to prevent Islamic extremism were found to be widespread: "Student groups have attempted to deliberately evade scrutiny, or have actively worked to hinder Prevent delivery, and a number of student unions – including the Nation Union of Students (NUS) – have pledged to oppose counter-radicalisation work," the report reads.
"Many of the criticisms [of Prevent] appear to have been directly influenced by extremist groups, which have made opposition of Prevent strategy a significant campaigning platform. This influence has been particularly powerful with regard to accusation of racism…" It adds: "some student groups have pledged to work alongside the extremists groups which promote these narratives."