Tens of thousands of Polish nationalists descended on Warsaw, Poland yesterday to mark the nation's independence day. Demonstrators burned the European Union (EU) flag and banners on display compared EU membership to Soviet occupation.
The event, which saw attendance from Hungary's genuine Neo-Nazi, far right Jobbik Party, passed off completely peacefully with only one arrested made. Pictures from the rally show the blurring of lines between Poland's nationalists and Hungary's Neo-Nazis, with one protester even offering a Nazi salute during the event (below).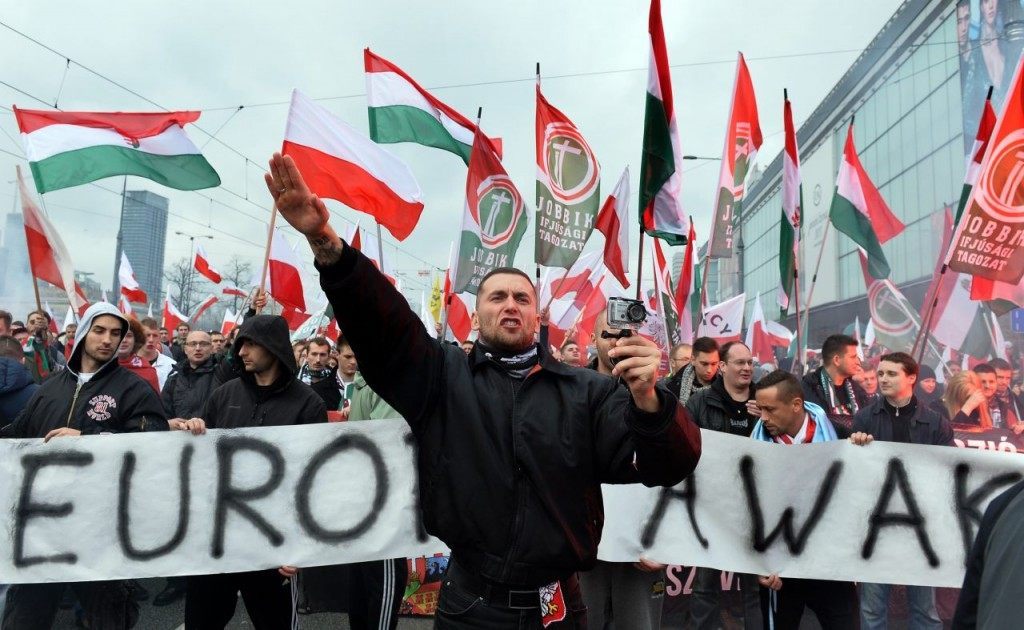 Police estimate it attracted some 25,000 people; the organisers said it was closer to 50,000.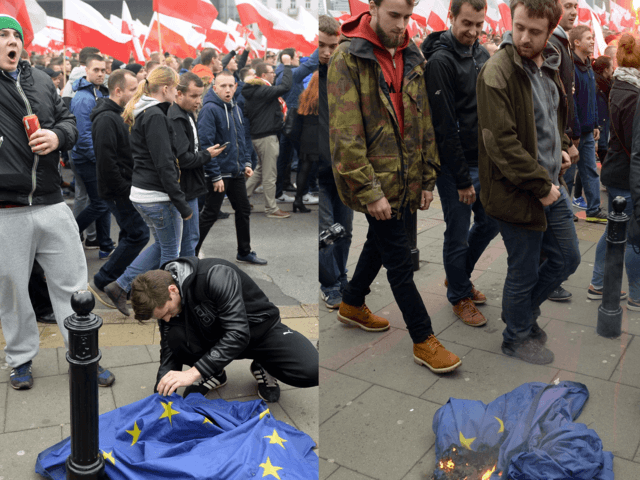 The rally was held under the slogan, "Poland for the Poles, Poles for Poland", in reference to the ongoing the migrant crisis.
Banners read, "Great Catholic Poland" and, "Stop Islamisation" with demonstrators chanting, "God, honour, homeland" and, "Yesterday it was Moscow, today it's Brussels which takes away our freedom".
The marchers in Warsaw trampled on and burned an EU flag at one point.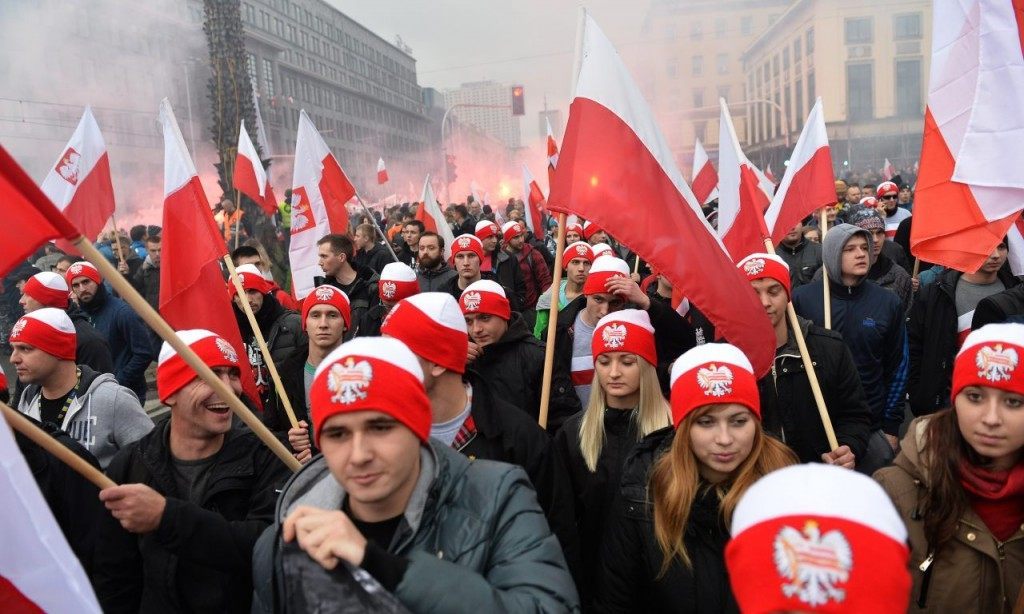 There were events all over the country yesterday as Poland marked the anniversary of nation's return to independence following the First World War. The demonstration in Warsaw, however, was the most nationalistic.
Thousands of police were deployed in anticipation but the event was almost completely peaceful. Some firecrackers were let off and smoke flares lit, but the intentions appear not to have been intimidation or aggression.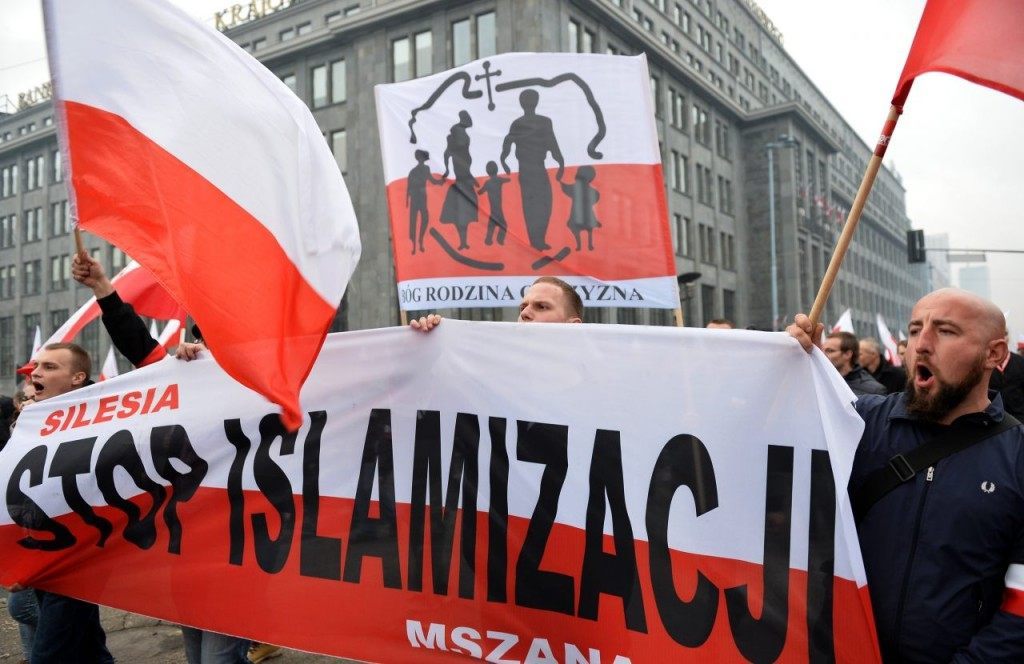 "I came here because I love Poland and want to show it," 27-year-old Piotr, who came with his fiancée, told the Telegraph. Adding:
"I came here for my grandfather, who fought in the Warsaw Uprising (against the Nazi occupation of the Polish capital), and for his father, who fought for independence".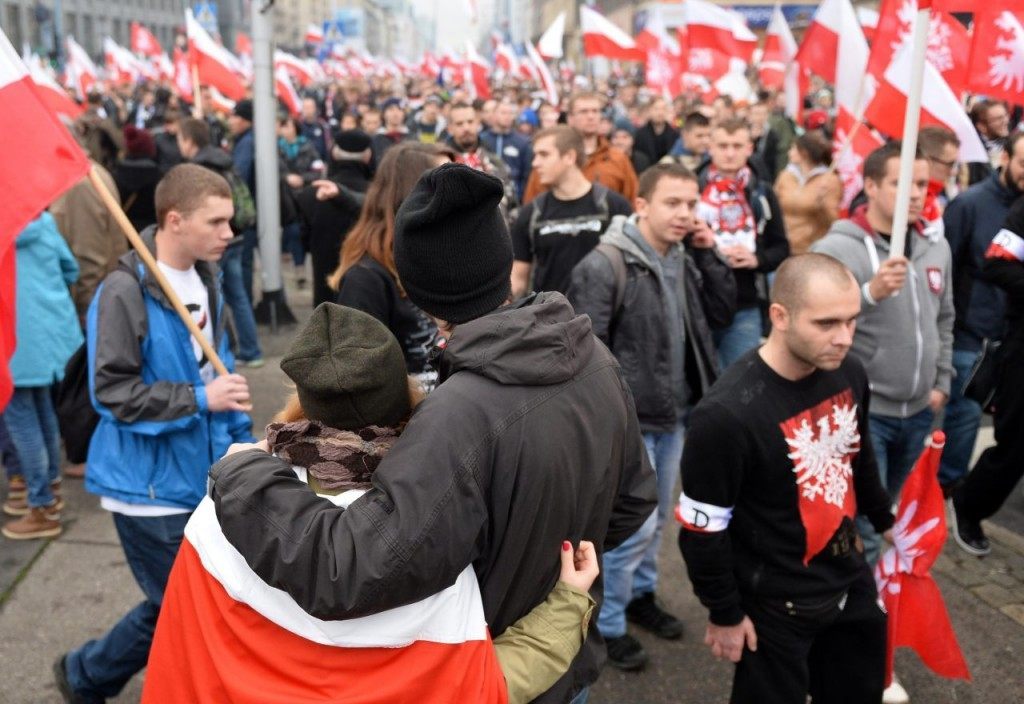 At the end of October Poland's eurosceptic Law and Justice party (PiS) claimed victory in a record breaking election that put the ex-Communist state on a collision course with key EU allies.
The landslide election victory meant there was not a single left-wing MP remaining in the Polish parliament.
(Photo credit: JANEK SKARZYNSKI/AFP/Getty Images)