Islamists launched coordinated attacks on Brussels on Tuesday, hitting the city's airport and metro system.
So far the death toll stands at 34, with many more injured.
Latest updates below:
Breitbart's Latest Reporting:
---
U.S. Identifies Third Airport Bomber:
Sky News reports that American authorities have identified the third bomber seen in CCTV footage from the Brussels airport.  Like the Bakraoui brothers, he is said to be on the U.S. terror watch list.
---
Belgian Ministers Offer to Resign:
The Guardian reports that Belgium's Interior Minister, Jan Jambon, and Justice Minister Koen Geens have both offered to resign after the Brussels attacks.  Their resignations were rejected by Prime Minister Charles Michel, who told Jambon: "In time of war, you cannot leave the field."
---
U.S. Officials Fear ISIS Beehive Stirred By Investigation:
CBS News was told by a U.S. government source that "heightened law enforcement activity in Belgium and other parts of Europe" may have stirred up ISIS operatives, making it possible that plots similar to the Brussels bombing have been "rushed into motion."
These officials said the Brussels attack was itself bumped ahead by a week, from Easter Monday, due to the arrest of cell leader Salah Abdesalam.
CBS quotes Attorney General Loretta Lynch saying there are no known links between the Brussels attacks and the United States at a press conference, after which FBI James Comey expressed concerns about copycat attacks.
Comey then said he "believes the pictures of the carnage may dissuade some people from joining ISIS because the pictures show the group isn't actually building a caliphate, but instead killing innocent people."  Unfortunately, ISIS has been very up-front about the carnage it inflicts, featuring it prominently in their propaganda videos, and it doesn't seem to have hindered their recruiting efforts.
---
Nine Members of ISIS Cell Still At Large:
The Telegraph reports that nine members of the ISIS cell behind both the Brussels and Paris attacks are still at large in Europe, including the "mystery bomber" who accompanied Khalid El Bakraoui into the Metro, and apparently fled before the explosion.
---
Belgium Lowers Terror Alert Level:
Belgium has lowered its terror watch status from the highest level, 4, to level 3.  "The body grouping top ministers, police and justice officials did not say what that would mean in terms of security measures," said a Reuters wire.
---
State Department: 12 Americans Injured In Attacks, Several US Citizens Unaccounted For, Including 2 Government Officials:
At a briefing on Thursday afternoon, the U.S. State Department said a dozen Americans were injured in the Brussels bombings.  While there were no confirmed American fatalities as of yet, several U.S. citizens remain "unaccounted for," including two government officials.
---
Reuters: Abdeslam Plotted Bomb and Shooting Attack in Brussels:
The Telegraph elaborates that according to Belgian public broadcaster VRT, investigators believe "Abdeslam and two others, one of them a man arrested with him on Friday, planned to use assault rifles and riot guns to cause mass casualties in Brussels while others would blow themselves up."
BREAKING: Paris attacks suspect Abdeslam planned shooting and bomb attack in #Brussels: Belgian broadcaster VRT

— Reuters UK (@ReutersUK) March 24, 2016
---
Poland Drops Pledge to Take 7,000 Migrants:
Polish Prime Minister Beata Szydlo has announced she will not honor the previous administration's agreement to accept 7,000 Middle Eastern migrants, citing the danger of jihad after Brussels, and the need "put an end to terrorism in Europe."
"After what happened in Brussels yesterday, it's not possible right now to say that we're OK with accepting any number of migrants at all," said Szydlo.  "I will be very clear: at the moment, I don't see a possibility for migrants to come to Poland."
The Daily Mail quotes her spokesman adding that the Szydlo government "would not allow for events in Western Europe to happen in Poland."
Poland Reneges on Pledge to Take 7,000 Migrants Following Brussels Attack https://t.co/gk0XiwDvxJ pic.twitter.com/GrcX12jJZc

— Breitbart London (@BreitbartLondon) March 24, 2016
---
Latest Graphics on the Attacks:
Brussels attacks in EN https://t.co/a0IKdwGzsS & FR https://t.co/Lup3sKMT6A #AFP pic.twitter.com/wAY52Rqwvt

— AFPgraphics (@AFPgraphics) March 24, 2016
---
No Flights at Brussels Airport until Monday:
The Brussels-Zaventem Airport will reportedly remain closed until Monday at the earliest.
Passenger flights into and out of #brusselsairport are suspended until Sunday 27 March included. Contact your airline for flight info.

— Brussels Airport (@BrusselsAirport) March 24, 2016
---
UKIP M.E.P.s: Attacks Will Spell End of E.U. Free Movement:
"You can't now deny that free movement of people is free movement of terrorists and weapons," said UKIP MEP Jane Collins.  "With border controls come the ability to check individuals' criminal status, their financial status. Those sort of things are crucial in keeping your country safe, and that should be the first responsibility of government."
UKIP MEPs: Brussels Attack Will Spell End For EU Free Movement https://t.co/YrbbVT0I0t pic.twitter.com/zuMMdaTm7I

— Breitbart London (@BreitbartLondon) March 24, 2016
---
Videos Show Palestinian Activists Removing Israeli Flags from Memorial: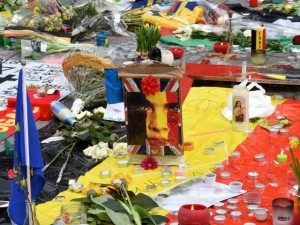 A series of disturbing video clips are emerging showing anti-Israel activists replacing Israel's flag with that of the state of Palestine at memorials commemorating those who died in the terrorist attacks in Brussels on Tuesday.
---
Report: Suicide Bombers Spied on Nuclear Scientist:
Khalid and Ibrahim El Bakraoui spied on a Belgian nuclear researcher in the hope of creating a dirty bomb, according to a report on NBC News.
Claude Moniquet, an intelligence expert who specialises in threats to Europe's nuclear facilities, said the brothers planted a hidden camera to track the scientist.
"The terrorist cell … naively believed they could use him to penetrate a lab to obtain nuclear material to make a dirty bomb," he said.
Belgium deployed troops to protect the country's nuclear sites after Tuesday's attacks.
El Bakraoui brothers secretly filmed a nuclear researcher & hoped to build a "dirty bomb," expert tells @NBCNews https://t.co/pY637Ae0s8

— Alexander Smith (@AlexSmithNBC) March 24, 2016
---
Belgian PM: Our Land Is in Shock:
Belgian Prime Minister Charles Michel has put out some defiant tweets after he laid a wreath at a ceremony for the victims with King Philippe and Jean-Claude Juncker.
In one he said: "Our country is in shock, but we are strong and confident."
Ons land is in shock. Maar we zijn ook sterk en overtuigd. Dit is een democratie die niemand kapot krijgt. pic.twitter.com/vhM7pfXsNi

— Charles Michel (@CharlesMichel) March 24, 2016
In another, he added: "The cries of distress, the sirens and the apocalyptic images will remain forever engraved in us."
Les cris de détresse et de douleur, les sirènes et les images apocalyptiques resteront à jamais gravés en nous. pic.twitter.com/stz72p46bk

— Charles Michel (@CharlesMichel) March 24, 2016
---
Video Shows Woman in Hijab Replacing Israeli Flag with Palestinian One at Brussels Memorial:
Original footage from French channel RTL:
---
New Islamic State Propaganda Video Mentions Brussels, Trump:
A new video put out by Islamic State features of burning image of Donald Trump over audio of an interview in which he said: "Brussels was one of the great cities of the world 20 years ago and safe … now it's a horror show."
The video then shows images of jihadists with the words: "Brothers rise up. Claim your victory!"
ISIS-linked media using presidential candidate Donald Trump's interview in their latest video on Brussels attack. pic.twitter.com/fUBzCizZk4

— Program On Extremism (@gwupoe) March 24, 2016
---
Police Advise Belgian Jews to Cancel Purim:
Police to Belgian Jews: Cancel Festival of Purim https://t.co/emOEa3accK

— Breitbart News (@BreitbartNews) March 24, 2016
---
Video: Brussels Holds Another Minute's Silence:
Belgium held a minute's silence at 2.30pm local time today, on its second day of national mourning:
A moment of silence here in #Brussels. pic.twitter.com/7TCLi7LBnA

— Molly Hunter (@mollymhunter) March 24, 2016
---
The Scene in Molenbeek:
Some photographs from our man on the ground, Oliver JJ Lane.
---
Jihadis Call for More Attacks, Hold Online Poll Asking: "What Colour Will the Eiffel Tower Be Next?"
Sick Jihadi Poll Mocks Europe, Asks 'What Colour Will the Eiffel Tower Be Next?' https://t.co/ftfRjDr6ep pic.twitter.com/KjRW32kT0E

— Breitbart London (@BreitbartLondon) March 24, 2016
---
Telegraph: 'Pot Bellied' Recruiter Behind Paris and Brussels Attacks:
The Telegraph reports:
The Brussels and Paris terror attacks hinged on a pot-bellied, bearded jihadi guru who goes by the nickname of Papa Noel, or Father Christmas, it emerged on Thursday.

Prosecutors say Khalid Zerkani, 42, dubbed "Belgium's biggest ever jihadi recruiter", had links with Najim Laachraoui, whose DNA on Wednesday betrayed him as the second suicide bomber of the Brussels airport attack – pictured pushing a trolley with one black glove on shortly before the devastating blasts.

Police suspect Laahchraoui of being the bomb maker in both Brussels and Paris. Belgian authorities say Laachraoui travelled to Syria in 2013 to train and recruit other foreign fighters before slipping back into Europe among a wave of migrants last autumn.

Moroccan-born Zerkani is also accredited with recruiting two of the Paris killers – Abdelhamid Abaaoud, the suspected mastermind of the atrocities who was killed in a shootout in Saint Denis, outside Paris, shortly afterwards – and Chakib Akrouh, one of the terrace assailants.
---
Bombings 'A Good Thing' Say No Border Activists, UK Authorities Admit They Cannot Check Every New Arrival:
Bombings a 'Good Thing' say No Borders Activists, as They Urge Migrants to Exploit Chaos https://t.co/jMoywcHWSt pic.twitter.com/qA1EQTIuOa

— Breitbart London (@BreitbartLondon) March 24, 2016
---
Interior and Justice Ministers Offered to Resign:
Belgium's Interior and Justice Ministers submitted their resignations following the attacks, but they were rejected by Prime Minister Charles Michel.
Reuters reports:
Interior Minister Jan Jambon and Justice Minister Koen Geens were not immediately available for comment.

Belgian authorities are facing embarrassment after Turkey said on Wednesday that last year Ankara expelled back to Europe Ibrahim El Bakraoui, one of the suicide bombers who carried out the attacks on Tuesday, and warned Belgium he was a militant.
---
Fourth Possible Victim Named:
A fourth possible victim of the attacks has been named as 51-year-old baggage handler Fabienne Vansteenkiste.
Fabienne Vansteenkiste .
Contact : Thomas Savary et Laurens Van Calster#AttaquesBruxelles #recherchebruxelles pic.twitter.com/8tj90u0ZyV

— #recherchebruxelles (@rechercheBXL) March 23, 2016
---
Protests Outside Islamist-Linked Mosque Following Attacks:
Protests Outside Islamist-Linked Mosque after Brussels Attacks https://t.co/WUe2uvXCtM pic.twitter.com/IpMN1sGLfA

— Breitbart London (@BreitbartLondon) March 24, 2016
---
DISPATCH FROM MOLENBEEK: Breitbart Reporter Surrounded By Cops, Army – Rifles Trained:
DISPATCH FROM MOLENBEEK: Breitbart Reporter Surrounded By Cops, Army – Rifles Trained https://t.co/Ji3Fi6YeCG pic.twitter.com/ILb7iWqXwP

— Breitbart London (@BreitbartLondon) March 24, 2016
---
UK Man Arrested for Challenging Muslim over Brussels Attacks:
A talent agency head has been arrested on charges of inciting racial hatred after he posted a critical tweet referencing the Brussels terror attacks.
Matthew Doyle, head partner at a talent agency in London, was outraged over the terrorist attacks in Brussels that left over 30 dead. He took to Twitter to express his anger and said, "I confronted a Muslim woman in Croydon yesterday. I asked her to explain Brussels. She said, 'nothing to do with me.' A mealy mouthed reply."
UK Man Arrested For Anti-Terrorism Tweet https://t.co/fqaXSp9QoB pic.twitter.com/RXDWDtjBlT

— Breitbart London (@BreitbartLondon) March 24, 2016
---
Six UK Nationals Injured:
Downing Street says 6 Britons are now known to have been injured in the attacks, four of whom have been released from hospital.
PA reports:
The other two are still receiving treatment though the spokeswoman said she was unable to give any information about their conditions.

She said there were "stills concerns" about one unaccounted for British national – a reference to David Dixon, 53, originally from Hartlepool but living in Brussels.

He sent a message to his family telling them he was okay after the airport attacks – but has not been seen since the explosion ripped through the Metro an hour later.
---
Reports of Raids at Chaussee d'Ixelles
Police raids are under way in the neighbourhood of Chaussee d'Ixelles, according to Lavenir.net.
The website says a man was arrested and his BMW was searched by police.
Opérations de police à proximité de la chaussée d'Ixelles https://t.co/dn6V38Twhv pic.twitter.com/oCLeWUyFR8

— lavenir.net (@lavenir_net) March 24, 2016
Chaussee d'Ixelles fermée par la police #Bruxelles pic.twitter.com/bOVJt9JwI3

— DESQUESNES François (@DESQUESNESF) March 24, 2016
---
Hungarian Minister: Cut Phone Lines in Places Hit By Terror:
The Telegraph reports:
Hungary's interior minister says the government wants to limit phone calls in the vicinity of any future terror attack to prevent the overload of communications networks and avoid interference with emergency and rescue services.
Interior Minister Sandor Pinter said Thursday that civilians would be restricted to sending only text messages in areas affected by any attack. The concept's technical aspects would be developed jointly with the telecommunications companies.
---
Bomber Was Deported Twice from Turkey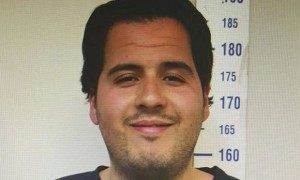 Ibrahim el-Bakraoui, who blew himself up at Brussels airport, was deported from Turkey a second time last year, a Turkish official has told Reuters.
Turkish President Recep Tayyip Erdogan said last night that Bakraoui was deported in June 2015.
Now an official says he travelled back to Turkey and was deported again in August.
---
Even the Mannequins Have Their Modesty Protected in Molenbeek:
In Molenbeek even the mannequins awaiting a change of clothes have their modesty protected #Brussels pic.twitter.com/XgxplHlt6r

— Oliver JJ Lane (@oliver_lane) March 24, 2016
---
Belgian Broadcasters to Observe Minute's Silence:
Belgian broadcasters will observe a minute's silence at 2.30pm local time today as the country enters a second day of national mourning.
Cérémonie d'#hommage : l'ensemble des chaînes radio et TV de la #RTBF observeront une minute de silence à 14h30. pic.twitter.com/6rFdNeRqSt

— RTBF (@RTBF) March 24, 2016
---
Concerns of Islamist Infiltration in French Police Force:
Report: French Police Must Confront Islamists In Their Ranks https://t.co/LAqPXoiqXj pic.twitter.com/3amg4kz1bY

— Breitbart London (@BreitbartLondon) March 24, 2016
---
Long Queues to Leave Brussels:
This is the security clearance line running down the street outside #Brussels Midi station @abcnews pic.twitter.com/ewptgTWx8q

— Emily Street (@EmilyHStreet) March 24, 2016
---
Abdeslam 'Changed His Mind' about Extradition to France:
Salah Abdeslam's lawyer Sven Mary said his client initially wanted to fight extradition, but is now keen to return to France.
"Salah Abdeslam told me that he wishes to leave for France as soon as possible," he said. "I will ask the investigating magistrate not to oppose his departure."
"The most important part of the file is in France. His explanations have to go there."
---
Video: Abdeslam's Lawyer Denies His Client Knew About Brussels Attacks:
Channel 4 News has footage of Sven Mary denying his client knew anything about Tuesday's attacks.
He won't fight extradition & we ask lawyer how Abdeslam reacted when heard about Brussels attacks pic.twitter.com/6vZju1WWZh

— Paraic O'Brien (@paraicobrien) March 24, 2016
---
Video: London Landmarks Light Up in Belgian Colours:
London lights up in solidarity with Brussels https://t.co/jIYJ9B352V

— London Live (@LondonLive) March 24, 2016
---
Video: Bag Checks and Pat Downs for People Using Metro:
Bag checks & pat downs for those entering metro station in #Brussels today. City still at highest threat level pic.twitter.com/ATTkU2qAYa

— Megan Specia (@meganspecia) March 24, 2016
---
Peace in Molenbeek?
Belgians call for peace with Molenbeek this morning… Capitulation? pic.twitter.com/OV1NyskzkG

— Oliver JJ Lane (@oliver_lane) March 24, 2016
---
Rome Declares 'Maximum' Terror Alert for Easter Festivities:
Rome Announces 'Maximum' Terror Alert for Easter Festivities https://t.co/PLsFffcvKt pic.twitter.com/klNUd9VKB5

— Breitbart London (@BreitbartLondon) March 24, 2016
---
Abdeslam Claims He Knew Nothing of Brussels Attacks:
#BREAKING Paris suspect Abdeslam says he 'didn't know' about Brussels attacks: lawyer

— AFP news agency (@AFP) March 24, 2016
---
Paris Suspect Abdeslam Will Not Fight Extradition:
Reuters reports:
Salah Abdeslam, the prime surviving suspect for November's Paris attacks, will no longer fight extradition to France but wants to return to his home country to explain himself as soon as possible, his lawyer said on Thursday.

"Salah Abdeslam has asked me to inform you that he wishes to leave for France as quickly as possible," Sven Mary said in comments broadcast on BFM TV, speaking from Brussels.
---
Belgian Police Now Hunting "Third Man":
A "third man" seen with two Islamic State suicide bombers at Brussels Airport was the focus of a Belgian manhunt on Thursday after police identified three others, including two brothers, who killed at least 31 people at the airport and on a city metro train.