A flood of donations has allowed Democratic candidates to outspend GOP candidates by almost 2:1 in 80 competitive districts since July, according to an analysis by the Associated Press.
The donations will allow Rep. Nancy Pelosi's Democratic House candidates to spend $50 million on advertising more than GOP candidates in the run-up to election day, according to the Washington Post.
Much of the extra funding comes from small-dollar donations via the Act Blue website, which offers Democrats an easy way to direct donations to their favored local candidates. USA Today reported in August:
The group predicts donations will top $1.5 billion by year's end, double the amount the fundraising clearinghouse processed in the 2016 election cycle. By comparison, it took ActBlue nearly 12 years – from its founding in June 2004 until March 2016 – to raise its first $1 billion.

The average donation this cycle: $34.

About 13,000 candidates and groups raise money through the platform, up from about 5,400 in the 2016 election cycle. They range from liberal icon and Massachusetts Democratic Sen. Elizabeth Warren to groups helping migrant families separated at the U.S.-Mexico border.
The D.C.-based group, Open Secrets, showed the Democrats' funding advantage during the spring and summer in a chart: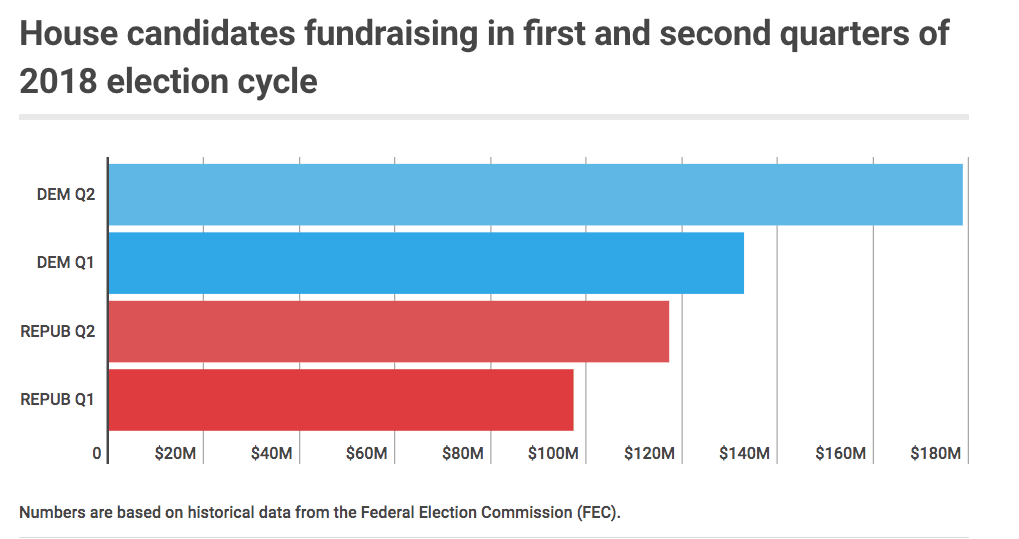 Establishment GOP funders are raising the alarm, according to the Associated Press:
"The GOP is now facing a green wave," wrote Corry Bliss, who leads the group, known as the Congressional Leadership Fund. "Democratic candidates are outspending Republican candidates in key races by $50 million."
The same alarm from GOP establishment activists was posted in the Washington Post:
They requested anonymity to discuss their growing fear that Democratic candidates will overwhelm Republicans in the home stretch of the midterm elections, and the overall outlines of the spending trends were confirmed by other Republican and Democratic operatives.
The Democrats' funding advantage is partly offset by nationwide funding groups such as Bliss' CLF, which is a business-funded PAC that works closely with retiring House Speaker Paul Ryan. The Post reported:
The two biggest GOP spenders, the National Republican Congressional Committee and its super PAC ally, the Congressional Leadership Fund, have reserved almost $140 million in ads from the summer through Election Day, well ahead of the $105 million reserved so far by their Democratic counterparts.
The funding problem is exacerbated by the GOP's split over priorities, while the Democrats' political splits have been partially covered by their shared anger towards Donald Trump, the man who beat their 2016 candidate.
GOP's business funders want the GOP candidates to downplay or avoid the core priorities of President Donald Trump's populist agenda, such as his low-immigration, high-wage, policy goals. This skew meant that many of the CLF's early TV ads were focused on business priorities, such as touting the tax cut.
However, past tax cuts do little to shift voters' future decisions, and the Democratic polling gains have forced the business groups to spend money highlighting Trump's issues, including illegal immigration, sanctuary cities, and criminal crimes.
But the business groups are still ignoring the most controversial issues, especially the huge economic and civic costs of massive, legal cheap-labor migration. Those costs helped Trump win his shocking victory in 2016 because the flood of immigrants lowers wages, outsources of middle-class jobs via the H-1B visa-worker program, spikes rents and real-estate costs, and impose more diversity on fractured communities.
On October 11, for example, the pro-migration Congressional Leadership Fund paid for an advertisement attacking Amy McGrath, the challenger to Kentucky GOP Rep. Andy Barr. The ad focused on "criminal illegal immigrants" and the border wall, but ignored the economic and civic costs of cheap-labor legal-immigration:
"The liberal Resistance wants to abolish ICE and Amy McGrath is their candidate for Congress," said Courtney Alexander, CLF Communications Director. "McGrath called the border wall 'stupid,' and she would vote for Nancy Pelosi's liberal agenda of open borders, amnesty, and higher taxes. Amy McGrath is too liberal for Kentucky."
According to Bloomberg, the CLF initially insisted that the tax cut would be the centerpiece of its 2018 campaign:
The central question for November is: Does the middle think we cut their taxes? If the answer to that is yes, Republicans will keep the House," Corry Bliss, the executive director of the super-PAC said in a March interview. A month earlier, in a New York Times article, Bliss told Republican candidates who want to keep their majorities in Congress to "shut up and stop talking" unless it's about the tax cut.
New data shows that the tax cuts are mentioned in just one-of-six CLF ads. Other issues have taken its intended place, says Bloomberg:
The issue of immigration, which fueled Trump's rise, was mentioned in 16.4 percent of CLF ads. Health care was cited in 29.4 percent of ads, as the GOP seeks to counter a Democratic assault on its proposals to weaken preexisting condition protections by highlighting some Democrats' support for expanding Medicare to all Americans. Government spending was referenced in 38.5 percent of CLF ads, and terrorism was alluded to in 7.9 percent.
The funding gap — and the wasted ad dollars — are already forcing GOP leaders to deny funding to some of the weaker GOP candidates. AP reported:
The NRCC in recent days has canceled plans to help at least three vulnerable Republican candidates: Rep. Kevin Yoder in suburban Kansas, Rep. Keith Rothfus in suburban Pittsburgh and businesswoman Lea Marquez Peterson in Tucson, Arizona. GOP strategists fear three open seats in the Pennsylvania suburbs and two more in suburban New Jersey are slipping away if they're not lost already.
At least one business-aligned activist in the GOP is blaming resident Donald Trump's populist agenda for the funding shortfall.  Terry Sullivan, who was campaign manager for Gang of Eight founder, Sen. Marco Rubio, told the Associated Press:
"This is going to be a devastating election for Republicans across the ballot," said Republican strategist Terry Sullivan, who called the party's fundraising issues a symptom of the GOP's broader challenge this fall.

"Republican donors are smart folks," he said. "They're not going to give money to a losing cause."
The New York Times, for example, reported Oct. 7 that Wall Street donors strongly favor the Democratic Party, despite the support by GOP populists for the tax cut:
"More than ever in my 26-year career on Wall Street, donors are willing to look way beyond concerns of overregulation from Democrats," said Mr. Myers, a longtime Democratic fund-raiser. They just want to elect "Democrats to serve as a check" on President Trump …

Four years ago, in the last congressional midterm, Republican incumbents and candidates outraised Democratic counterparts by more than $50 million in direct donations from the broader finance, insurance and real estate industries, according to the Center for Responsive Politics. And in 2016 and 2012, Republicans outraised Democrats from that group by nearly $50 million and $100 millionrespectively, the data show. This year, Democrats held a narrow $5 million advantage through the middle of the year …

"A lot of Mitt Romney donors are doing nothing," said one New York financial executive and Republican fund-raiser, who, like many, spoke on condition of anonymity to maintain relationships with contributors. "A lot of these guys just completely disappeared."
During 2018, many GOP donors denounced Trump's populist policies, partly because immigration reforms would cut the inflow of immigrant workers, and so force up wages for Americans. Immigraiotnreforms would also reduce the inflow of new consumer and renters, which provide additional revenues to business groups around the United States.