TEL AVIV – Screenshots obtained by Breitbart Jerusalem of an Egyptian suicide bomber's online chat with another jihadist provide a rare inside glimpse into the Islamic State's suicide operations.
Abu al-Shuhadaa al-Russy, the terrorist's nom de guerre, told a jihadist friend based in Gaza via an encrypted chat on the Telegram messaging application that he was "number 15 on the list." This means there were 15 other IS militants slated to carry out suicide bombings before him, according to the suicide bomber.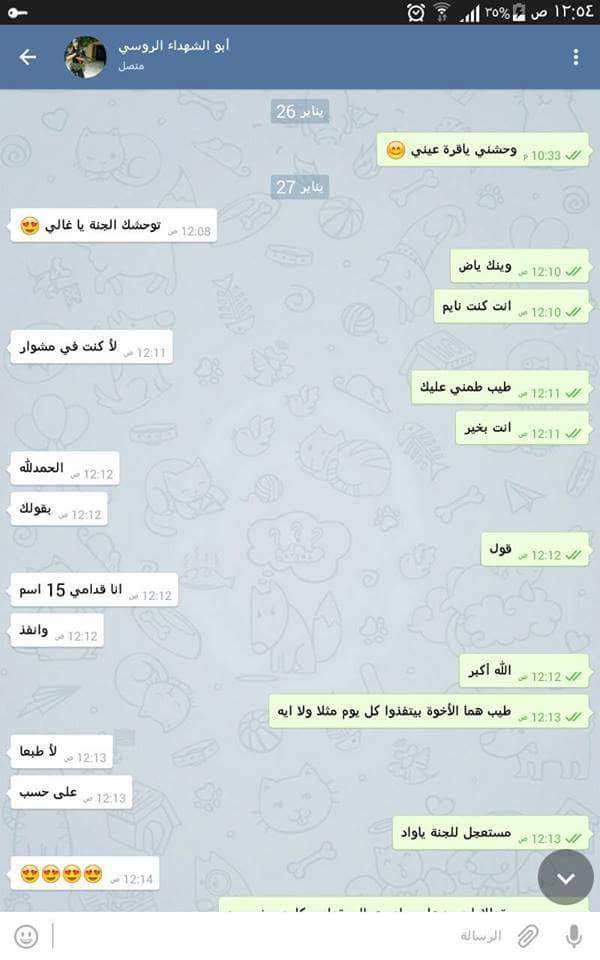 "Allah is great," his friend responded, adding: "Are the brothers carrying out suicide attacks every day?"
"No," al-Russy replied. "It depends on the circumstances."
"You will soon be in heaven," the friend reassured the bomber, to which the bomber responded with a smiley face.
The chat buddy of the suicide bomber is an IS militant who recently returned to the Gaza Strip after fighting in Iraq and Syria. He revealed to Breitbart Jerusalem the suicide bomber's real name, Assadullah Abdullah al-Salam, who turned out to be a resident of Cairo's Giza district.
The chat took place January 27, 2016. Eight days later, Salam carried out a suicide mission in Iraq, the Gazan jihadist said.
Salam's four brothers have enlisted with IS, the Gazan jihadist said. One was killed last year and another severely wounded, both in Iraq, according to the Gazan jihadist.
The Gazan jihadist told Breitbart Jerusalem that Salam's wife and sister recently arrived in Mosul – a jihadi stronghold in Iraq – from Egypt.
Salam's Facebook page features a picture of his dead brother, Salameh, and underneath it a picture showing the four-finger sign (see below), the new symbol of the Muslim Brotherhood, commemorating the killing of hundreds of Islamic activists by then-Chief of Staff Abdel Fattah al-Sisi's troops. Al-Sisi is now president of Egypt.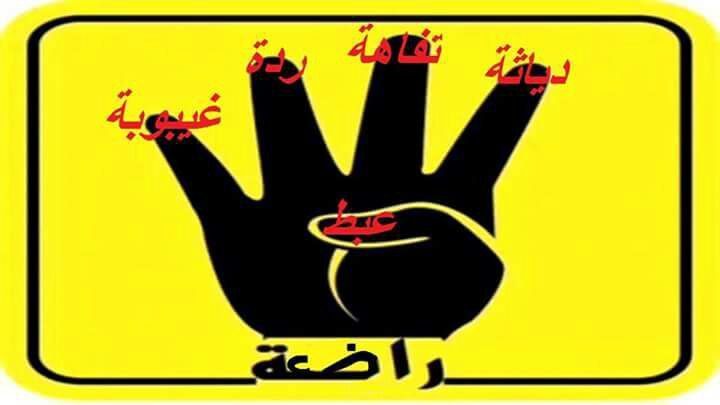 The caption reads: "Young people of Egypt, don't give in to evil or you'll end up in hell. Believe in Allah, show him your good side, carry the flag of jihad to avoid humiliation. This is my advice to you."
Another picture depicts a vehicle packed with explosives and flying the IS flag. The caption on that Facebook post reads: "Explosives are our way to do away with dictators. I'm committing suicide."

Elsewhere on his page, Salam encourages sympathizers who haven't joined the "ISIS caliphate" to act as "lone wolves."
"At this desperate time, Islam has no other choice," he wrote. "Lone wolf, the nation looks up to you."
Another post, apparently written by Salam's sister reads: "The brothers in headquarters have confirmed that my brother was killed. He wasn't after fame and glory, and didn't want people to admire him. A few months ago, he asked to be tasked with a suicide operation, told me about it, and asked me to keep it a secret. Only recently, when his turn approached, he made it public. Since he arrived in the Caliphate, his heart went out to Allah."
The post received many comments praising the suicide bomber and his IS-supporting sister.
In another post, Salam was chatting with a friend who joined IS forces in the Libyan town of Sirte and praised him for finishing his training. "I want to see what the security forces will do now. They need to know that our lions are waiting."
"The West perceives suicide bombers as barbarians," the Gazan jihadi told Breitbart Jerusalem. "They fail to understand that these are young people who are unimpressed with this life. They yearn for the afterlife, that's why they compete for suicide missions. They want to get a place in heaven."
"Being tasked with a suicide mission is a great honor," he said. "Those who have been selected feel humbled and are admired by many others."
Aaron Klein is Breitbart's Jerusalem bureau chief and senior investigative reporter. He is a New York Times bestselling author and hosts the popular weekend talk radio program, "Aaron Klein Investigative Radio." Follow him on Twitter @AaronKleinShow. Follow him on Facebook.