Sen. Bernie Sanders (I-VT) made multiple campaign stops in the Bay Area on Wednesday, holding two rallies in addition to an unannounced stop to greet crowds of his supporters at a rally for workers demanding more rights.
Sanders' first stop was a 5,500-person rally at the Santa Clara County Fair Grounds in San Jose, where he took direct aim at presumptive Republican presidential nominee Donald Trump.
"I know that there are many people who are concerned that Donald Trump may become President of the United States. That will not happen," Sanders said, according to the San Francisco Chronicle.
The "democratic Socialist" has consistently pointed to national polls that show him beating Trump by a larger percentage than Hillary Clinton.
Before his planned evening rally in Vallejo at the at Vallejo Waterfront Park, Sanders reportedly took the opportunity to join approximately 500 hotel and restaurant employees who were holding a rally in San Francisco's Financial District, near the Le Meridien hotel. According to the Chronicle, they were demanding higher wages and for the right to unionize.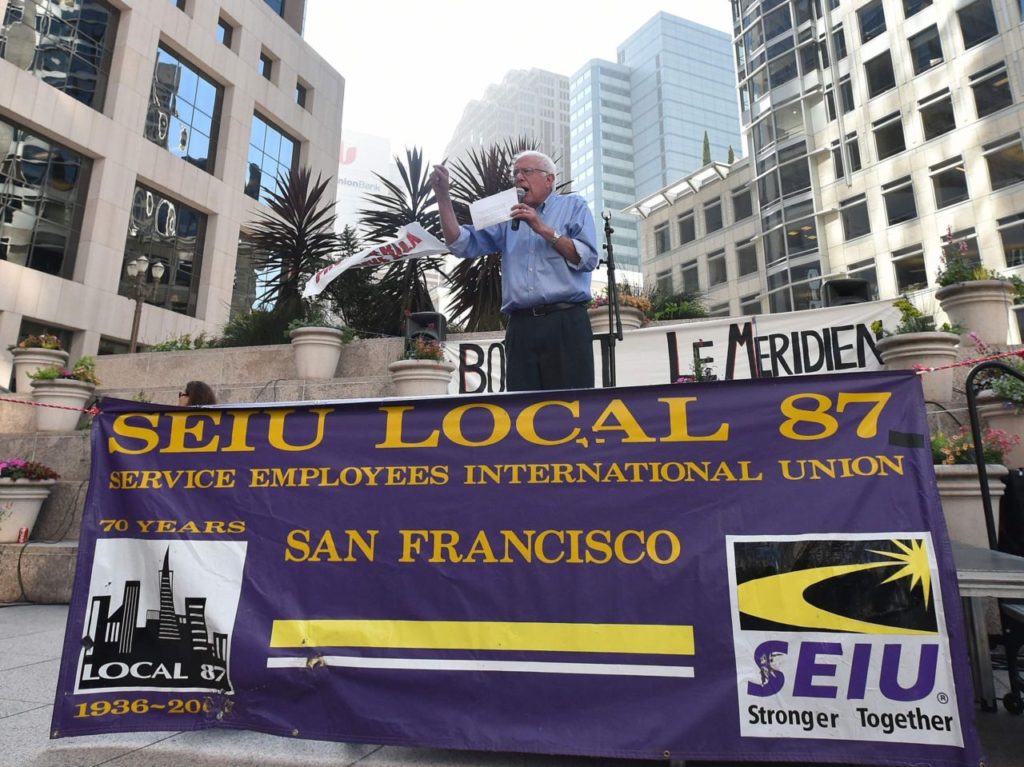 "I'm proud to be here with you to tell the Le Meridien to negotiate with our workers," Sanders reportedly said. "I'm here to demand the wealthy and the multinational corporations to pay their fair share," Sanders said, before transitioning to talk of the city's "stunning" homeless epidemic.
Cenk Uygur of the "The Young Turks" introduced Sanders and relayed a story about his protest days, when he chained himself to a black female activist during a housing protest. Uygur said:
Fifty years ago, when he fought for desegregation in Chicago, he didn't do that for calculation. He did that because he cares. When he chained himself to an African-American woman, to make sure they didn't take her away either, he didn't do that based on calculation. He did that because he cares. So, when they were ready to drag her away, he was the first to say, 'I'm with her.' And that's when it mattered.
Sanders spoke for over an hour to the roaring crowd of his supporters. He again spoke of his intention to win the Golden State during the upcoming June 7 primary, saying, "I think we're going to sweep the West Coast."
He also called for demilitarizing local police departments and "ending private ownership of prisons and detention centers." Sanders added, "We need to rethink the so-called 'war on drugs.'" At his previous rally that same day, he had said: "If I lived in California I would vote yes to legalize marijuana," referring to a ballot initiative likely facing voters in November. He reiterated the same message that evening.
However, Sanders also noted the high levels of opiate and heroin addictions that claim hundreds of lives every day, suggesting "addiction substance abuse should be treated as a health issue, not a criminal [issue]."
Sanders plans to be in San Diego this weekend. The local ABC News affiliate in the region, ABC 10, reports that he will hold a rally for thousands of his fans in National City's Kimball Park on Saturday, and that he will visit Rancho Buena Vista High School in Vista on Sunday.
ABC 10 notes that Saturday's rally will be the third presidential candidate rally held at the park in its history. The previous two were Presidents John F. Kennedy in 1968 and Bill Clinton in 1992.
Follow Adelle Nazarian on Twitter @AdelleNaz