TEL AVIV – Israel is a snake that targets Muslim and Christian holy sites, according to a cartoon published in the official Palestinian Authority daily, Palestinian Media Watch (PMW) reported.
The cartoon (below, right) depicts a snake with the head of a rifle coiled around a mosque and a church while aiming the rifle at the towers.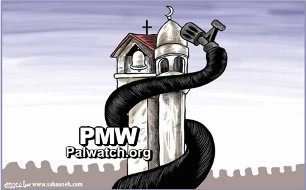 The PA often uses predatory animals to represent Israel, in the past portraying Israel as an octopus, wolves, and rats threatening Jerusalem its holy sites.
The Palestinian leadership fuels the libel that Israel intends to destroy the Al-Aqsa Mosque and replace it with a Jewish Temple.
In a speech in September 2015, Palestinian President Mahmoud Abbas encouraged Palestinians to use "everything in [their] power" to "protect" the Al-Aqsa Mosque from the "Jews' filthy feet," leading to the onset of the current wave of terror attacks:
"The Al-Aqsa [Mosque] is ours … and they have no right to defile it with their filthy feet. We will not allow them to, and we will do everything in our power to protect Jerusalem."
Abbas continued, "We bless every drop of blood that has been spilled for Jerusalem, which is clean and pure blood, blood spilled for Allah, Allah willing. Every Martyr (Shahid) will reach Paradise, and everyone wounded will be rewarded by Allah."