TEL AVIV – Palestinian children performed in a play depicting "Zionist jailers" executing "heroic prisoners" as part of a closing ceremony for summer camps organized by Palestinian President Mahmoud Abbas' Fatah party.
Pictures taken at the event and published by independent Palestinian news agency Donia Al-Watan show children in the role of Palestinian prisoners kneeling blindfolded and handcuffed in a row on the floor, while their Israeli "jailers" stand over them with guns aimed at their heads.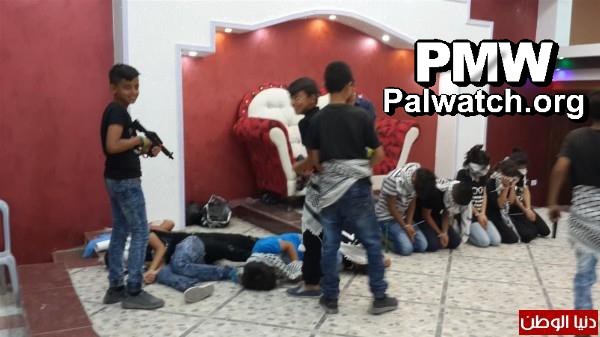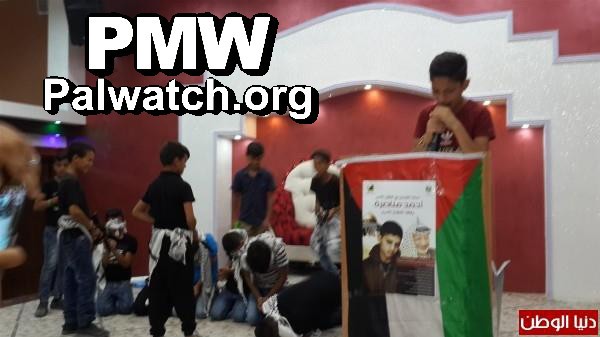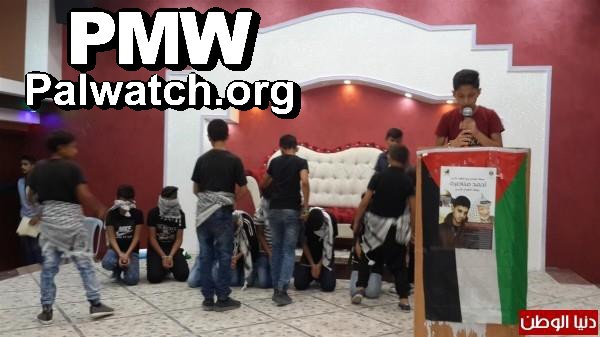 The text accompanying the images reads: "A play about the suffering of our brave prisoners and the cruel attitude of the Zionist jailer towards our heroic prisoners."
In one image, three children play dead on the floor, having been "executed."
The Fatah summer camp was named after terrorist Muhammad Al-Shubaki, who stabbed and wounded an Israel soldier last November. Al-Shubaki was wounded by Israeli forces and treated in an Israeli hospital, where he later died of his wounds.
The terrorist's father spoke at the summer camp ceremony, expressing his "pride and thanks for the gesture of memorializing the heroic martyrs," the report translated by Palestinian Media Watch said.
The Palestinian Authority has repeatedly disseminated the libel that Israel kills Palestinian prisoners.
The libel extends to the claim that Palestinians are being framed for incarceration, for example by having weapons hidden on their persons by Israelis.
In May, PMW reported on a high school play showing Israeli soldiers planting knives on innocent Palestinians and then proceeding to murder them in cold blood.
The report also exposed children in an elementary school play acting out the execution of an Israeli soldier.