Israel is viewed favorably by 71 per cent of Americans according to a new poll, making 2017 the fourth straight year that the Jewish State's favorable rating has been 70 per cent or higher.
A Gallup poll released Wednesday ahead of the meeting in Washington between Israel Prime Minister Benjamin Netanyahu and U.S. President Donald J Trump revealed that since 2014, the proportion of Americans who say they view Israel favorably has remained at 70 to 72 per cent.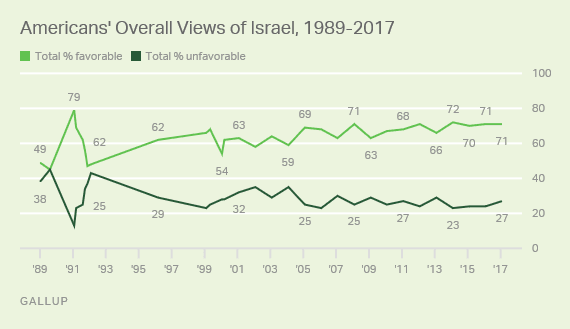 According to Gallup, Israel enjoys a positive image among all major U.S. demographic and political groups, but scores particularly well with Republicans (81 per cent view it favorably) and adults 65 and older (77 per cent). While a majority of Democrats view Israel favorably, the 61 per cent doing so is the lowest of any major subgroup.
The new figures follow the release of separate poll data earlier this week that found more members of all three party groups sympathize with Israel than with the Palestinians. This ranges from 82 per cent of Republicans to 57 per cent of independents and 47 per cent of Democrats. By contrast, 6 per cent of Republicans, 23 per cent of independents and 29 per cent of Democrats sympathize more with the Palestinians.
Prime Minister Benjamin Netanyahu, a key player in current and future Middle East peace negotiations, is viewed more favorably than unfavorably by Americans, 49 per cent vs. 30 per cent.
Follow Simon Kent on Twitter:

Follow @SunSimonKent

or e-mail to: skent@breitbart.com