The Duke of Cambridge will visit Israel, Jordan and the West Bank this summer, Kensington Palace has announced.
Prince William has never been to the region and will be going without Kate, who is due to give birth to the couple's third child in April. Overseas Royal visits are made at the request of the British government. No British Royal has made an official visit to Israel although solo, personal trips are not uncommon.
The historic trip was publicly confirmed by Kensington Palace early Thursday morning: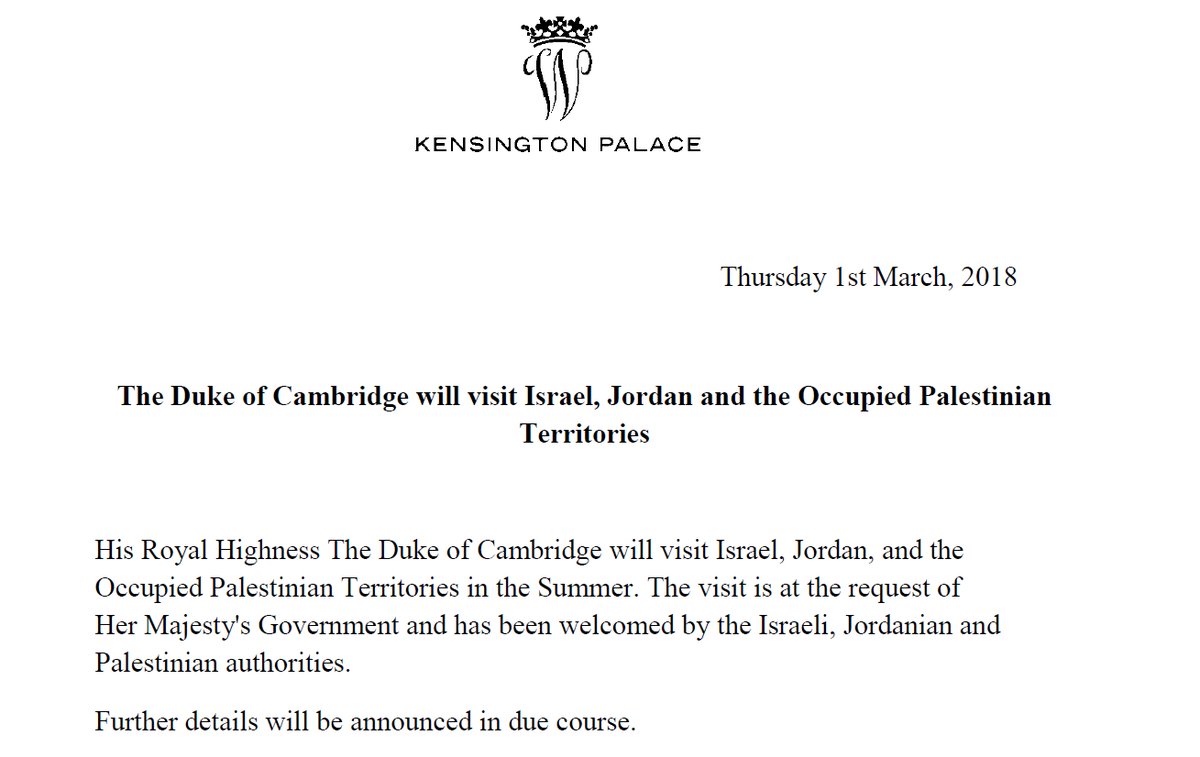 Israeli Prime Minister Benjamin Netanyahu said that "this is a historic visit" and William "will be received here with great affection."
We welcome the announcement of Prince William's visit to Israel. This is an historic visit, the first of its kind, and he will be welcomed here with great affection. I have instructed @IsraelMFA to coordinate preparations for the visit to ensure its success.

— Benjamin Netanyahu (@netanyahu) March 1, 2018
The announcement was met with warm appreciation from members of the UK Jewish community.
The visit of HRH The Duke of Cambridge to Israel later this year will be a proud moment for the British Jewish community and a wonderful way to celebrate its 70th anniversary.

— Chief Rabbi Mirvis (@chiefrabbi) March 1, 2018
Israel also acknowledged the historic nature of the trip:
Nechama & I were happy to hear @KensingtonRoyal announcement, and look forward to welcoming #PrinceWilliam, the Duke of Cambridge, on an official visit to the State of #Israel later this year. A very special guest, and a very special present for our 70th year of independence.

— Reuven Rivlin (@PresidentRuvi) March 1, 2018
The last Royal visit to Israel in a private capacity came on September 30, 2016, when the Prince of Wales attended the state memorial for President Shimon Peres.
As Breitbart Jerusalem reported,  Prince Charles took that opportunity to visit his grandmother's final resting place in Jerusalem, taking fresh flowers from his garden at Birkhall to lay in her honour.
A full state visit to Israel by Prince Charles set down for 2017 was cancelled by UK Foreign Office officials worried that it might upset Arab nations in the region.
Prince Charles was also set to pay respects to 16,000 British and Commonwealth troops who died during the Palestine Campaign in 1917.
Follow Simon Kent on Twitter:

Follow @SunSimonKent

or e-mail to: skent@breitbart.com